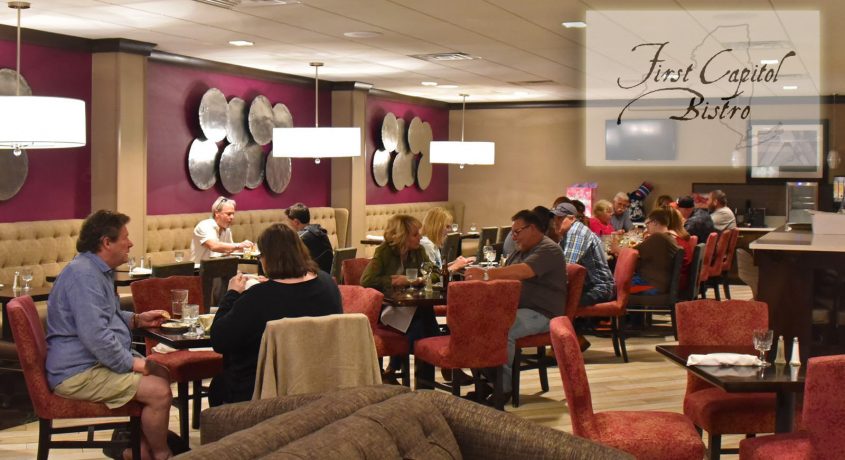 Foodie Paradiso: First Capital Bistro is First Rate.
By contributing writer:  Susie Linn
Companion Two and I travel a great deal together. Sometimes we stay at bed and breakfasts, every now and again an inn, and when we want anonymity, a hotel. (FYI, I'm not having a sordid affair, I'm married to Companion Two.) Now we have stayed in some exquisite places, like the St. Paul Hotel in St. Paul, MN and the Stanhope in New York, and we've stayed in some flea bag hotels, which I will not divulge. Sometimes hotel food can be a little bland and uninspired, but then sometimes you strike gold. C2 and I had one of the most amazing meals ever at the 1950s throwback, The Jones Beach Hotel and I had the best crabcake of my life in a Holiday Inn in Harrisburg, PA. Go figure?
I had heard rumors that the First Capital Bistro in the Best Western in uptown had recently opened for dinner with a new menu and was trying to expand their local business. I encouraged Companion One, "Let's take a shot."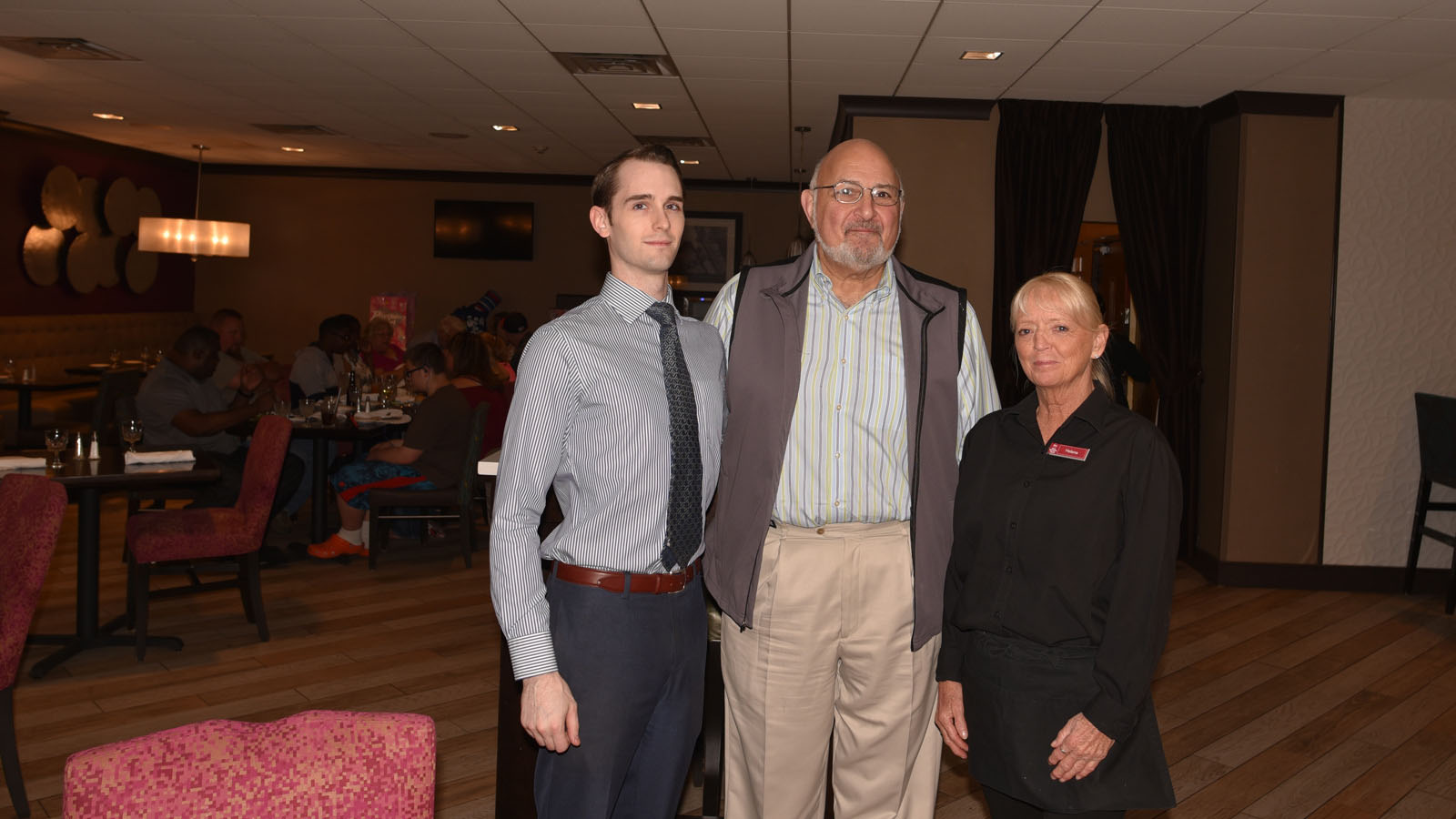 You may hardly believe it, walking in through the somewhat ubiquitous hotel lobby to enter the restaurant. After a significant hotel renovation, the Bistro comes off sleek and modern with aubergine walls, ceramic wood-style flooring, gray-tufted banquettes and couches for seating comfort. There is a long rectangular bar table, where it would be nice to come with the after-work gang for some drinks and aps.
This is a good restaurant? Against the odds, it is. Many times, I judge a restaurant by its first impression, bread. If bread service is good, then there are good things to follow and, as usual, my intuition was right. We were served a basket of warm, crusty rolls, the perfect accompaniment to our carefully, crafted cocktails. The menu is eclectic and really has something for all palates, soups, salads, entrees, sandwiches, and a damn good burger. An order of the Spinach Florentine Flatbread ($10.95) on the appetizer menu provides the first inkling that all is not what it appears. The dish brings spinach, chunks of artichoke hearts, garlic and more. This cheesey delight sits on a crisp flatbread and is great for sharing. We also ordered the Banging Shrimp ($10.95), fried shrimp in a spicy, creamy sauce with just enough heat so as not to burn your lips or your tongue.
The salad, no iceberg lettuce here, mixed greens with red and green pepper, black olives and dressing on the side. A winner and it comes with the meal, double winner. For the entrée, I'm a sucker for a good burger ($12.95). Made with a half-pound certified angus chopped sirloin, grilled and served on a ciabatta roll, it is one of those roll-up-your-sleeves burger, because you know the juice is going to roll down your arm. Perfectly cooked to medium rare, it did not disappoint. Companion One opted for the Pork Chops ($18.95) served with mustard sauce, vegetable and choice of potato. Those chops (my mouth is watering with remembrance as I'm writing this) were so juicy, I would have sworn they were brined for days. I would go back just for the pork chops, hands down. Companion Two had the Penne Pasta Ana ($16.95) with bite-sized pieces of chicken breast, mushrooms, onions in a madeira wine cream sauce. Remember those crusty rolls? Perfect for sopping up delicious sauce.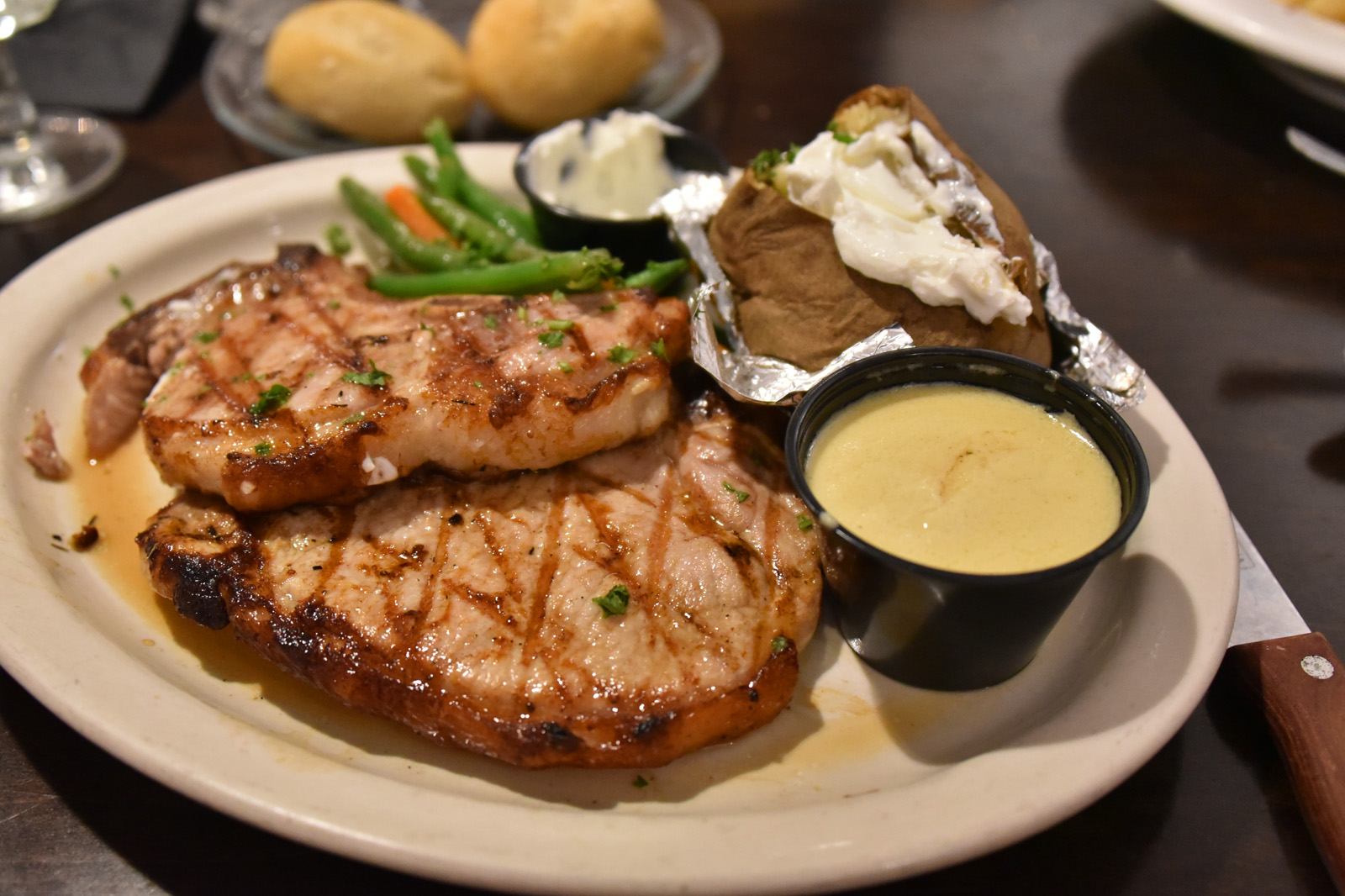 That average is not true for the desserts either. Albeit a short menu, desserts are locally-made and I must say the Key Lime Pie ($7.95) is one of the best I have tasted. C2 agrees and that is his favorite dessert along with the good cup of espresso they serve.
The Best Western is a family-owned chain with 21 properties and it is the only hotel in Kingston with full-serve accommodations. The food and beverage director, Ralph Saccoman, has been there for 40 years. We sat the Mr. Saccoman (as the hotel employees lovingly refer to him) after our meal and he talked a little bit about the history of the hotel. It really is for locals, he believes, pointing out the waitress that's been there for 25 years and the bartender who has been there for ten. It is about family and community. He recently offered brunch for Mothers' Day and was thrilled with the 240 covers they served. Building a local clientele for the restaurant is his goal.
First Capital Bistro is not the hippest of restaurants, but it does offer diners a compelling reason to visit with the promise of good food in a hotel environment, amid customers who have arrived there seemingly by chance. But if it were on Wall Street or lower Broadway, you might have already heard about it from your coolest friend, and you would probably have to wait in a long line to get in. Here you can simply call for a reservation, before Mr. Saccoman checks out of hotels for good.
First Capital Bistro in the Best Western Hotel is open 5:00-10:00pm daily. 503 Washington Ave., Kingston. 845-338-0400. http://bwpkingston.com/
https://kingstonhappenings.org/wp-content/uploads/2017/06/First-Capital-Bistro005_cover.jpg
900
1600
Kingston Happenings
https://blastserve.com/khtestbed/wp-content/uploads/2023/07/KH-Transparent-Logo-e1688304541199.png
Kingston Happenings
2017-06-27 10:08:08
2020-02-25 12:00:11
Foodie Paradiso: First Capital Bistro is First Rate.