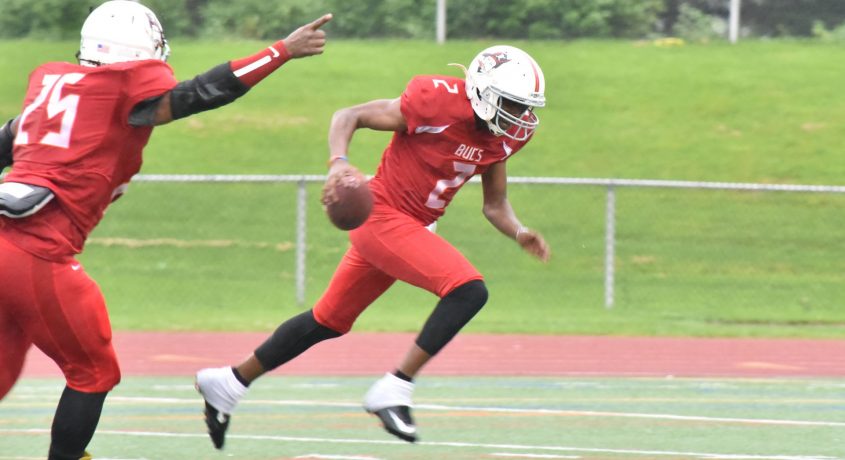 By Carrie Jones Ross
One of Kingston's best-kept secrets: Hudson Valley Buccaneers. Ever hear of them? Look no further than Kingston's own backyard to find a homegrown team of 45 football players between 20-50 years old, practicing regularly and playing weekly for the love of sport.
Team owner Lennard Byrd grew up in Kingston, and graduated from Kingston High School in 1997 as the team's  kick returner and running back. Byrd went on to play college football on full scholarship at University of Maine where he attracted the attention of pro scouts for the NY Giants with his speed and quickness. Invited to mini-camp be survived till the final roster which is truly remarkable given his 5'7″, 174# stature. Byrd tried indoor arena football, but did not care for the confines of the small playing field. "It was like playing a different game." Disenchanted, Byrd decided to bail.
But Byrd did not bail on football as a game. Byrd returned to his hometown and decided to build the Buccaneers franchise as its principal owner to give himself and other players an opportunity to play and has been developing the team's talents and skills each year. This year Byrd is planning to zero-in on increasing community engagement with more outreach and ticket deals for families. "Attendance last season was pretty much family and friends," he said. The Buccaneers are in their third year with Byrd at the helm. Byrd, who runs a busy window washing business with his brother, said he hopes to see more of the community supporting the team this season.
The majority of the players are from Kingston, Monticello, Highland and Poughkeepsie. The men pay a fee to register and play, and must provide their own uniforms, pads and, of course, health insurance. The organization functions with its own board of directors. The Buccaneers play ten scheduled games with other minor league teams from the World Football Federation, ranging from Albany to the Carolinas.
The Buccaneers practice Tuesdays and Thursdays 8pm-10pm every week, January through October, and there are ten scheduled games for Saturday nights. That's a lot of field time. The rest of the time, the men are working, doing families and training at the gym to stay fit.
As for tears and injuries in the team of thirty and forty and fifty-something tendons and joints, well, it's a risk. Darraill Kouhout of Kingston, the General Manager and Running Back said there are surprisingly not that many injuries, and when there are, they often are a result from other sports the lads are playing. Byrd emphasizes stretching and conditioning as the most critical part of their practices, before and after each one.
The men emphasized it's also about the love of team, and working together to make it happen. "It's not about the strength of the wolf in the pack," said David Buloy 24, a metal fabricator by day and Buccaneer Center by night. "It's about the strength of the pack in the wolf." As evidenced by their 56-0 blowout win over the New York Legion.
If you're wondering how spouses and partners might feel about losing their significant other to football three or more days a week, you're not alone. Kingston Happenings thought to ask as well. Most of them said their partners are supportive, although they say they joke about having to sneak away from their spouses. Team Captain Orrin Logan 36, of Kingston, who formally played with the Hudson Valley Cowboys in Poughkeepsie, said his fiancé is supportive, but once his daughter had a recital the same day as an away game, and there are tough choices as an adult player to make.
The Hudson Valley Buccaneers have their home games on Saturday nights at 6pm $10 ticket, and kids 12 & under are free. For more information to visit a game or sponsor the team, please visit hvbucs.com or call Byrd at 399-9723. Look for them on Facebook at H.V. Bucs, and like their page to follow their progress.
---
https://kingstonhappenings.org/wp-content/uploads/2017/07/Hudson-Valley-Bucs-22_edited-2.jpg
1080
1920
Kingston Happenings
https://kingstonhappenings.org/wp-content/uploads/2013/10/Final-KH-Logo.png
Kingston Happenings
2017-07-06 15:06:06
2020-02-25 12:00:11
FOR THE LOVE OF THE GAME: Semi-professional Football is a Thing, and it's Right Here in Kingston