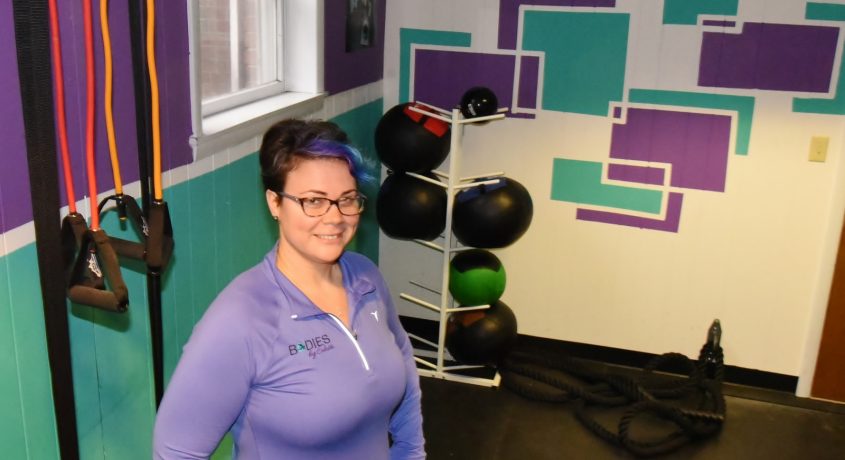 Doers and Dreamers – Juli Colotti
Not everyone moves to Kingston by way of Brooklyn which may surprise some people and often it's from somewhere not too far away. Consistently, I hear the same remarks from people who have moved here from other parts of the Hudson Valley. They all seem to feel that Kingston has much more of a sense of community than its counterparts in this region and that they feel at home as soon as they begin to put down roots here. Those characteristics are great to have because it attracts professionals like this week's Doer and Dreamer, who improve the health of our community and in this case, one individual at a time.
Your name: Juli Colotti
Business or organization: Bodies by Colotti , 325 Albany Ave., Kingston, NY
Occupation: Exercise Physiologist
What is your approach to your business or occupation that makes you unique?
I treat everyone as an individual, I want everyone to feel welcome at Bodies by Colotti. Since August, I have created a private personal training studio where you can feel at home, and focus on your goals without an audience. At Bodies by Colotti we train you for life, and motivate you to be the best you that you have ever been. Even if you've never been active or are just coming off of surgery we can help transform you to the best version of yourself. I am unique because I am an exercise physiologist, which means I have studied how and why the body moves the way it does. I know what the bodies endures during exercise through my education, so customized plans are my specialty. Many people do not know what an exercise physiologist is and probably have never met one before. My mission is to educate the public on the importance of having an understanding of how the body functions. Each body is different and each body responds differently to exercise, so I never treat two clients the same. I always include our exclusive nutrition program when a client needs help learning how to connect proper nutrition with exercise. My nutrition program is an offset of my Master's in Sports Psychology. This program really tackles the question "why" and answers the "how." When you combine a proper training plan and nutrition program you achieve results you never thought possible. I love making people confident in their own skin, while pushing them past their boundaries.
I try to make fitness fun, because honestly most people do not enjoy it! While educating clients on the why and creating results never thought possible, I am restoring the concept of exercise. No matter what though at the end of the day "Suck it up Buttercup!"
Where are you from originally?
Newburgh born and raised!
What brought you to the Kingston area and keeps you in this area?
I moved home to live with my mom after college in Ulster county. Why do I stay here? Well, it's now the place I call home.I decided to stay in Kingston 4 years ago when I realized what a welcoming community it is. I came here from a rival town and was welcomed with open arms. As I started to dig my roots here, I noticed that Kingston was a great place to start a business. I always dreamed of owning my own fitness studio. While networking throughout the community, I quickly learned about the need that was not being met for personal training in fitness, health, and wellness. 5 years later the major reason I stay in Kingston is because of my amazing clients; they would never let me leave nor would I want to.
What is your favorite hangout in this area and why?
I love uptown Kingston. When I first moved here I instantly fell in love with this neighborhood. I love the family owned restaurants, shops, and small business community that is uniquely Uptown. The area is inviting and helps Kingston stick out from other surrounding communities . My favorite place to go in Uptown is Stella's. How can a Fitness and Wellness trainer resist their famous salad.
When you're not in Kingston, what's your idea of a wonderful city to visit, and why?
Without a doubt, Miami. It's where I went to college and I love everything about it. I'm a beach bum so there's no place better to be when I need a break from the long New York winters.
Tell us something that we never would have guessed about you.
Being a business owner has been one of my biggest struggles because I hate having the spotlight on me. I am one of the few people who don't understand the "selfie" trend. I walk around with hair that matches my gym, have a thriving new business, and scream "suck it up buttercup" all day. But at the end of the day, I am a shy humble girl who is happy to stay behind the scenes helping my clients. Now if you know me, you may be laughing at this statement. However, if you ask my trainer Keli Letersky when people congratulate me for all I have accomplished I have a very hard time seeing what the fuss is about. It is something I am trying to learn to accept, but until then I will just sit back and try and soak it all in.
https://kingstonhappenings.org/wp-content/uploads/2017/01/Juli-16.jpg
902
1600
Kingston Happenings
https://blastserve.com/khtestbed/wp-content/uploads/2023/07/KH-Transparent-Logo-e1688304541199.png
Kingston Happenings
2017-01-24 09:22:04
2017-03-07 11:50:47
Doers and Dreamers – Juli Colotti