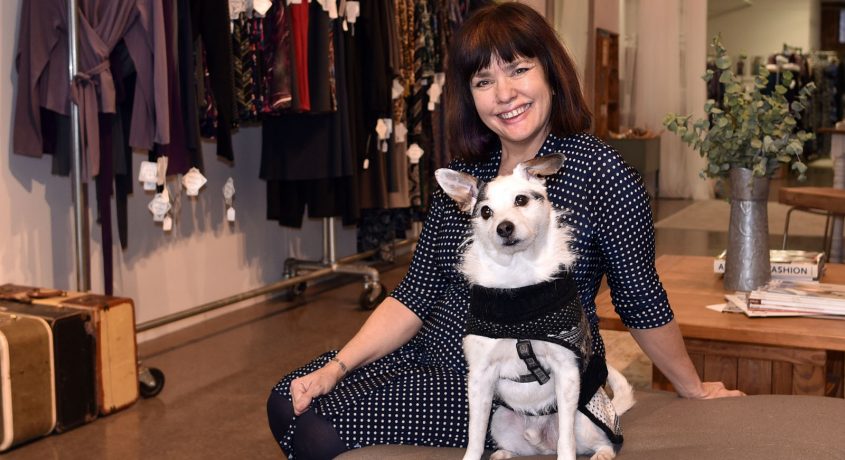 Doers and Dreamers – Karina Cousineau
New retail stores are a harbinger of confidence in a local economy and when the goods sold by that store are made locally(in this case, the backroom) the economic benefit becomes even more significant. There is also a benefit based on serving as some additional eye-candy to local shoppers and tourists in a commercial district with an attractive storefront and being open seven days a week. This week's Doer and Dreamer is settling in to Kingston in a big way, bringing a unique business model and sensible approach to fashion for the ladies in our community.
Your name: Karina Cousineau
Business or organization: Karina Dresses, 329 Wall St., Kingston, NY
Occupation: Owner, Founder, Designer
What is your approach to your business or occupation that makes you unique?
Listening to your what your clients want to so important. I design for them. We strive to have a workplace that is joyful and supportive. This ultimately makes a wonderful dress and we think the customers feel the love & care in making and selling our dresses. Besides designing for our customers (real woman,) we choose models that are everyday gals and real customers. This is unusual for the fashion industry and I would like to say we are more in the lifestyle biz; supporting our on the go ladies with made in the USA dresses that are machine washable and never need iron.
Where are you from originally?
Uxbridge, Massachusetts. I was born on a dairy farm and then my Dad sold the farm because of large production milk companies took most of his clients. My Mom & Dad worked hard to start again after the sale; and it's something I admire and look back on for strength while building my company.
What brought you to the Kingston area and keeps you in this area?
After spending many years working in Brooklyn, it was proximity to the the city that brought me to Kingston to relocate. The community here is exactly what I was looking for to live/work. The Hudson Valley is beautiful and Kingston is so close to all it has to offer.
What is your favorite hangout in this area and why?
Outdated Cafe, Kovo, Boiston, The Anchor & Sissy's because all offer great food & lovely staff that I love!
Music at BSP is fun, too! Hiking up Overlook Mountain and Poet's Walk is a fav of mine, too.
When you're not in Kingston, what's your idea of a wonderful city to visit, and why?
I really love Brooklyn for the diversity, art and food ! Also, spending time in other cities around the world is a fav of mine. I've done volunteer work in India, worked in Indonesia, and traveled thru France, Mexico, Brasil, DR & Malta.
Tell us something that we never would have guessed about you.
In grammar school I was in the band. Arriving late to select an instrument; the oboe was my only choice. Feeling disappointed that it wasn't popular to play; I had a very clever music teacher that explained there was only one in the orchestra and super important. Learning to play oboe taught me many things. I learned about being an individual, the importance of kinds words (from my teacher) and it's not always what you first think.
https://kingstonhappenings.org/wp-content/uploads/2017/01/DSC_5351e.jpg
900
1600
Kingston Happenings
https://blastserve.com/khtestbed/wp-content/uploads/2023/07/KH-Transparent-Logo-e1688304541199.png
Kingston Happenings
2017-01-17 14:30:39
2017-03-07 11:50:48
Doers and Dreamers – Karina Cousineau