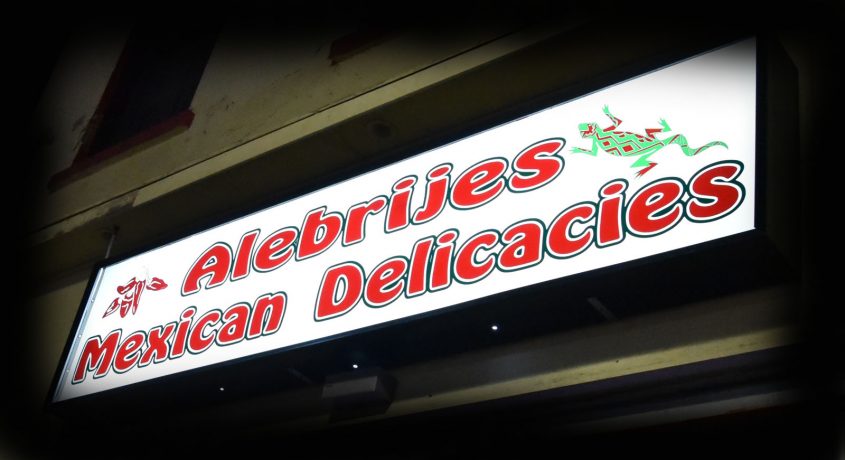 Alebrijes Mexican Delicacies, finely crafted and whimsical just like its namesake
By contributing writer:  Susie Linn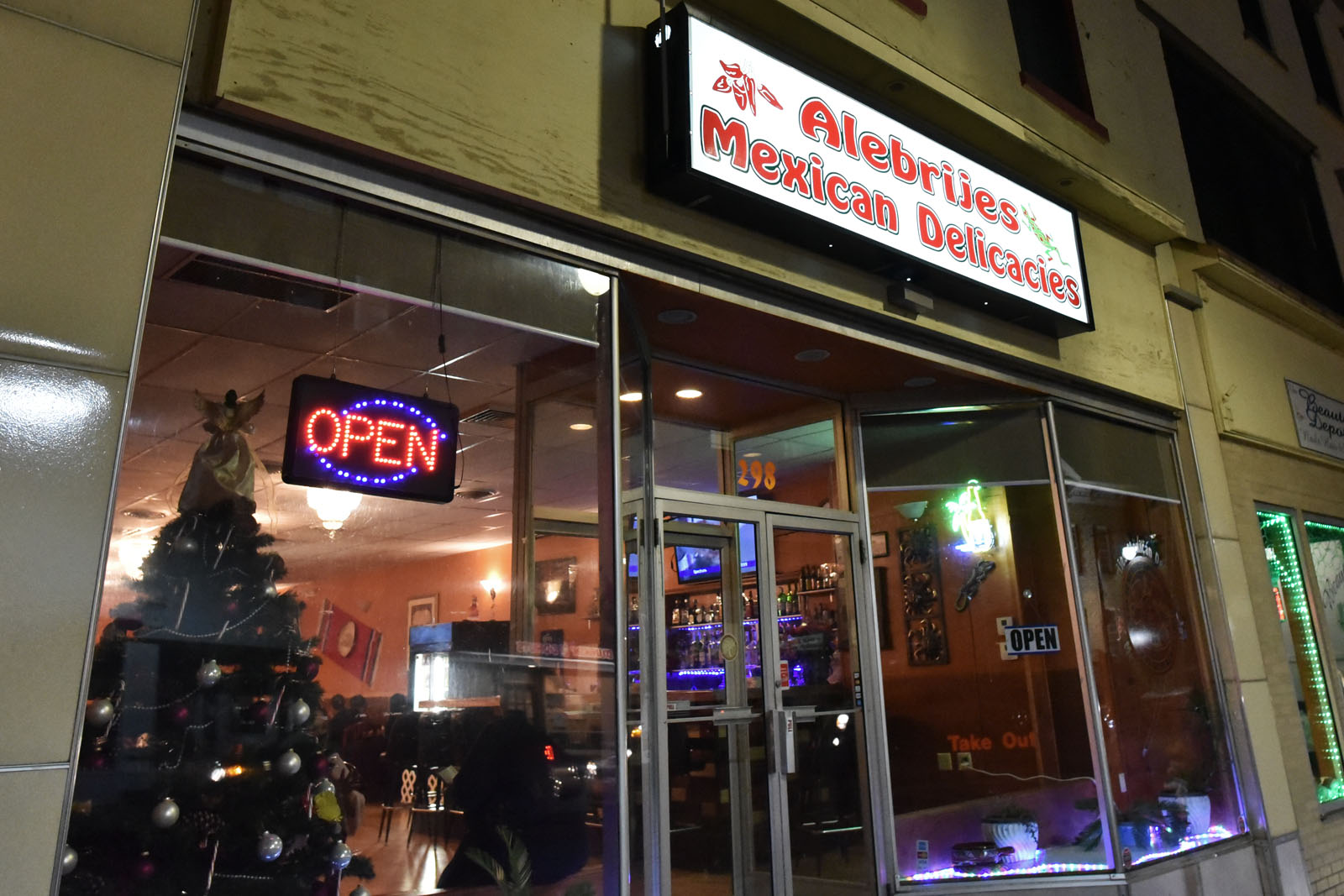 The Latino/Hispanic population is the fastest growing in Ulster County with about 10% of the residents at the last census. You see evidence of this up and down Broadway, from Rondout to Uptown and in between. Not just restaurants, but grocery stores, businesses and other clues that are the changing colors of our neighborhoods; bringing customs and objects from other cultures to brighten ours.
Have you ever encountered the elusive alebrije before, whimsical animals, rare and unique? They have horns, antlers, wings, fins, and some have them all at once! Though no two are exactly alike, all alebrijes have startlingly vibrant color markings. Alebrijes Mexican Delicacies owner, Jose Velasco, does just that with his food specializing in the colorful dishes of Oaxaca, a region in southern Mexico.
Companion One, Two and I had a hankering for Mexican one night, deciding on Alebrijes after ticking off the variety of Mexican restaurants we have in Kingston, and are we glad we did. For those unfamiliar with Oaxacan cuisine, it is known for chocolate-infused moles (no two are the same just like those elusive animals sculptures), which Alebrijes does serve and for which I am a sucker, and grasshoppers, which it does not (Thank the Lord). The restaurant décor is simple, terra cotta colored walls decorated with mirrors, a Mexican blanket and hat and, of course, some alebrijes.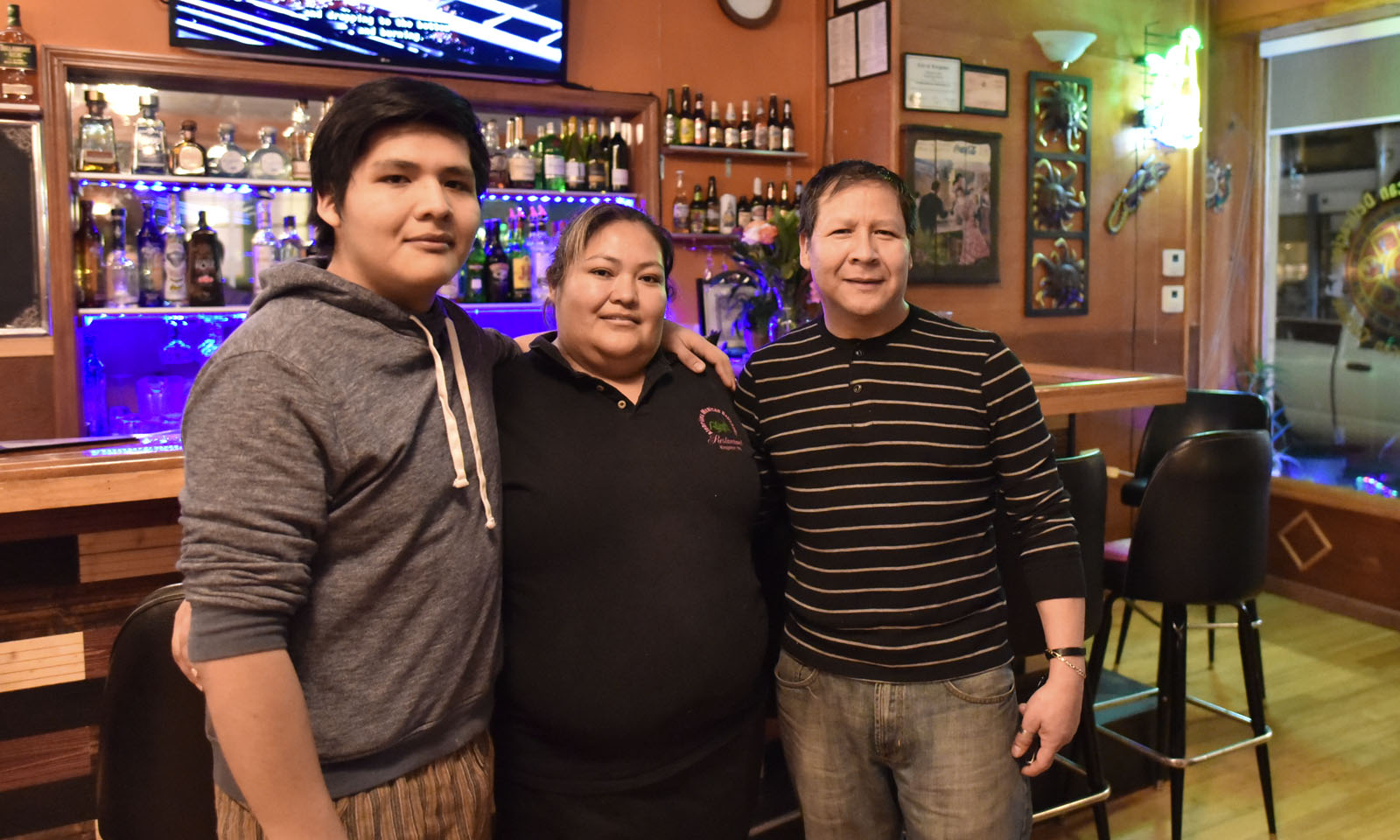 We started off with a margarita ($5) for me and Laguintas ($5), an India pale ale, for the boys. The ever-present chips and salsa were placed before us and we dug in to the homemade chips as if we hadn't seen food in a while.
Deciding on three appetizers so we could split was a good idea, as the boys were in a sharing mood. We decided on the Black Bean Soup ($5.95), Empanada Oaxaquena (6.95), and Tamale ($4.95). The soup, I believe, was the best black bean soup I've ever tasted, with a crunch of fried corn tortilla strips on top, creamy bites of avocado, just a hint of spice, and a bowl so big we had to bring some home. I'd go back just for the soup. The empanada, again another good choice, the dough flaky and crispy on the bottom, almost like a puffed pastry, was stuffed with mushroom, onions, Mexican herbs and Oaxacan cheese topped with guacamole, lettuce, pico de gallo and crema. Outstanding. The tamale, a little different than those I've had in the past, is a masa dough stuffed with your choice of pork or chicken wrapped in a banana leaf. The masa is a slightly different color and they make it a little softer, so it just kind of melts in your mouth. It is served with a tomatilla sauce, citrusy with nice heat, a beautiful combination with the soft curds of masa.
As I said before, I'm a pushover for mole and, man, I hit the mother lode at Alebrijes. I ordered the Pollo con Mole (13.95), chicken topped with homemade mole sauce served with garden rice and freshly made corn tortillas. The two boneless chicken breasts were lacquered with a bittersweet chocolate mole, that complex brown chili sauce involving dozens of ingredients, who knows how many different chilis, carries hints of its unsweetened chocolate, and takes hours to produce. This delectable mole contributes a dense, creamy complexity to this dish and keeps the chicken breast, which tends to dry out, so succulent and juicy.
I was ecstatic when Number One ordered the Chicken Mole Burrito (9.95) topped with fresco cheese, onion, sour cream and served with rice and beans. It's a big, fat, hulking mess of a burrito, stuffed with copious amounts of grilled chicken, wrapped snugly in a warm tortilla and drenched with that wonderful mole sauce that that you know has been simmering on the stove all day. Winner winner, chicken dinner(s).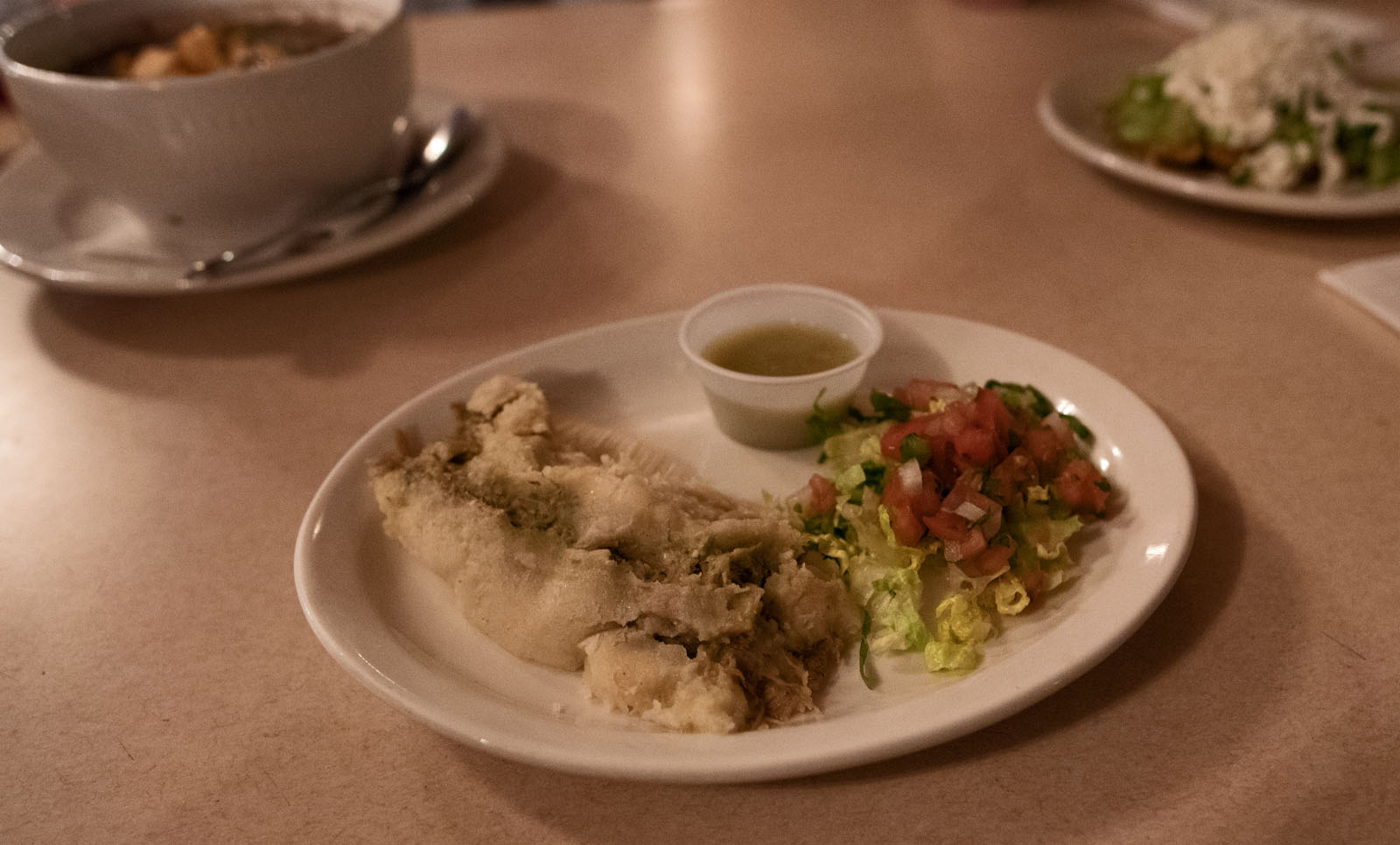 Two ordered Tacos al Pastor (3 for $9.95), traditional Oaxaca tacos rolled on a soft corn tortilla topped with onions, cilantro and salsa and served with rice and beans. You can also get your choice of filling of carne asada, chorizo, chicken, carnitas. The pork was cooked beautifully and the accompanying sauce of tomatillo and chipotle was the perfect condiment. I did take a bite just to confirm how tasty, but then focused back in on my mole.
We were too full to order dessert, but they have churros, tres leches cake, fried ice cream and flan should you find yourself in need of a sugar fix.
Jose Velasco came to this country in 1989, where he started working as a dishwasher at Brio in Phoenicia. Two years ago, he and his wife opened Alebrijes where they live upstairs. They have started having some special events in the evening including Taco Night and Wing Night. They also have a DJ night that is an after-hours party that caters to the local Mexican neighbors. Add to that reasonable pricing and generous portions, and you are likely to come away not just liking the place, but also very much smitten by it, just like those whimsical creatures make you smile.
Alebrijes Mexican Delicasies is located at 298 Wall St. in uptown Kingston, 845-853-8388. They are open every day except Tuesday, from 10am-10pm. www.alebrijeskingston.com
https://kingstonhappenings.org/wp-content/uploads/2017/01/Alebrijes-6-copy.jpg
900
1600
Kingston Happenings
https://blastserve.com/khtestbed/wp-content/uploads/2023/07/KH-Transparent-Logo-e1688304541199.png
Kingston Happenings
2017-01-29 12:26:17
2018-05-22 14:48:09
Alebrijes Mexican Delicacies, finely crafted and whimsical just like its namesake