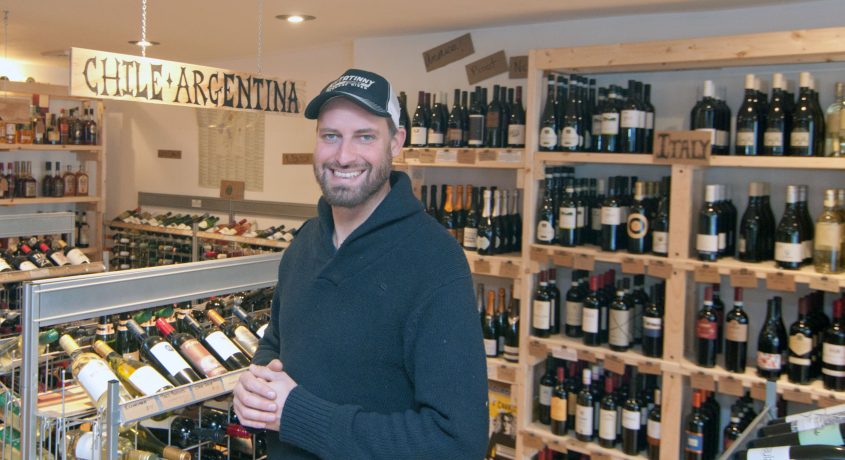 Doers and Dreamers – Robert Provenz
It's great to meet people that have traveled to many countries, experienced many cultures, and then decided that it was our community that they wanted to put down roots in. The landscape of businesses has changed significantly in Kingston and luckily it's not including more Starbucks, McDonalds, Targets, or some other corporate clones. Businesses are being opened by people who enjoy all of what the Hudson Valley and our community have to offer, while adding their own vitality to the mix. Meet this week's Doer and Dreamer, Robert Provenz, who is bringing his own eclectic perspective to Uptown Kingston.
Your name: Robert Provenz
Business or organization: Ester Wine and Spirits 57 N. Front St. Kingston, NY
Occupation: founder, 2014
What is your approach to your business or occupation that makes you unique?
I believe that Wine and Spirits are just like grocery items. There are pairings that go with toast and jam, eggs and bacon, popcorn, sandwiches, soups, fried chicken and diner take out before the bus. Our choice of beverage is like a friend that brings pleasant gifts all the time. We explore every category of our shop to build a selection that is thoughtful, focused,and first and foremost, down right delicious.
Where are you from originally?
Sheepshead Bay Brooklyn. My birth mom is from Mexico and my adopted parents are from Bensonhurst. I've lived the last 20 years in Williamsburg, Brooklyn with a few stints in Amsterdam, LA and Colorado.
What brought you to the Kingston area and keeps you in this area?
I arrived in Kingston on July, 1st 2014 with the plan on running my own wine shop on Front St. For the first few months I had little else to do except hang out and enjoy the Stockade neighborhood. I fell in love with the area, the people, the restaurants and bars. There's a great vibe to this city. Artists, musicians, people doing interesting things, it's all here. This is a place with a future and I believe it will keep its grit and charm along the way.
What is your favorite hangout in this area and why?
I'm an uptown guy. So, Snapper Magee's is a no brainer and Stockade Tavern either before of after. I am checking out the music at BSP after eating at Boison's or Frogmore or Diego's or Sissy's or Outdated or Vincenzo's pizza or OPA! or Elephant, Santa Fe and I'll be at Keegan's on tuesday again.
When you're not in Kingston, what's your idea of a wonderful city to visit, and why?
Skopje, Macedonia has a market that's equivalent to what you would find in Istanbul. I bought the best pair of black jeans I've ever owned for less than $10. And a 100% cotton suit for less than $100. Also, Ljubljana, Slovania was better than Prague in my opinion. Any city where you can ride a bike around and Trenton, NJ for the deals if you know the right guys. Seeing people from all over the world watch the sun go down in Santorini. They applaud. Oh and Japan.. Everyone should go there and eat everything!
Tell us something that we never would have guessed about you.
I was deeply ingrained in the punk and hardcore scene, East Village circa 1987-1995. Then I discovered Led Zeppelin and bad horror movies and I started staying inside more. My first job was sweeping the parking lot of Carvel and it was then that I knew I wanted to own a high end wine shop in Kingston. I've been a busboy, waiter, barista, NYC yellow cab driver, office worker and caterer. So, I know how to help.
https://kingstonhappenings.org/wp-content/uploads/ngg_featured/DSC_0208_ps.jpg
1838
3267
Kingston Happenings
https://blastserve.com/khtestbed/wp-content/uploads/2023/07/KH-Transparent-Logo-e1688304541199.png
Kingston Happenings
2014-11-03 11:27:44
2017-03-07 11:50:22
Doers and Dreamers – Robert Provenz