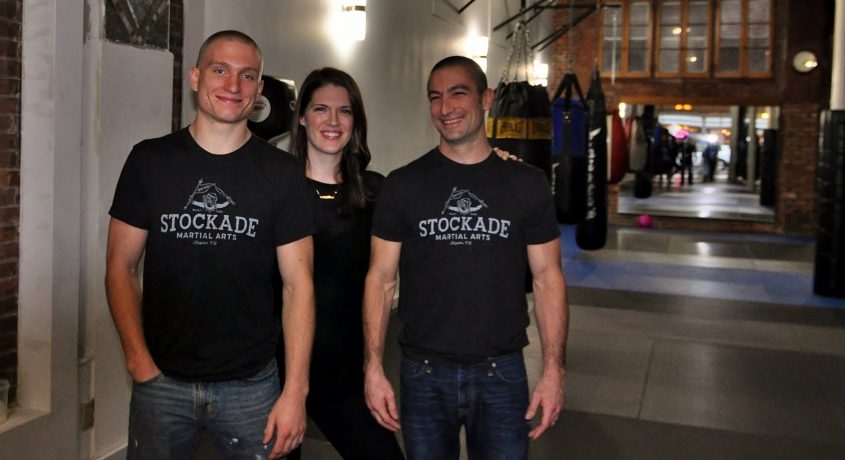 Doers and Dreamers – Chris Mauceri, JJ Russo, and Devon Kinch
There's always something new popping up in Kingston, and Uptown may seem like an unlikely place for an enterprise like this one. However, this week's Doers and Dreamers are off to a strong start amongst the eclectic set of restaurants and shops of the Stockade District.  Meet Chris Mauceri, JJ Russo, and Devon Kinch, who are bringing their own unique approach to self-defense and conditioning to our community.
Your name(s): Chris Mauceri, JJ Russo, and Devon Kinch
Business or organization: Stockade Martial Arts, 302 Wall St. Kingston, NY  www.stockadema.com
Occupation: Owners and Muay Thai coaches at Stockade Martial Arts.
What is your approach to your business or occupation that makes you unique?
Chris: We offer training in Muay Thai, which is itself a unique and extremely effective martial art and sport. Due to the physicality of Muay Thai, it's very effective for combat, self defense, and for anyone looking to get a great workout. Our program in particular is unique because at all levels, you can train alongside everyone from other beginners, to high level professional fighters. This gives you the opportunity to train and be in shape like an elite fighter. I would say that my personal approach is unique because I'm actively competing as a professional fighter at the highest level, in addition to coaching. It puts me in a unique position to constantly be learning and adjusting my own techniques so I can pass them along to my students and training partners.
JJ: We offer top-notch training in other disciplines like Pekiti-Tirsia Kali Kali and Brazilian Jiu-Jitsu, but our main offering is Muay Thai. Muay Thai is the ancient form of kickboxing from Thailand. They call it the Art of the Eight Limbs because of it's use of fists, elbows, knees, and shins.
I've been coaching students in Muay Thai here in Kingston for over 8 years. I have students who are successful amateur and professional fighters – and students who love the sport, but have no interest in fighting. It's a beautiful and addictive discipline that attracts all types of people. Chris is a really accomplished fighter – he has a fight coming up on November 21st on Lion Fight Promotions that will be nationally televised on AXS TV. Our school gives people in the area the opportunity to train with the best.
Devon: It was important to us to create a space where everyone feels welcome. We have toddler classes, kid, and teen programs. Our beginner Muay Thai program has students age 18 to 75. Our members are a tight knit community where we all help each other improve while working at all different skill levels. There is no macho stuff going on here.
Where are you from originally?
Chris: I'm was born and raised here in Kingston.
JJ: I'm originally from Queens, but I've lived a lot of places. Devon and I came up here from Brooklyn full-time when we started a family.
What brought you to the Kingston area and keeps you in this area?
Chris: I would say my friends and family keep me here, but Kingston is growing, particularly uptown, and it's exciting to open a gym here and continue to be a part of the community.
JJ: I ran Black and Blue Mixed Martial Arts here in Kingston for many years. So I have been training Kingston residents for a long time. I like the people. I like the way Kingston is evolving and I am happy to be a part of it.
Devon: When we decided to open Stockade Martial Arts, we wanted to be in the Uptown area. The neighborhood is really alive with great restaurants and shops and a creative community that we really admire. We wanted our space to fit in with the local vibe and we a feel like the community has really embraced us. All of the business owners in the area want each other to flourish and succeed and it feels really good to be a part of that.
What is your favorite hangout in this area and why?
Chris: I've got a couple favorite hangouts around. I love going to Duo bistro for a bite to eat, grabbing a cup of coffee and some cookies at Outdated cafe, or a beer at Keegan's on mason jar night.
JJ: The outdoors. I hike, mountain bike, snowboard, and if we are lucky enough to line up a babysitter, I go to DUO Bistro or Keegan's for a beer. Forsyth Park and the Nature Center is awesome with my kids.
Devon: What JJ said except for the outdoors part.
When you're not in Kingston, what's your idea of a wonderful city to visit, and why?
Chris: I love visiting NYC, I've got a lot of friends down there. Its fun to go down for a weekend a go out with friends, but I'm not a city person, I'd rather hang upstate.
JJ: Cities are great, but I'd rather visit the mountains in Colorado where I can snowboard.
Devon: Asheville NC is a super-cool place I'd like to visit again. JJ and I have been feeling Portland (and all of the Pacific Northwest really) pulling us in that direction. It's like paradise out there. New York City is obviously pretty special, but my all-time favorite city is Barcelona Spain. Given my husbands obsession with cured meats I'm pretty sure he'd love Barcelona too.
Tell us something that we never would have guessed about you.
Chris: Those who don't know me would probably never guess that before I was a professional fighter I was a high level gymnast on my way to a division 1 scholarship. Funny how much things change.
JJ: Most people wouldn't guess that I studied art and print-making in college. Also, I'm really into charcuterie. My basement is pretty much filled with home-cured bacon, sausage, and prosciutto hanging from the ceiling. Give me a dead animal and I'll make you sausage.
Devon: I'm a graphic designer and I also write and illustrate children's books.
https://kingstonhappenings.org/wp-content/uploads/ngg_featured/DSC_0240-1600x899.jpg
899
1600
Kingston Happenings
https://blastserve.com/khtestbed/wp-content/uploads/2023/07/KH-Transparent-Logo-e1688304541199.png
Kingston Happenings
2014-11-10 19:21:09
2017-03-07 11:50:22
Doers and Dreamers – Chris Mauceri, JJ Russo, and Devon Kinch