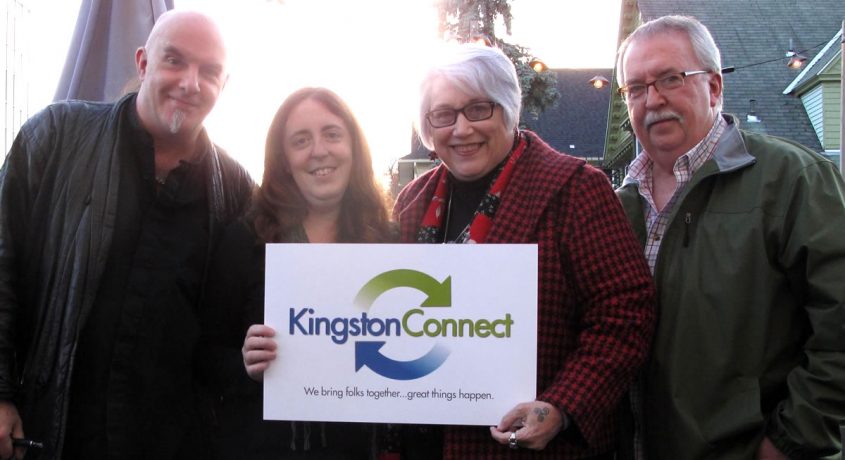 (pictured: Mark Marshall, Alex Brown, Susan Whelan, Rick Whelan)
So you live / work / play in Kingston.
Maybe you're a small business owner… or a tech person… or a tattoo artist. A signmaker… or an animator… or a farmer.
The City of Kingston is populated with a wide variety of such individuals, many of whom are so busy, they don't get the opportunity to meet their fellow Kingstonians. Bringing them together is the idea behind Kingston Connect – a grassroots organization that is holding an event aimed at doing just that.
Following a few soft events during the late summer of 2014, Kingston Connect is announcing their monthly mixer, called MIX@SIX… the event will recur on the first Wednesday of each month.
Kingston Connect is the offshoot of Kingston Digital Corridor (KDC), a 2009 marketing effort meant to attract technology-based small-business owners to the area, and connecting tech workers who were already here. KDC gradually transformed to more of a social networking organization, with an eye towards bringing together Kingston residents of all stripes.
"The problem was, people had grown to associate KDC with tech, and didn't think it applied to them… the name Kingston Digital Corridor didn't help", said Mark Marshall, one of the four people who now oversee Kingston Connect. "We had some great Happier Hour events in Kingston over a four-year period, and many people connected through them, but we couldn't shake the tech thing."
So Marshall, a media producer and musician, and Alex Brown, a digital media production supervisor for Pearson Higher Ed, who together had been organizing the events, decided to restart the effort as Kingston Connect.
"It's a great way to meet your neighbors, as well as find and connect to local resources. So many of my close friends today, I actually met at KDC for the first time", says Brown. "It's also been a great asset work-wise for me to be able to find and hire people locally for freelance work. There's so much talent to be discovered in the Hudson Valley. "
With the addition of Rick Whelan, Creative Director & Brand Strategist at Ditto! Design! LLC, and Susan Whelan, Coordinator of Social Media, Educational Workshops and Showroom Sales at Bailey Pottery, Kingston Connect has relaunched.
"For new arrivals to Kingston, it is important to find community – to make connections with your neighbors. I want Kingston Connect to help build that community. I met some of my favorite people at KDC! People that my path might never have crossed otherwise", says Susan.
Rick adds: "There is so much untapped talent/ideas/energy in our community – people who could come together to make Kingston a better place to live/work/play. We just need a relaxed forum to find one another. Chamber events tend to be crowded and noisy – these mixers give me an opportunity to get out and meet people in a comfortable environment. My most positive experience so far is meeting a talented writer with whom I now collaborate on several projects. "
The first MIX@SIX event will take place at Keegan Ales on November 5th, from 6pm-8pm. There will be a table for business cards / brochures, and one element of the former KDC event is returning – "Your 70 seconds of Fame", where 5 attendees get 70 seconds each to talk about who they are and what they do.
There is also a Facebook members-only Kingston Connect group, which can be joined only by attending the live event.
More information about Kingston Connect can be found at KingstonConnect.com, or on their Facebook page.
https://kingstonhappenings.org/wp-content/uploads/2014/10/kcgroup.jpg
707
1200
Kingston Happenings
https://blastserve.com/khtestbed/wp-content/uploads/2023/07/KH-Transparent-Logo-e1688304541199.png
Kingston Happenings
2014-10-28 15:08:10
2014-10-28 15:08:10
Kingston Connect