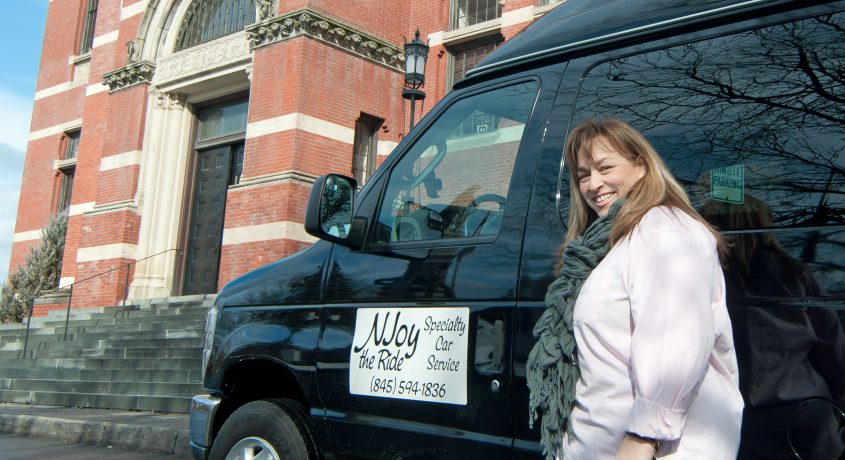 Doers and Dreamers – Nadine Fescoe Ferraro
Sometimes it's just amazing how some people find a niche that just suits them so well, while at the same time play a role that benefits the community. This week's Doer and Dreamer, Nadine Ferraro, serves our community as a 'professional cheerleader' on many levels by working with many non-profits, promoting local businesses, and making sure her clients get a healthy dose of good vibes about the Hudson Valley. Since KingstonHappenings.Org is also a way of promoting community and economic development, I'm looking forward to working with Nadine in the future to ensure local residents and visitors are aware of all of the great things that are happening here in our area.
Your name: Nadine Fescoe Ferraro
Business or organization: NJoy the Ride
Occupation: Owner – NJoy the Ride Personalized Car Service.
What is your approach to your business or occupation that makes you unique?
At NJoy the ride we accommodate any and all transportation needs. 'nights on the town', parties, concerts, festivals, airport runs, sporting events, shuttling services to and from hotels, weddings, fundraisers, and so much more. Fun, safe, and affordable.
I'm also a Local Business Promoter – I promote for any local businesses that need to get the word out about their services, specials, events, and anything else they want potential customers to know. I have a large following on Social Media through Facebook. Whatever you have going on, if you want people to know about it, I'm the person to call! I'm sort of a walking talking billboard for all things Kingston and surrounding areas.
I make it all very personal. I deal with everyone as if they were a guest in my home. I want you comfortable and happy. Whether I'm driving or promoting, I get to the core of their needs and wants and that's what I give them, all with a personal, friendly touch! If you aren't relaxed and happy when dealing with me, I'm not happy!
Where are you from originally?
Born and raised in Kingston, NY
What brought you to the Kingston area and keeps you in this area?
I was born here, but my parents came to Kingston from Newburgh in the 50's. My grandfather, Anthony Augustine, owned and operated a diner at the Trailways bus terminal when it was on Broadway. My Dad worked there for him and this is where they settled and raised me and my 3 sisters. The terminal was quite the hangout for high school kids and local people back in the day.
I love where I live. My family and childhood friends are all here, at least a great majority of them. And I have a grandson, Jack, and I couldn't imagine living away from him.
Kingston offers so much: History, education, music, food, and very unique people. I think we are a truly welcoming and friendly community and it's a great place to raise your children.
What is your favorite hangout in this area and why?
I really don't have one favorite hangout. I love frequenting all the places Kingston has to offer. I have my favorite drinks and food choices at so many different places and love hanging out and enjoying them in that place at that moment. I could never say one spot is my favorite.
And although it's not a hangout, I can honestly say that I faithfully check out Kingston Happenings for all the latest events and happenings in Kingston!
When you're not in Kingston, what's your idea of a wonderful city to visit, and why?
I love visiting NYC! The sights and sounds never cease to amaze me. But I truly love Ulster County and all of Kingston's surrounding towns. There are so many incredible little finds every time I stop in one. The Pubs, the shops, the sites and the people. Saugerties, New Paltz, Woodstock, I love the vibe of each and every one!
Tell us something that we never would have guessed about you.
I'm pretty much an open book. However, I was always pretty athletic, but could never ever get the hang of roller skating, even though I worked at the Tiger Roller Rink, a former Kingston business. I've tried as a kid and as an adult and it's the one thing I can't do. My sister Beverly reminds me of that all the time. It was the one thing she could do that I couldn't! She was an amazing skater. Sisterly love.
https://kingstonhappenings.org/wp-content/uploads/2016/02/DSC_0030.jpg
1459
2594
Kingston Happenings
https://blastserve.com/khtestbed/wp-content/uploads/2023/07/KH-Transparent-Logo-e1688304541199.png
Kingston Happenings
2016-02-10 12:42:46
2017-03-07 11:50:54
Doers and Dreamers – Nadine Fescoe Ferraro