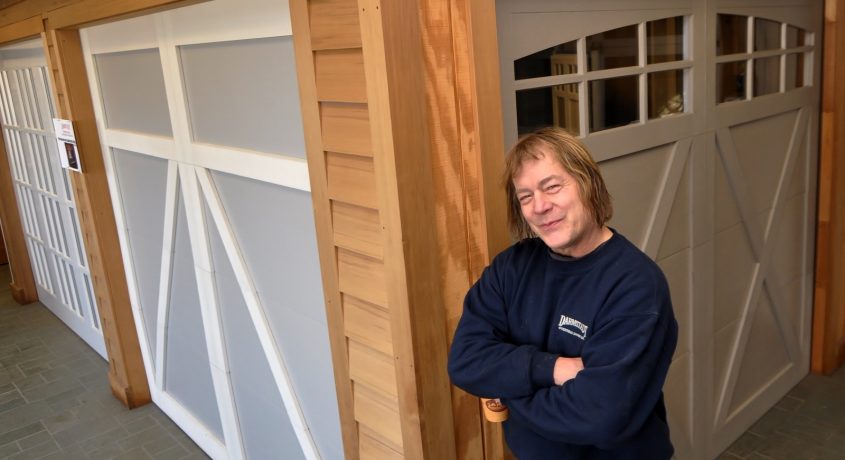 Doers and Dreamers – Ken Darmstadt
Persistence,  adaptability, passion and insatiable curiosity are always beneficial traits for an entrepreneur to have to ensure longevity in a tough business climate. This week's Doer and Dreamer, Kenny Darmstadt, has demonstrated that he has those traits and a lot more over the years. He has woven the varied interests that he has on many subjects into his own little conglomerate to carve out his niche in our local business and arts community.
Your name: Ken Darmstadt; AKA Kenneth or Kenny
Business or organization: Darmstadt Overhead Doors and Cornell St.Studios which both reside in the Darmstadt Complex
Occupation:
Owner / Operator / President of Darmstadt Overhead Doors
Building Manager / Designer / Engineer of the Darmstadt Complex
Co-Owner / Officer of Cornell St. Studios (with my daughter Renée)
What is your approach to your business or occupation that makes you unique?
Darmstadt Overhead Doors: We are a speciality company. We make ourselves available for any repairs, emergencies, and custom built doors. You can catch me at customers houses fixing doors until midnight sometimes. Mention dinner or dessert and I am there!
Darmstadt Complex: I approach everything from a self sustaining environment : solar, heating/cooling, lighting. I am into practicing a ZERO net building, and slowly getting there.
Cornell St. Studios: The past 7 years I have made the space more self sufficient with LED lighting. I am the lighting tech for all the art events and performances.
I have designed unique spaces to host unique shows that get the community involved.
Where are you from originally?
I was born in Oceanside Long Island. From the ages of 1-5 lived in Iowa, and then from 5-13 I lived in Long Island City Queens. I was in the last class of PS1, which is now the MOMA.
What brought you to the Kingston area and keeps you in this area?
My father Ralph Darmstadt was a traveling minister, so in 1968 when I was at the age of 13 we moved to Shadaken and I attended Onteora High School. In 1972 I met my wife Michelle in Woodstock. and finished my last year of High School at Kingston High. At the age of 19 in 1974, I started my business Darmstadt Overhead Doors.
There are many factors to why I love Kingston. My wife and kids were born here. The many friends I have met through sports, history lectures / tours, and doing overhead door work. I am related to the Cornell family, and my building is located on Cornell Street! Music! I love listening to and playing guitar. I happened to meet David Temple at Bread Alone (when it was located in Uptown Kingston), who is an unbelievable guitar player!! I have to mention that he will be playing his 5th concert at Cornell St. Studios this Saturday evening, "MUSIC OF THE AMERICA'S". He will be collaborating with the DOJO Dance CO, including live dance performances during his set. PHENOMENAL. One of my favorite events of the year.
I am the motor man for the Kingston Trolley! You will find me ringing the bell on the trolley come spring – summer and fall-
on Sundays and Holidays. I am a Catskill Mountain Railroad fan. I have rail bed fever. AND I am an architect nut. Kingston has amazing architecture! One of my favorite architects of the area is Calvert Vaux (co-designer of Central Park). I love driving around finding Kingston architectural gems. Vaux certainly left his mark in Kingston.
As you can see I have many passions and not enough time to get out there and enjoy them all. BUT, one day I am going to make time to travel and do all the things I want to do!
When you're not in Kingston, what's your idea of a wonderful city to visit, and why?
I am a NYC boy, so I enjoy visiting NYC.
Some places I would love to go visit because they have fantastic architecture include Chicago, Oklahoma City, Los Angeles, Vancouver, London and Quebec City. Oh, and I want to go to Spain!
And any place Frank Lloyd Wright designed buildings.
My goal is to travel the entire length of the Lewis and Clark Trail.
What is your favorite hangout in this area and why?
I hangout at diners because they are open late and they have good tapioca pudding and good friends. Keegan's has good music and peanuts.
Tell us something that we never would have guessed about you.
I am 61 years old, still a kid and my hair is naturally blonde!
[Slideshow "ken-darmstadt" not found]
https://kingstonhappenings.org/wp-content/uploads/2016/02/DSC_0036-1600x901.jpg
901
1600
Kingston Happenings
https://blastserve.com/khtestbed/wp-content/uploads/2023/07/KH-Transparent-Logo-e1688304541199.png
Kingston Happenings
2016-02-02 11:38:51
2017-03-07 11:50:55
Doers and Dreamers – Ken Darmstadt