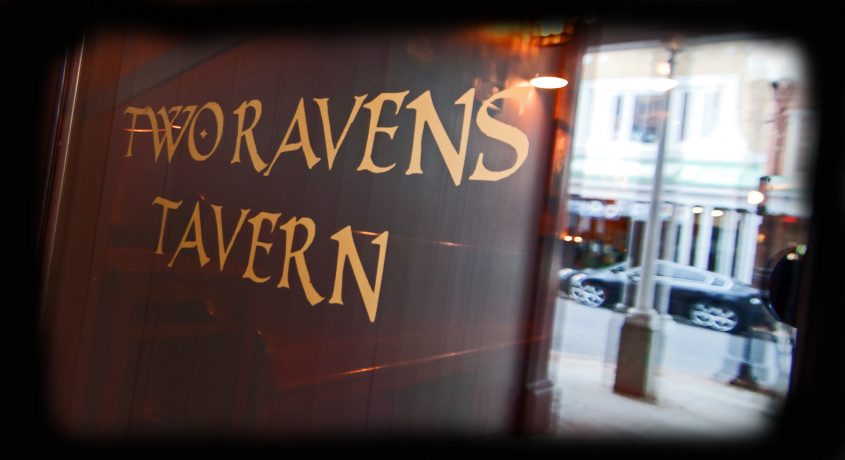 Foodie Paradiso: Two Ravens Tavern Soars
By contributing writer:  Susie Linn
When I think of Czech restaurants, I think of lush oil paintings with gilded frames, tuxedoed waiters scurrying about in hushed tones, ornate silver flatware, white cloth-covered tables and white glove service. Old World and old school. Think again. Two Ravens Tavern is probably the antithesis of that notion, but the food is old world first class. Entering the brick building on Wall St. in Uptown Kingston (formerly Kimm's Grocery), the first thing you notice is that the front of the building has been pushed back about eight feet to accommodate a nice little patio from which you can sip one of their lip-licking libations and people watch. Continuing in, you are greeted by a pool table which seems to be constantly occupied by a gaggle of locals that have been looking for that rarity for a long time. The next thing you notice are the guitars, lots of them in different shapes and colors decorating the walls.
When asked about the guitars, owner Jay Bradley, a colorful character perfectly suited to tending a tavern replies, "Who doesn't like guitars?" Apparently, Mr. Bradley does. In fact he builds them. He and his friend Dave Harrington, an occasional barkeep at Two Ravens, are the makers. His hankering for guitars stems from a stint in a band. When asked what kind of music they played, he says, "Bad, really bad."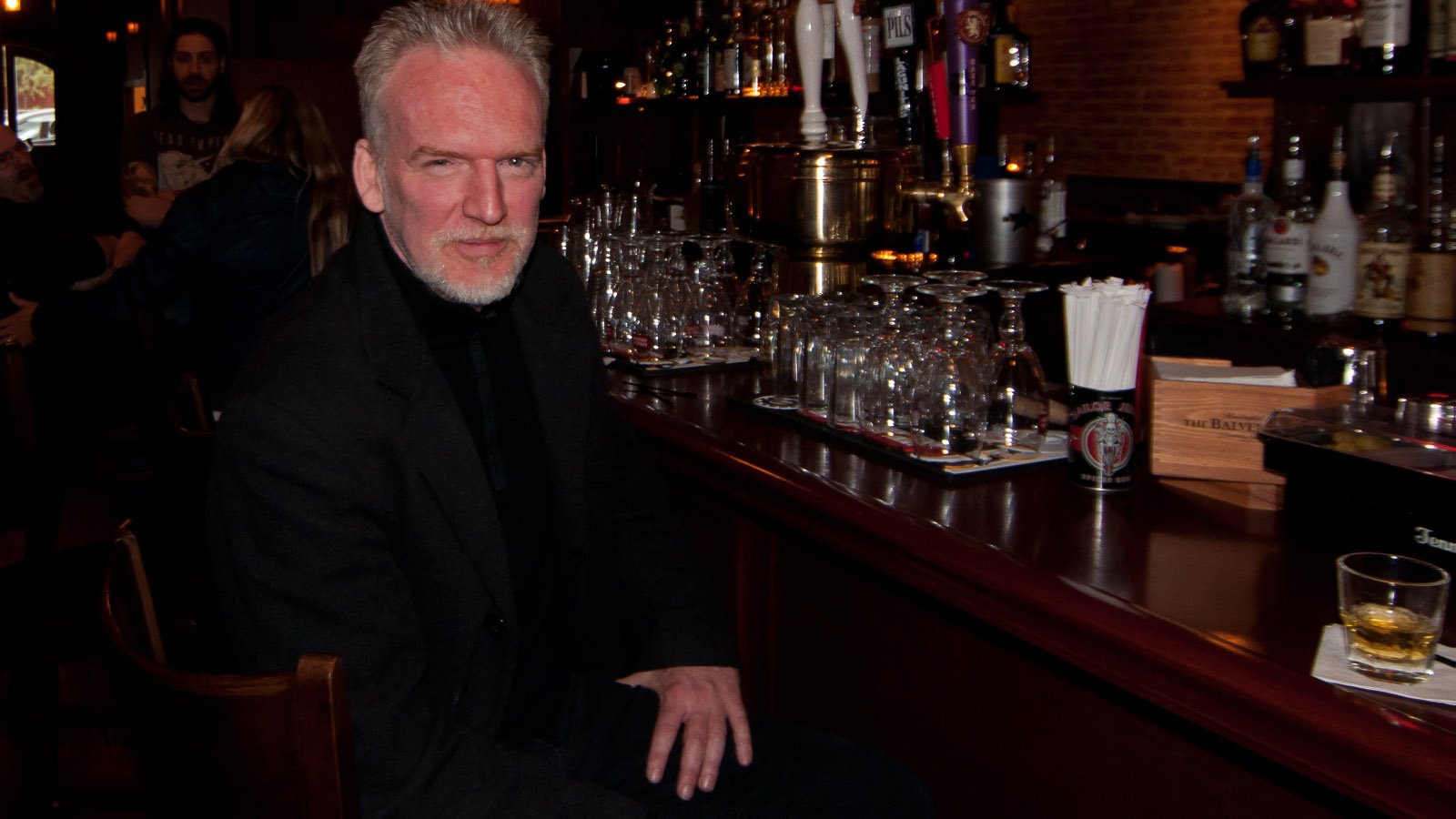 The room has an industrial feel to it with chocolate-painted and brick walls with metal ductwork running throughout. As Companion One, Two and I sat at the horseshoe-shaped bar talking to Mr. Bradley, he offered us an appetizer of Pork Ribs with Cabbage Sauté and Pepper ($13). The meaty ribs blasted to crisp in a hot oven, then slow roasted to perfection, juicy and falling off the bone as you bite into them. The accompanying cabbage, buttery and rich, was a perfect side to those luscious ribs. Our bartender, Jason Cavallo, was mixing up some mean cocktails, using fresh, organic ingredients. He created for us "The Wild Soul," which married cilantro, ginger, Corralejea tequila and orange peel, bright and aromatic with three straws to boot. Cocktails average about $7 with the top level concoctions maxing out at $14.
The menu is broken up into four sections (with dill, horseradish or sour cream singing back-up on many of the dishes), To Start ($7), Salat (salad) ($7) Klobasa (sausages) ($9) and House Specials ($13). Deciding to share everything, we started with Semga, a house cured gravlax with potatoes, dill and horseradish sour cream and Wild Mushroom Potato Pancakes. The pancakes were earthy and crispy with onion, comfort food at its best with plenty to share. The gravlax, silky and salty, did not want to be shared, but Companion One and Two wrested the fork from my fingers, so I had to give in.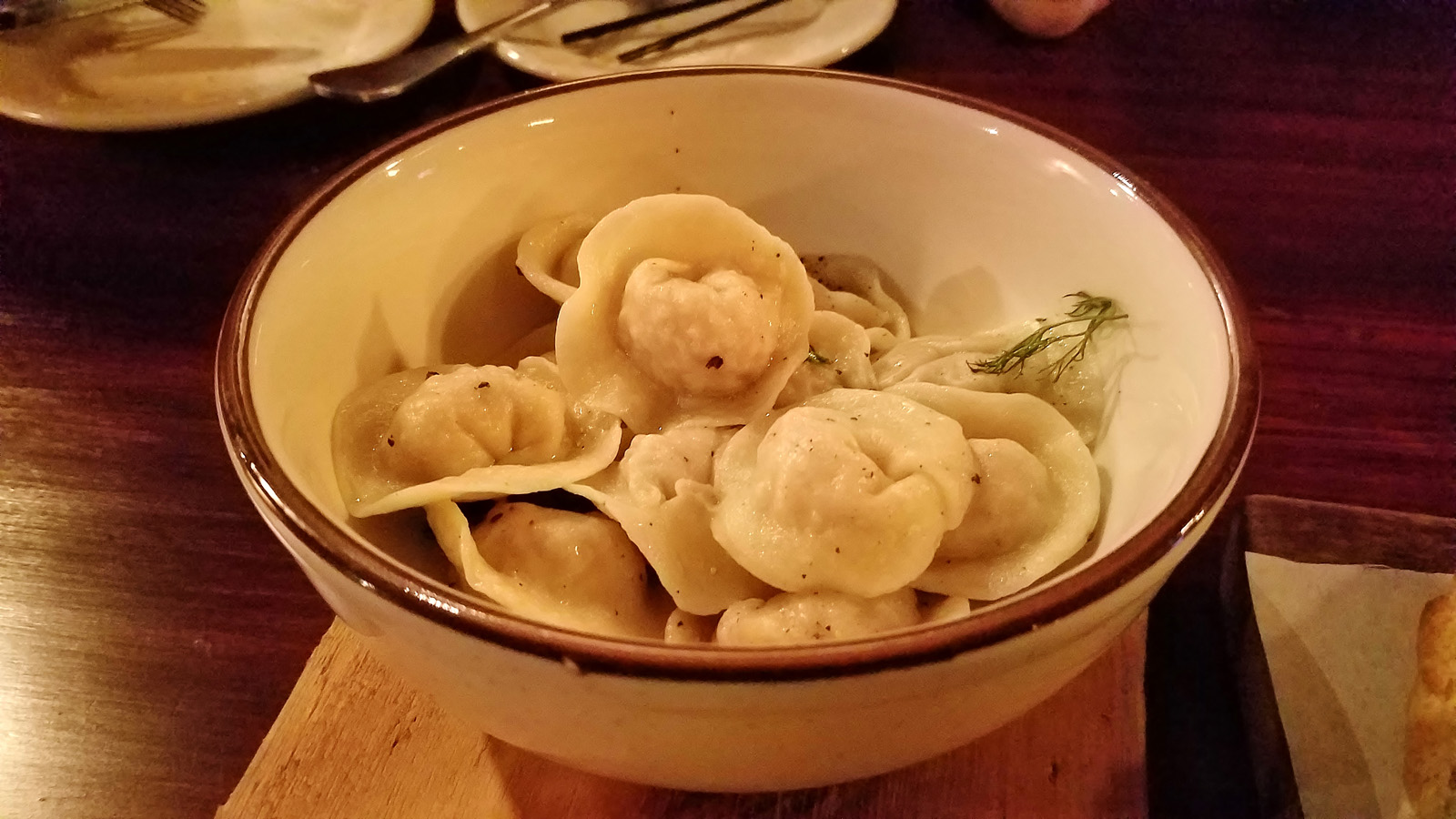 For entrees we went with Slavyanskiy Dumplings, the Stroganov and Keilbasa, Czechoslovak-style, dark-smoked gypsy ham with the skin so tight you can hear it snap as you bite into it and the juice sprays in your mouth, sweet, salty and spicy all at the same time. Served with that Alsatian classic choucroute garnie — sauerkraut seasoned and simmered with various meats, again that briny taste with the caramelized cabbage pairs flawlessly with this smoked pork sausage. The Dumplings were sautéed in melted butter swimming in just the right amount of a light broth, unctuous and filled with meat with the right amount of heat from crushed black pepper and freshness from the dill. The star of the specials was the stroganov, sautéed beef with sour cream and wild mushrooms served over buckwheat. Buckwheat ('grechka' or 'grecha') is very common in Russia, It is a 'healthy grain' that doesn't contain gluten, but is rich in protein and iron. But did you know buckwheat isn't a cereal at all? Wheat, rice, millet, oats, barley, corn and rye, they all are Monocotyledons (Poaceae family), while buckwheat comes from Polygonaceae family and is a Dicotyledon (together with amaranth and quinoa also known as healthy grains). The rich, smooth textured base is the perfect delivery system for the creamy beef.
Bradley says his chefs, a husband and wife team (Bogden, he's from Russia, Gabriella, she's from Brazil, and brand new baby Maya) are the creative force behind the menu. After finishing our entrees, Chef Bogden presented us with a pallet cleansing platter of fresh garlic, scallions and Salo (homemade cured pork fat) served with horseradish-infused chilled vodka. Nice touch! We finished off our meal with a Mother's Milk Stout and chocolate mousse with sliced almonds and candied orange peel. The perfect sweet dream after the garlic and onions.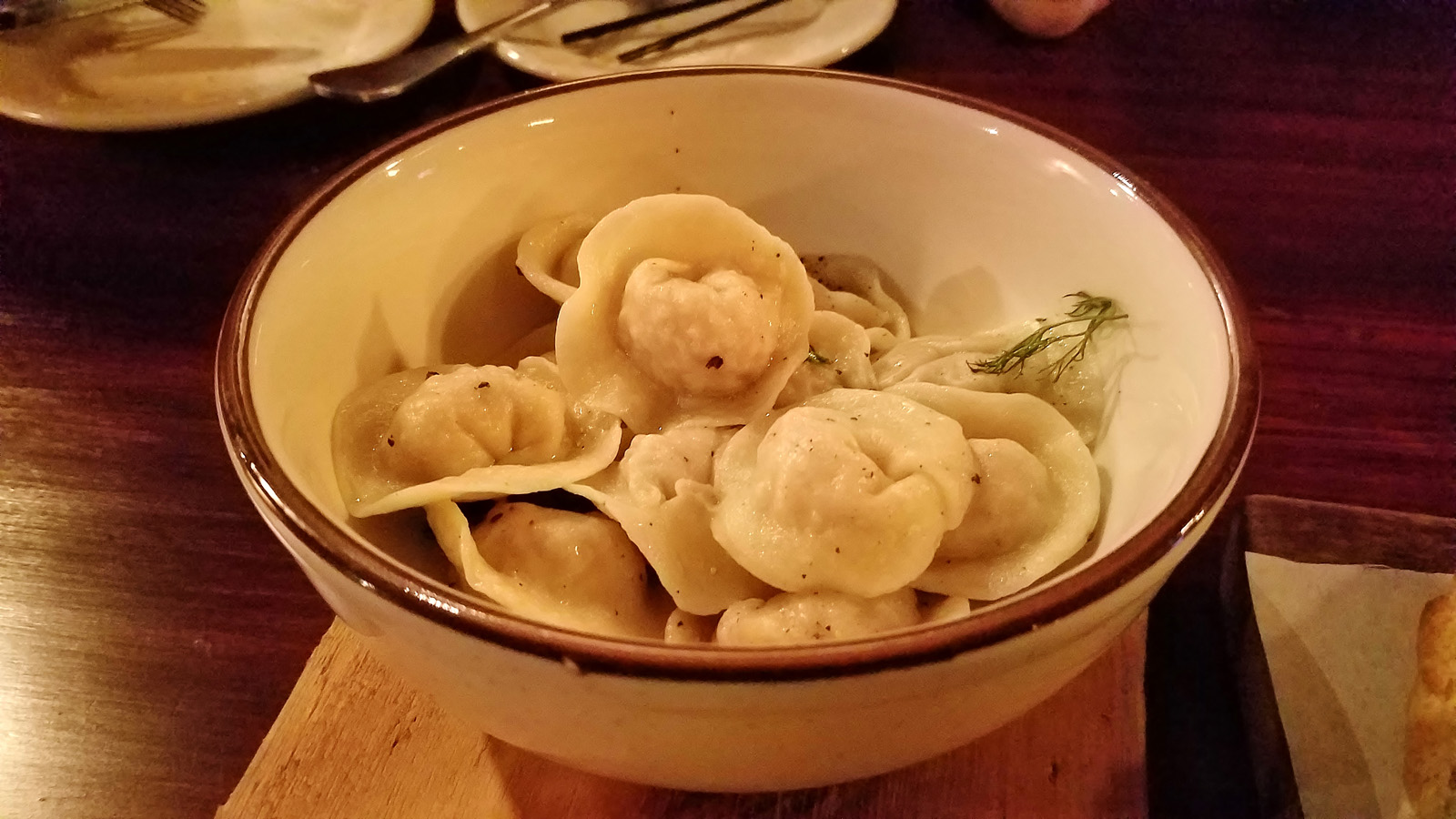 Curious as to what brought Bradley to Kingston, he tells a tale of bringing his sister upstate to SUNY Oneonta. He said they got as far as Kingston, fell in love with the area and put her on the bus to Oneonta and they never left. When asked why the name Two Ravens; does it have to do with the Norse legend? He chuckled, rolled up his sleeve, and proffered his arm, sporting a tattoo of two ravens. No pretenses here.
Two Ravens Tavern is open Sunday – Wednesday, 12:00pm – 12:00am (no food is served on Wednesdays, Thursday –Saturday, 12"00pm – 2:00am. At 316 Wall St., Kingston, 845-383-1462, https://www.facebook.com/TwoRavensTavern.
https://kingstonhappenings.org/wp-content/uploads/2016/05/DSC_0813-copy.jpg
1738
3089
Kingston Happenings
https://blastserve.com/khtestbed/wp-content/uploads/2023/07/KH-Transparent-Logo-e1688304541199.png
Kingston Happenings
2016-05-17 08:25:35
2018-05-22 14:48:17
Foodie Paradiso: Two Ravens Tavern Soars