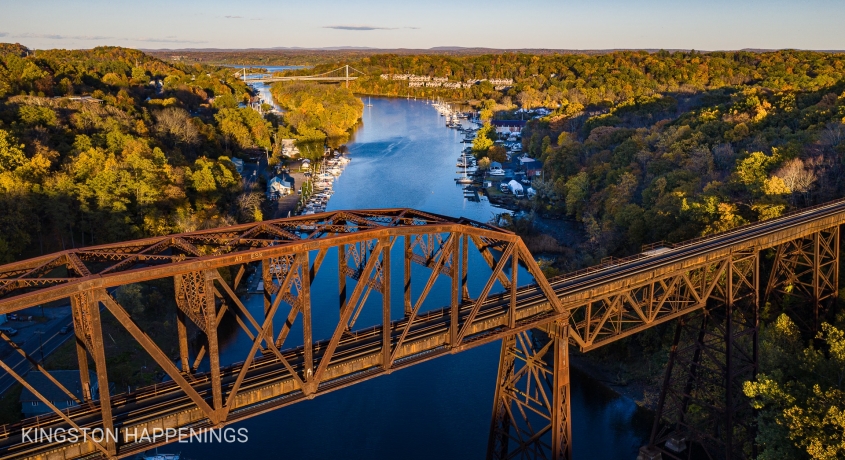 Things To Do This Weekend in Kingston, NY for 5/7-5/9
Happy Weekend, all! The time has come to enjoy another fabulous Spring weekend here in the Hudson Valley, and we're highlighting a small sample of events for you to choose from and enjoy below. If even the weather might not be looking too stellar, there are still plenty of great things to do in and around Kingston NY, including many virtual happenings! So, we wish you a nice weekend not matter you do. And, to whom it may apply- Happy Mother's Day!
COMMUNITY EVENTS
Find your furever friend or new family member through the Empty The Shelters event happening May 5-9th with The Ulster County SPCA. This nation-wide effort involves over 200 animal shelters and agencies to help shelter animals find their #fureverhome! Adoptions are reduced during this event thanks to the BISSELL Pet Foundation. Rescheduled from last week due to inclement weather, Join Senator Michelle Hinchey and SAMADHI for an outdoor Narcan Training on Friday May 7th at 5:00 PM at Loughran Park in Kingston, NY. During this training, participants will learn how to recognize the signs and symptoms of opioid overdose and how to administer Narcan (naloxone), which temporarily reverses the effects of opioids. Participants will receive a free Narcan nasal spray kit to always carry with them in case of an opioid overdose. Saturday May 8th, enjoy a virtual presentation "Backyard Birds of the Hudson Valley presented by Mohonk Preserve " in conjunction with the Town of Ulster Library. During this hour-long presentation by a Mohonk Preserve educator, you will get a few tips and tricks to identifying our feathered friends visiting the feeders. Learn how to use apps for your smartphone to help you identify birds and contribute to citizen science from home. Help support another good cause and check out the 'Book, Bake & Plant Sale' at The Hurley Library this Saturday! Last but not least, everybody's favorite hometown heroes are back for some soccer action- the Stockade FC! Stockade FC vs. Albany NY Shockers – 2021 Home Opener is THIS SUNDAY May 9th.
ART
The Ulster County SPCA's Artists for Animals program sounds like something you don't want to miss! Their staff and volunteers will render your pet to the best of their questionable abilities in a variety of mediums, all in fun to support their awesome organization. Submissions are open May 15th to June 19th. Artwork will be shared online and exhibited in our shelter as it is completed, until the end of June.
Check out ArtPort on the Rondout with their exhibition "Form or Function," running April 24, 2021 until June 6, 2021. The exhibition "Form or Function" presents works that crosses over media and discipline exploring the relationship of objects in between contemporary art, design and craft. Schedule a Gallery Visit at the Lockwood Gallery and check out the new exhibition 'CAPTURED SPACES,' a multi-disciplinary visual discussion that explores how three abstract artists apply their individual perspectives to the shaping of spatial experiences that express the world without and the world within. CAPTURED SPACES is on view from April 24 – May 23!
MUSIC
Live music is on the rise in and around Kingston NY. There are plenty of awesome bands to catch out this weekend like Bunkhouse Boys and Michael Francis McCarthy performing at Keegan Ales. The Deadbeats  and  Mick Lynch will be providing some tunes to accompany some fine food truck faire at Grand Cru in Rhinebeck. At Pearl Moon in Woodstock, you can enjoy the likes of James Hearne, Peter Einhorn , and Carl Mateo at Pearl Moon in this up-and-coming music venue!
Outdoor Markets and Nature Walks
It's definitely time for us to get outdoors and enjoy some great markets as well as some guided excursions into the woods to explore local fauna and flora. The Kingston NY Farmers Market kicks off its official outdoor market with plenty of new local vendors and makers.  Mayfest Essential Farmers and Makers Market
at Walkway Over the Hudson will bring a curated selection of the Hudson Valley's finest producers – farms, distilleries, breweries, wineries, restaurants, artists, artisans, and more – to the Hudson Valley Rail Trail and west approach to Walkway Over the Hudson State Historic Park on Saturday, May 8 and Sunday, May 9 from 12-5 p.m. Another great fest not to be missed is Women in Food & Farming Festival – Live and Virtual at Stone Ridge Orchard! The hybrid live/virtual event open to the public will honor and celebrate more than 50 women-owned farms and businesses in the food and craft beverage industries and also provide resources to women in business. It's Warbler time at the John Burroughs Nature Sanctuary. Join the Sanctuary for this special inaugural Warbler event, Warbler Time at John Burroughs Nature Sanctuary , during which you will explore the sanctuary in search of these neotropical migrants on the first two Thursdays of May during the peak of spring migration in our region. At a time when they are in their most brilliant courting colors, warblers are often ranked as the highlight of the spring migration. Join the Kingston Land Trust for a guided Spring Ethnoecology Walk in Kingston with local ethnoecologist Justin Wexler of Wild Hudson Valley and learn about the springtime environment around the Rondout and Twaalfskill uplands and historic hamlet of Wilbur (now part of Kingston) through the lens of pre-colonial relationships with the land.
…The best part of this week's happenings? Many of these events are Virtual so if you're not feeling like venturing out just yet, there are still many fun and exciting happenings to take part in. Have a nice week no matter what you do!
You can find all of these events and lots more at https://kingstonhappenings.org/events/
---
Things To Do This Weekend
---
---
https://kingstonhappenings.org/wp-content/uploads/2021/05/75210811_2600253496759146_185562928152313856_n.jpg
1080
1920
Kingston Happenings
https://blastserve.com/khtestbed/wp-content/uploads/2023/07/KH-Transparent-Logo-e1688304541199.png
Kingston Happenings
2021-05-06 10:27:51
2021-05-06 11:10:27
Things To Do This Weekend in Kingston, NY for 5/7-5/9