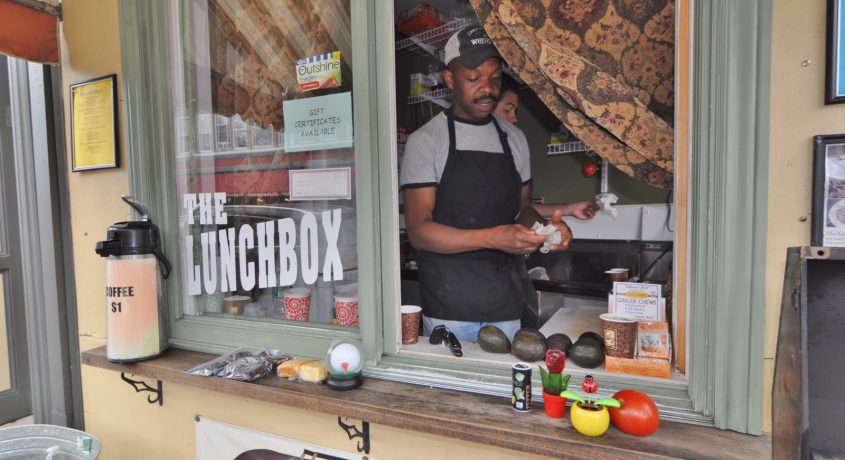 Foodie Paradiso: The Lunchbox, Shoe-box in Size But Big in Flavor
By contributing writer: Lynn Woods
The Soup Nazi on Seinfeld was based on a real-life soup stand proprietor in Midtown Manhattan—I used to go there during lunch hour in the early 1990s—but fortunately, not all gifted soup vendors are ogres. Here in Kingston we've got The Lunchbox, which serves soup and other lunch items from a window in a shoebox-size kitchen near the top of Fair Street, and proprietor Sean Miller is stellar proof that you can make superlative soup and still be a very nice guy. In fact, the inspiration for his curtain-draped window, which he likens to a kind of stage—show's over at closing time at 4 pm—is from the George Burns and Gracie Allen Show.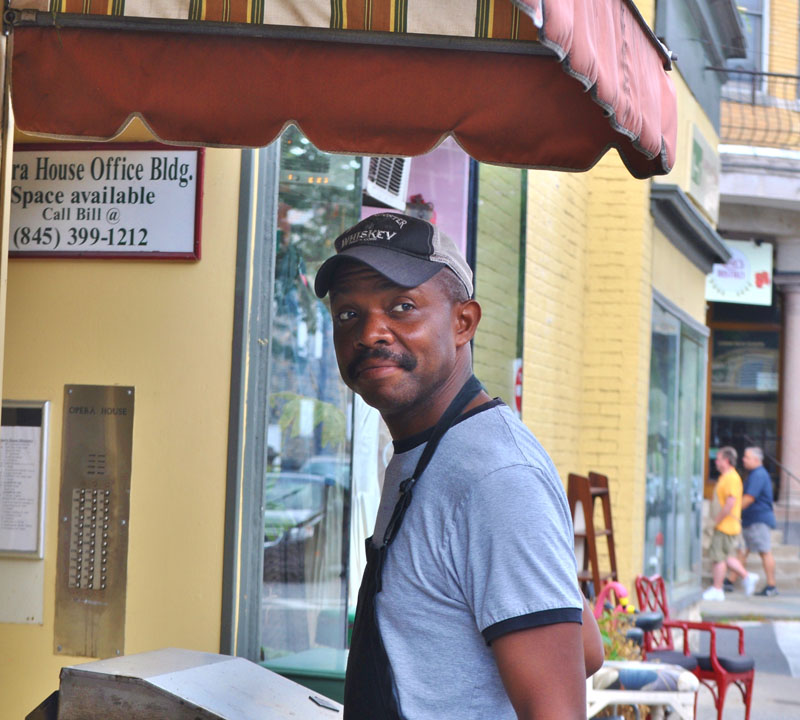 Sean has worked in restaurants since age 16 and operated a hot dog cart on the Strand before he was invited to take over the Fair Street space by previous proprietor Uptown Twist. He opened the soup stand three years ago this November. He's currently serving two soups a day, but once the temperature cools he'll be offering seven. He also makes wraps, paninis (basically a wrap heated on the grill), a couple of proper sandwiches and, the day we ordered lunch, chicken sizzling on a grill set up just outside the window, served either in a spicy jerk version or with garlic and herbs. This came with homemade potato salad. We also ordered the kale and white-bean soup. The soup had us actually feeling eager about the fall, when soup once again becomes the centerpiece of The Lunchbox and one has to agonize to make a choice. But in fact, if you like health-giving, home-cooked food, you can't go wrong at The Lunchbox. That day's menu of wraps and paninis included avocado, tomato, and basil, tomato and mozzarella, mushroom and onion, and buffalo chicken salad. The chocolate brownie cookies, sold, along with cornbread, at the counter, were homemade by somebody. Coffee is $1, and cold sodas and water can be retrieved from an ice-filled washtub.
While Sean and his helper prepare your lunch, you can rest on a sturdy, rustic bench or browse the vintage clothing at the thrift store next door. It helps to get there on the early side of lunch because many items tend to sell out. (His lobster rolls, which are occasionally on the menu, always sell out.) The Lunchbox opens at 10 am every weekday and as mentioned closes at 4 pm. If the weather's nice, there's nothing like feasting on Sean's homemade food at a picnic table on the Senate House grounds. And—shudder at the thought–when winter once again rolls around and all this birdsong and warm sunshine becomes a distant memory, it's nice to know The Lunchbox will be open, no matter the temperature, doing its bit to keep the Uptown lunch crowd well fed and warm.
https://kingstonhappenings.org/wp-content/uploads/2015/09/DSC_0430-1600x1063.jpg
1063
1600
Kingston Happenings
https://blastserve.com/khtestbed/wp-content/uploads/2023/07/KH-Transparent-Logo-e1688304541199.png
Kingston Happenings
2015-09-07 11:52:46
2018-05-22 14:48:19
Foodie Paradiso: The Lunchbox, Shoe-box in Size But Big in Flavor