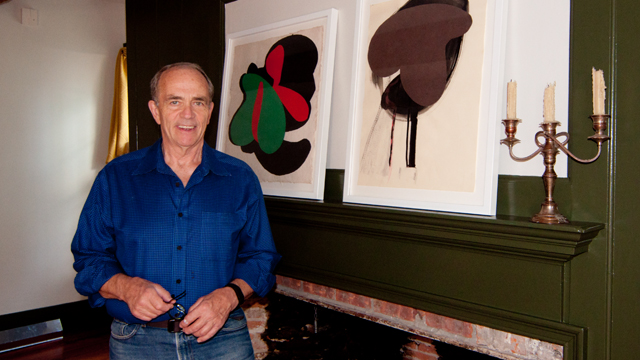 An excellent barometer of the health of  a community is the type of people that it is attracting and retaining. More and more we are seeing professionals, entrepreneurs, and accomplished artists moving to the Kingston area and loving what the city and surrounding area has to offer. It seems to be the same old story with this week's Doer and Dreamer, Dan George, who is a well known artist on at least two continents for his work which ranges from massive sculpture exhibits to more traditional paintings. By the way, if what he did before becoming an artist doesn't throw you, nothing will.
Editor's note: Dan George's show of artwork, "Still and Still Moving",  is featured this Saturday(9/6) at the Artbar gallery.
Your name: Dan George
Business or organization: Dan George (www.dangeorge.net)
Occupation: Artist
What is your approach to your business or occupation that makes you unique?
I am mostly known for my installations created for public spaces in the United States, Ireland, and the UK. A few of my clients include the Government of Northern Ireland UK, The National Roads Authority of the Republic of Ireland, and public authorities in Boston, St Louis, New York, and New Jersey. My public works are often serial in nature and range in size from a few hundred feet up to a quarter mile in length. They are light reflective and highly colored, making them visible at night as well as by day. They are animated, much like a flipbook, as the viewer passes by or through them.
My drawings, to be shown at Artbar Gallery, include the Slaughtered Fruit series (imagery I have worked with over several years), as well as new work from the Move series based on dance. Move series images grew out of my work building sets and costumes for dancers and their companies, as well as working with dancers in my studio.
I guess what make my installations unique is the emphasis on space, and on "dematerializing" the physical to reduce it to reflected light.
My exhibition at Artbar Gallery is titled Still and Still Moving. The images on paper are still, yet still moving, with solid forms playing off linear color.
I couldn't be more pleased than to have my work introduced to Kingston by Artbar Gallery and its wonderful director, Allie Constant.
Where are you from originally?
I was born and raised in Lake George NY. Except for a year in Antwerp, Belgium while attending the Academy of Fine Arts, I have lived in Brooklyn until moving to Kingston with my wife Erica Marks and our two cats in April last year.
What brought you to the Kingston area and keeps you in this area?
Erica and I had discussed off and on over the last several years living outside of New York City, as our neighborhood had become overcrowded. When she spotted an opening for an administrative position at SUNY New Paltz, we decided to investigate the mid-Hudson Valley. We thought we wanted a house deep in the woods until we realized that we'd have to get in our car for a quart of milk or a scone. Years ago, when driving between Brooklyn and Lake George to visit my mother, I would often stop for a bite at Schneller's on John Street, Kingston; I loved the look and feel of the Stockade area. So, wanting to leave the big city, but not the amenities within walking distance, we settled on Kingston, and found a wonderful historic property to buy Uptown. We couldn't be happier with our choice.
What is your favorite hangout in this area and why?
We have several. Usually you can find me having lunch with my new best friend, David Morton, the fine woodworker, at Duo enjoying the great fare and Andrea's beautiful smile.
The Stockade Bar is unique and place where you can get a beer or exotic drink and still be able to enjoy the music while having a conversation without raising your voice.
Elephant, Boitson's, Outdated, and occasionally Le Canard round out our neighborhood haunts.
When it gets too late to cook, Erica and I meet up at our hidden secret, Kings Pizza at 1 Wall Street, because we love splitting one of their entrees and can expect a welcoming hug from Marie and her granddaughter Mina.
When you're not in Kingston, what's your idea of a wonderful city to visit, and why?
Our ideal short time away is either hiking in the mountains or canoeing in the Adirondacks. We recently discovered Glimmerglass Opera in Cooperstown. When on more extensive sojourns we usually include walking the rarely explored neighborhoods of Paris, Rome, Dublin, or Buenos Aires and visiting their venues for art, dance, music and drama. Erica has family in Norway so we have traveled extensively in Scandinavia. Of course, we never tire of being occasional visitors to New York City!
Tell us something that we never would have guessed about you.
I am probably one of the few former handbag designers who also was a rodeo-hand riding bulls and bulldogging.
https://kingstonhappenings.org/wp-content/uploads/2015/08/DSC_0417x.jpg
360
640
Kingston Happenings
https://kingstonhappenings.org/wp-content/uploads/2013/10/Final-KH-Logo.png
Kingston Happenings
2015-08-31 14:23:15
2017-03-07 11:50:16
Doers and Dreamers – Dan George