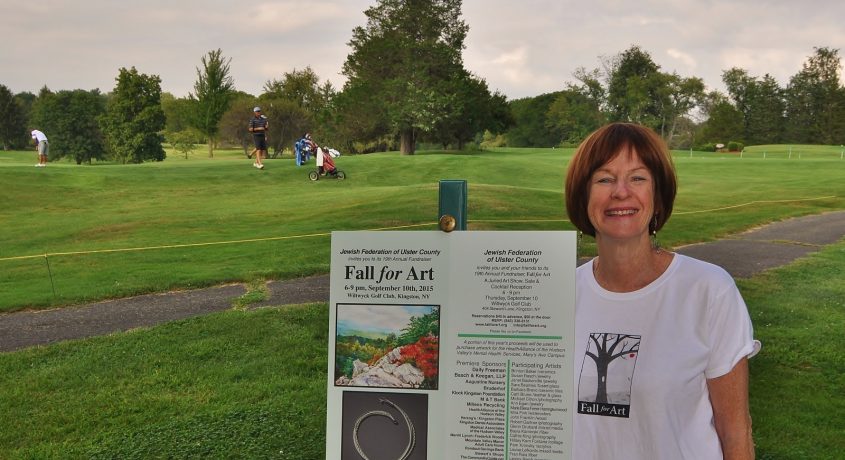 Doers and Dreamers – Barbara Connelly Cohen
When this week's Doer and Dreamer says it's important "to support our local community" it's not just a platitude from someone sitting on the sidelines. Whether she is a chairperson, worker bee, cheerleader, or patron, many of the organizations in our area and our community as a whole have been the beneficiaries of her involvement. Say 'hello' to Barbara Connelly Cohen, and the next time you see her(and you will), thank her for all the effort she puts in to making our community a better place to live.

Your name: Barbara Connelly Cohen
Business or organization: Fall for Art
Occupation: Chairperson of Fall for Art with the BEST committee!
What is your approach to your business or occupation that makes you unique?
Fall for Art, an annual event of the non profit Jewish Federation of Ulster County is devoted to supporting the Federation, supporting the arts in the Hudson Valley, and giving to the community. This event is coordinated with a volunteer committee and 1 staff member. Most events sponsored by non profits allocate their proceeds specifically for their organization. In the spirit of Tikuun Olam … FfA proceeds are allocated for Federation as well as benefiting People's Place, Family of Woodstock, CASA, Angel Food East, Jewish Family Services, area Soup Kitchens.
FfA is celebrating its 19th year Thursday, September 10 from 6 – 9 pm at Wiltwyck Golf Club, Kingston. Each year we choose a special recipient. This year representatives from HealthAlliance Mental Health Services will select artwork from participating artists(s) up to $1,000 in value for their reception area. We are gratified to be able to help enhance this space for patients and their loved ones.
Where are you from originally?
I was born in NYC.
What brought you to the Kingston area and keeps you in this area?
My parents Betsy & James Connelly adopted me from the New York Foundling Hospital when I was 3 months old. I thought as an adult I would spread my wings and live in NYC with a high powered life in retailing.
When my husband Joe graduated Optometry School in Boston we thought of living in Boston, but with both of our parents living in Kingston we wanted to be closer to them so we moved back to Kingston. This community has been very good to us and it was the right decision. Many people do not have the luxury of living close to their family. Our daughters Jaime and Beth grew up with 2 sets of grandparents and aunts and uncles. They received unconditional love which I know had a positive impact on them.
What is your favorite hangout in this area and why?
I am "all over" our area and extended community. You can find me in Kingston, Rosendale, and Rhinebeck in 1 day! Each town has their "go to" places and charm. We own a building in uptown Kingston that Joe's grandparents Ida and Harry Schwartz purchased in 1917. His grandparents and parents lived upstairs and the downstairs was used by his grandparents as a tailor shop, restaurant, and pawn shop. Joe's dad Frank Cohen opened Frank's Sport and Ski Shop following WWII. Joe is the 3rd generation to have his business Dr. Joseph Cohen Optometry in that space and I am the proprietor of Schwartz's Inn the space that his family lived in. If those walls could talk!
As part of our community I believe it is important to support our area events, organizations, restaurants, shops, etc.
When you're not in Kingston, what's your idea of a wonderful city to visit, and why? Martha's Vineyard.. I pretend to own a home in Edgartown and also own the local bookstore. My imagination has a good time. We are always having a book signing an just expanded to adding a cafe with delicious food.
Tell us something that we never would have guessed about you.
I used to be a tooth fairy and gave up the power when I started dating my husband Joe. I have 4 grandchildren ages, 5, 9, 10, and 10. They share with their friends that I used to be a tooth fairy and still have some connections I receive phone calls from excited kids in Colorado & New Jersey saying they just lost their tooth and asking if I can make a call to a tooth fairy. This has inspired me to write a book: "Our Nana used to be a Tooth Fairy."
https://kingstonhappenings.org/wp-content/uploads/2015/09/DSC_0618-1600x899.jpg
899
1600
Kingston Happenings
https://blastserve.com/khtestbed/wp-content/uploads/2023/07/KH-Transparent-Logo-e1688304541199.png
Kingston Happenings
2015-09-08 11:12:07
2017-03-07 11:50:16
Doers and Dreamers – Barbara Connelly Cohen