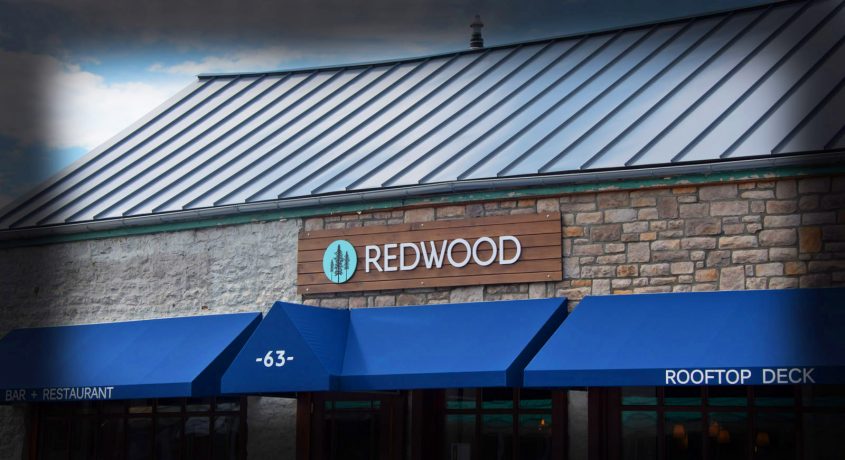 Foodie Paradiso: Redwood….and a Stairway to Heaven
By contributing writer:  Susie Linn
Kingston does not lack much in the way of dining. The restaurants are eclectic in nature, cuisine, price and formality; but therein lies the rub, there is very little outdoor dining in Kingston. Now when I say outdoor, I don't mean a few tables and chairs set up on the sidewalk; I don't want the smell of car exhaust or people bumping into your table as they pass by. No, I want a lush garden or a "room" with a view. I know there are a few notables, but nothing can beat the drama of rooftop dining, with the Catskills as backdrop. Welcome Redwood.
Companion was chomping at the bit to try Redwood, formerly Frogmore which, not that long before, had been the Parent Teacher Store. As usual I acquiesced, and wow, am I glad I did. Walking in, I noticed they have kept much of the décor the same, the booths have been removed, but the long mahogany bar and open kitchen still remains. It's casual, but the food is anything but.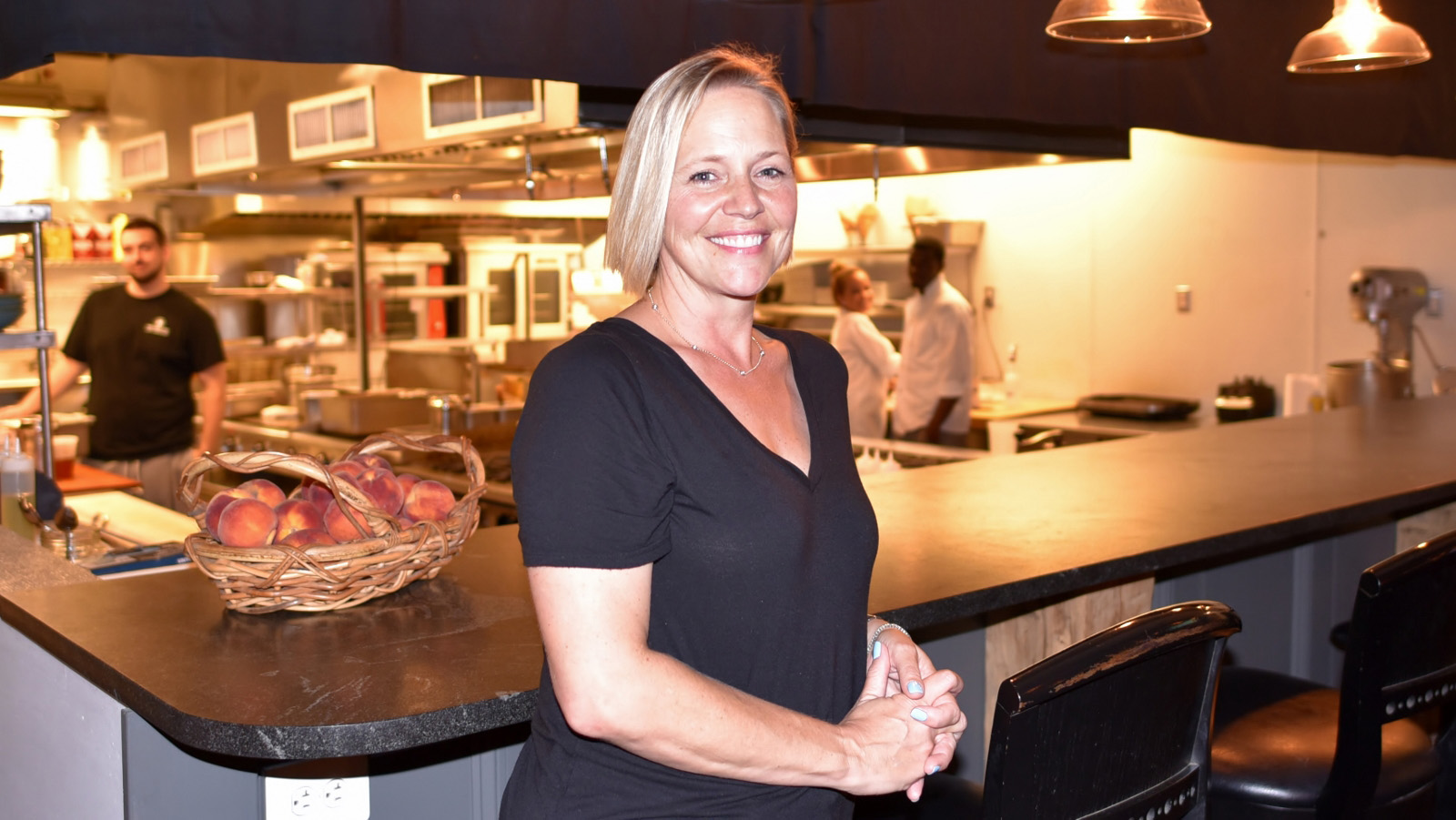 At the last minute, Companion Two decided to join us and we were greeted at the door by Kelly Polston, the owner, who offered seating in the dining room, at the chef's table looking into the kitchen or the rooftop deck. We climbed the steps to the roof and although it threatened rain, we banked on the big umbrellas they have to keep us dry. We made the best choice, what a view. No television needed for me, just a purple sunset over the Catskill Mountains. Oh and did I mention the food?
Kelly had prepared a tasting menu paired with beverages for Companion One and I and Companion Two decided to order off the menu. We settled in with cocktails and then the food parade began. One and I were treated to West coast oysters, with mignonette and chili pearls. The oysters, briny and sweet, offset by the tangy sauce and then BANG from the heat of pearls, a party in your mouth. Invoking molecular gastronomy (magic), the kitchen turns chilies into those tiny spheres that burst into fire on your tongue.
The second course was Ahi Poke ($16), which I had discovered just the week before, a Hawaiian dish. It is raw Yellowfin Tuna (flown in from the left coast) cubed to exactly the same size as avocado and cucumber, then tossed with ginger ponzu garnished with strips of seaweed and served with taro root chips. I could wax poetic for days about this dish, the unctuousness of the tuna, then, as if that weren't unctuous enough (how many times can I use the word "unctuous" in this paragraph?), the slippery avocado, the cool cucumber, perfectly accompany the sweet and tangy sauce paired with salty strips of seaweed and crispy taro root chips. The Ahi was served with a Kono Sauvignon Blanc, deliciously crisp and clean, cutting through the richness of the dish. I could have stopped right there, but there was so much more to come.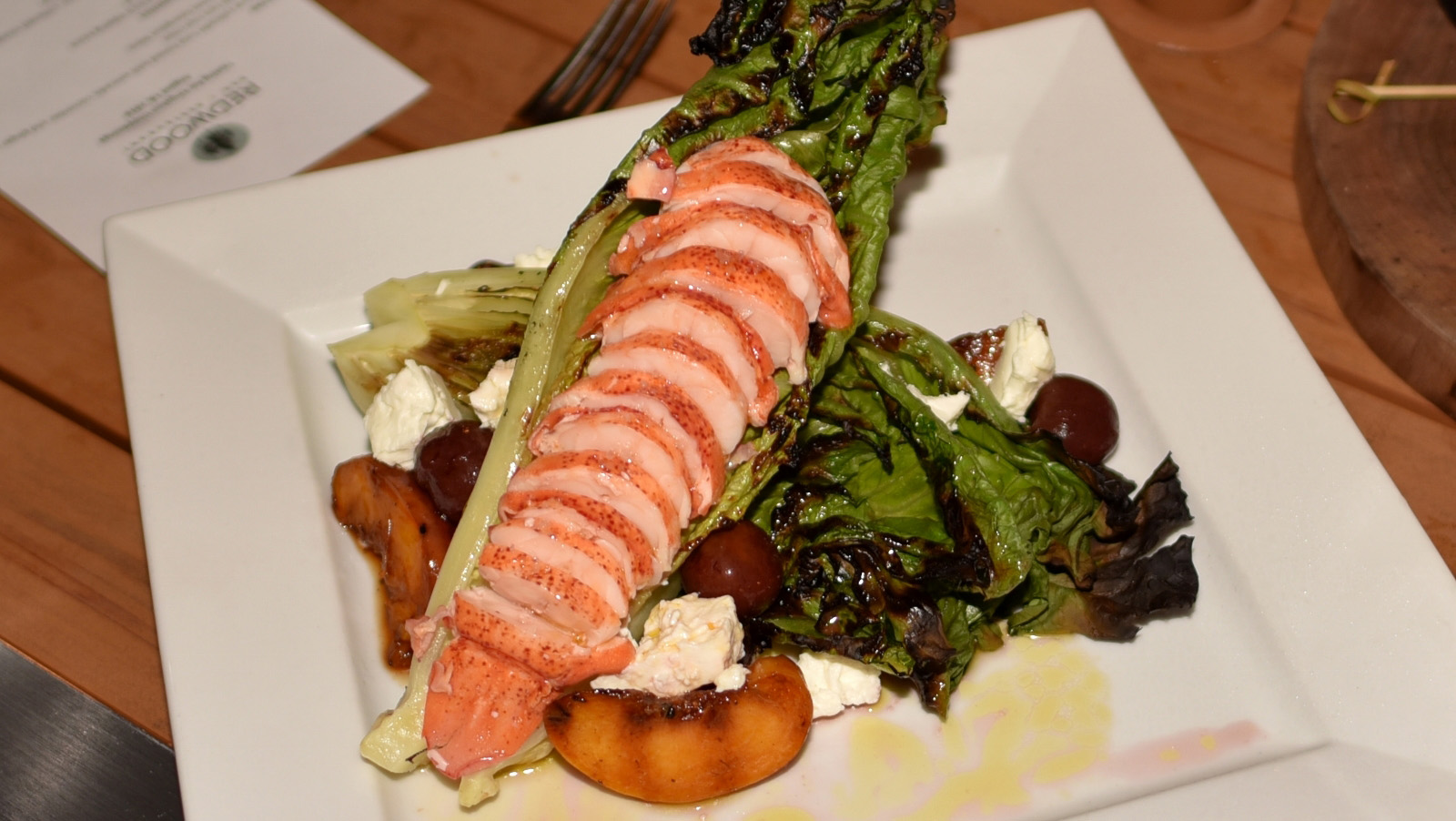 Meanwhile, Two ordered Baby Greens ($7) with cucumber, tomatoes, sherry shallot vinaigrette and the Redwood Burger ($14) with a Bread and Bottle Brioche bun, bacon, cheese and Hand-cut fries. One and I were kind enough to share and really didn't even mind, since I got a bite of the burger. Oh, and did I mention that they house smoke their own bacon and make their own American cheese.
Next came the Mac + Cheese Croquettes ($7), delivered in a silver conical vessel with the proverbial white deli paper liner and Sriracha Ranch sauce for dipping. What can I say….breaded, deep fried, macaroni and cheese, ooey, gooey, crisp and creamy? Paired with Great Life IPA, it was sweet on the finish and hoppy like an IPA should be. At that point, I asked the waitress, smaller portions, please. A little salad to cleanse our palates, Beets and Greens ($12) with feta, walnut, roasted strawberries, and Zinfandel vinaigrette was paired with Ravenswood Chardonnay, fruity, firm and crisp on the palette.
The show stoppers were next. Poached Lobster ($26) with grilled romaine, pickled cherries, grilled peaches, feta, and cherry vinaigrette was served with an Aperol Spritzer. The tender lobster complimented by the smoky, sour, sweet and salty washed down with the bubbles and the bitter of the spritzer; you can't get much more divine. Then Roasted Lamb Rack ($32) with caramelized spring onion, roasted carrot, fava puree, and smoked yogurt harmonized perfectly with a Ciarlo Gavi le Marne. Those juicy meat lollipops with the seared, crispy fat cooked perfectly medium rare, lickable fingers included. What a treat, the richness countered with the cooling antipode of yogurt and smoothness of the puree, a homerun.
We finally got to catch up with Kelly over dessert which was an Olive Oil cake with fig, honey, a scoop of ice cream and some more of that molecular gastronomy of dehydrated olive oil, almost like sea salt flakes, sprinkled on the cake as garnish. It's not a perfect meal without some chocolate and the Black Forest Cake with dark chocolate sponge, amarena cherry and ice cream. I may have thought I could not eat another bite, but how could I not. Times like these though, it's good to have Companion Two around.
Kelly is a local girl, having gone to Coleman High School in the 80's. After high school, she moved to California to attend culinary school and UC Berkeley. In California, she and husband Scott, opened up a fine dining establishment in Newport Beach and a bar/nightclub in Anaheim, where they owned the building. Although they weren't thinking of selling, someone presented them with an offer not to be refused. So the couple, after 23 years packed up their kids and moved back to Kingston to open Redwood. Their chef, Sean Tompkins formerly of GiGi in Rhinebeck, developed the menu with them, which will change seasonally.
Everything about the Redwood is special, the food, the atmosphere, and the people. I think Kelly realizes, she really did buy a stairway to heaven.
Redwood is located at 63 North Front Street in Kingston, 845-259-868,  www.redwooduptown.com, Kelly@RedwoodUptown.com. Wednesday – Saturday Lunch 11:30a – 3:00p, Dinner 5:00p – 10:00p; Sunday Brunch 11:30a-4pm, Dinner 4:00p-9:00p. Closed Tuesdays.
https://kingstonhappenings.org/wp-content/uploads/2016/09/DSC_0411_edited-1.jpg
900
1600
Kingston Happenings
https://blastserve.com/khtestbed/wp-content/uploads/2023/07/KH-Transparent-Logo-e1688304541199.png
Kingston Happenings
2016-09-06 14:42:26
2018-05-22 14:48:14
Foodie Paradiso: Redwood….and a Stairway to Heaven