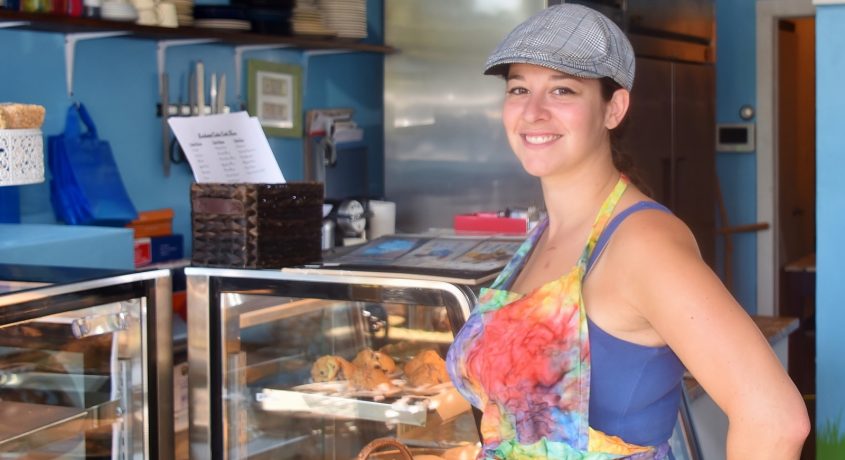 Doers and Dreamers – Lauren Stein
This week's Doer and Dreamer arrived at her calling via a very circuitous route and we should all be glad that she made the destination that she did. We can all use a little decadent deliciousness in our lives and her spot on the Rondout is full of it.
Your name: Lauren Stein
Business or organization: Enchanted Cakes  23 W. Strand, Kingston NY
Occupation: Pastry Chef/Cake Artist/Cake Shop Proprietor/Mom
What is your approach to your business or occupation that makes you unique?
Every cake and dessert is made to near perfection,(there's always room for improvement), with special ingredients, that make everything delicious and addictive… sugar, gluten and nuts!
Where are you from originally?
My mom's tummy, in Staten Island, NY. My family moved to Kingston, when I was 10.
What brought you to the Kingston area and keeps you in this area?
I grew up here! As much as I wanted to get as far away as possible, when I was a teenager, I found that this area is beautiful, fun and where my family is. So, I always came back. And now I'm here to stay.
What is your favorite hangout in this area and why?
I love the rail trails. I can walk, run, hike and bike ride with my daughter and dog, almost 8 months of the year.
When you're not in Kingston, what's your idea of a wonderful city to visit, and why?
I really enjoy Vancouver. I can stand in a park, in the middle of the city during the summer, and see buildings in one direction, turn around, and see snow capped mountains, and boats sailing in the harbor. Plus there are street festivals, and musical entertainment everywhere.
Tell us something that we never would have guessed about you.
All through high school, I was taking classes, volunteering, and doing special programs, preparing to become a veterinarian. I was accepted to Cornell Veterinary School, but couldn't afford to go, so I decided to go to community college for graphic design. Then special effects for film, in San Francisco, and followed by Civil Engineering at Purdue. Boredom struck, and I decided that all my schooling was just a segue for making artistic, delicious, structurally sound, cakes. So I attended pastry school, and have been caking ever since.
https://kingstonhappenings.org/wp-content/uploads/2016/08/DSC_1385-1600x900.jpg
900
1600
Kingston Happenings
https://blastserve.com/khtestbed/wp-content/uploads/2023/07/KH-Transparent-Logo-e1688304541199.png
Kingston Happenings
2016-08-30 11:22:09
2017-03-07 11:50:50
Doers and Dreamers – Lauren Stein