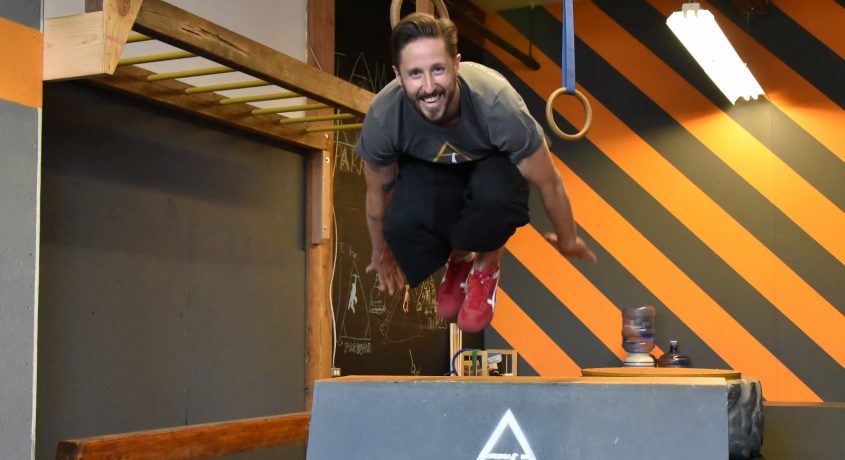 Doers and Dreamers – Dylan Johanson
"More fun than a barrel of monkeys" is the expression that comes to mind when I think of this week's Doers and Dreamer's endeavour. Swinging from bars to bars, vaulting over obstacles, jumping to one object from another would be tasks that lower primates do instinctively and out of necessity. Now, humans are getting into the act in places you wouldn't expect for fun, fitness, and to challenge themselves to accomplish physical feats that may have seemed unachievable before. Maybe we'll be seeing you swinging from the monkey bars in a nearby playground soon after checking out his business.
Your name: Dylan Johanson
Business or organization: Innate Movement Parkour  The Shirt Factory, 77 Cornell Street, suite 117, Kingston, NY
Occupation: Owner/Parkour Coach
What is your approach to your business or occupation that makes you unique?
Well, for one thing, our type of company is relatively rare. The closest other parkour coaching companies/gyms are in Rochester to the north and NYC to the south, so Kingston has something that most places simply don't.
In terms of our approach, specifically, I think it's fair to say that we have done a good job of being inclusive. Our community of natural movement enthusiasts includes all genders and has people as young as 5 and as old as 65. We're proud of this because it counteracts some of the stereotypes of parkour and natural movement being only for young men with youtube channels. The reality is that everyone can improve their movement and become a more capable version of themselves; it doesn't matter where your starting point is, the experience of self-improvement is the same for everyone who trains the discipline. Everyone can reclaim a sense of play and joy in movement, rather than viewing exercise as a chore they must complete to achieve some other goal. For us, joyful movement is the goal. The fact that you will be healthy and look good at the beach are bonuses.
Where are you from originally?
I grew up in Rockland County.
What brought you to the Kingston area and keeps you in this area?
I went to New Paltz for undergrad in 2002 and simply fell in love with this area and never wanted to leave. I love the fact that I can walk out my front door and drive two minutes in one direction to eat delicious farm-to-table food while listening to interesting live music, or drive two minutes in another direction and be swimming in a pristine, secluded stream. Our combination of culture and natural beauty is truly rare. I'm a musician, so it's important to me to be in a place that has a rich scene of venues and people to collaborate with. I front a Motown/soul band called The Pleasers and have played drums in a bunch of good projects. I'm actually looking to play drums in another band right now, if anyone needs somebody, haha. I bought a house here in 2012, where I live with my fiancée and our dog Tesla, and now that I've opened the gym here as well, I think its fair to say that my roots are planted deeply within this vibrant community.
What is your favorite hangout in this area and why?
Well, my main focus is training parkour, so I love being on the SUNY New Paltz Campus because of the variety of architecture and resultant movement possibilities. When I'm not training, though, I want to be catching live music at BSP, dancing salsa at the Rosendale Cafe, grabbing tacos at Diegos or walking by the water on the Strand. I also love running the rail trail and swimming at one of the many secret swimming holes. Sorry, that was a long list, but I refuse to shorten it, haha.
When you're not in Kingston, what's your idea of a wonderful city to visit, and why?
I like Philly. It has a great food scene and lots of sweet training spots. I basically judge a city by all the structures it has for me to climb on, haha.
Tell us something that we never would have guessed about you.
I'm vegan. I try not to shove it in people's faces all the time, because I like having friends, but there is a big misconception that you can't be an athlete and build strength without eating animal products, but I train about 3 hours a day entirely plant-powered, so I'm living proof that those ideas are nonsense.
https://kingstonhappenings.org/wp-content/uploads/2016/09/DSC_2352-1600x900.jpg
900
1600
Kingston Happenings
https://blastserve.com/khtestbed/wp-content/uploads/2023/07/KH-Transparent-Logo-e1688304541199.png
Kingston Happenings
2016-09-13 10:07:08
2017-03-07 11:50:50
Doers and Dreamers – Dylan Johanson