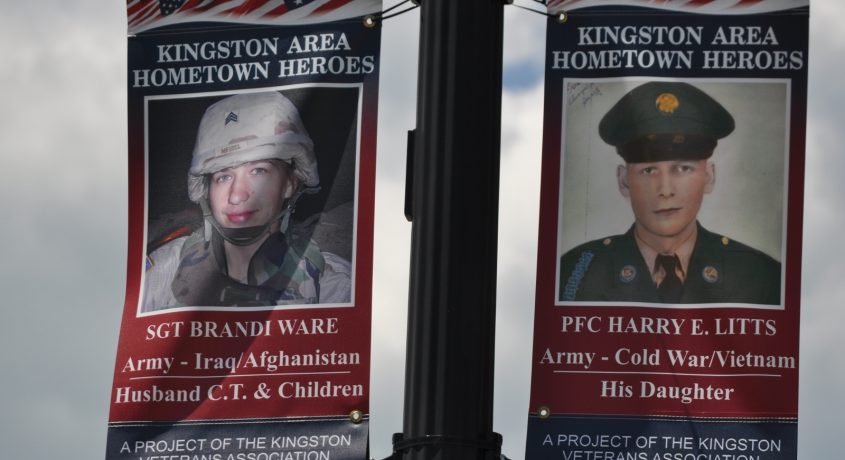 Kingston, NY's Hometown Heroes (video) – reposted from 2014
The call to serve our country has been heard in many different ways over the years. Whether that call was a family tradition, a genuine desire to serve, a rational career decision, or a notice in the mail, our service men and women have one thing in common: They are all fathers, mothers, brothers, sisters, cousins, neighbors and friends who are members of our community. They deserve our pride and respect. When they made the decision to wear whatever uniform they chose, they understood the nature of the sacrifices that they might have to make.
The Kingston Area Hometown Heroes Project was started in early 2014 by Bill Forte (who credits his wife with the idea after seeing similar banners in Cairo, NY), chairman of The Kingston Area Veterans Association. The Association is an umbrella organization to coordinate the activities of area veterans' organizations such as the VFW, the American Legion and others. With the support of area vets and community members, the public may purchase banners for veterans. Banners bearing the pictures of nearly 200 former servicemen and women already hang on light poles along much of Broadway, The Strand, upper Clinton Avenue near the Academy Green, and North Front Street. Veterans that were killed-in-action are identified by "KIA" next to their names. Bill credits the City of Kingston and the following area businesses and individuals for making the project possible: Jim and Frank Carey from  Arace Electronics, Ed Akins from Diers Electric, and Robert Senor from Jaffer Electric.  [singlepic id=1152 w=300 h= float=right]
As you view these banners, you'll likely see many relatives, friends, neighbors, and other members of our community that you recognize. There are many more veterans not yet represented on these banners and I hope that our community finds a way to recognize them as well in some equitable way.
https://kingstonhappenings.org/wp-content/uploads/ngg_featured/DSC_0050-1600x1063.jpg
1063
1600
Kingston Happenings
https://blastserve.com/khtestbed/wp-content/uploads/2023/07/KH-Transparent-Logo-e1688304541199.png
Kingston Happenings
2017-11-10 07:00:57
2020-02-25 12:00:10
Kingston, NY's Hometown Heroes (video) – reposted from 2014