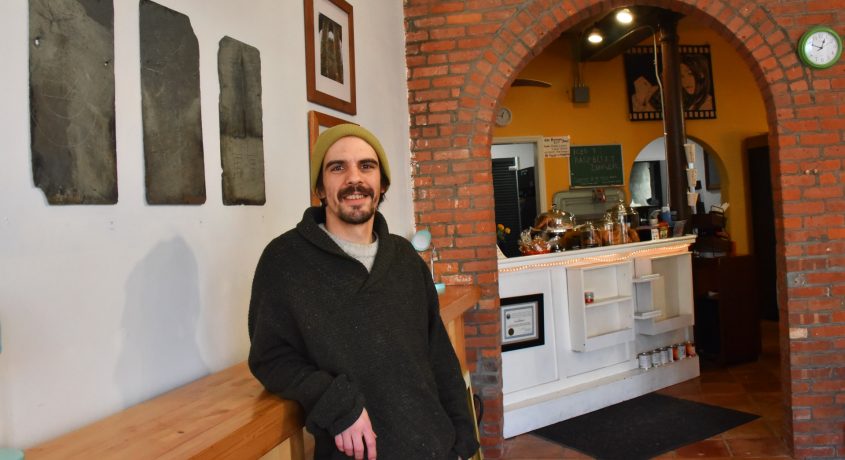 "Spaces" , outdoor or indoor, are an essential concept when thinking about communities because they are where people get to know each other, exchange ideas, and hopefully break down barriers which can separate neighbors that have the potential for improving that community. Most of the time parks, pubs and restaurants, schools, and other places where people naturally gather perform that function to some degree. However, this week's Doer and Dreamer is specifically creating a space on the Rondout where art can be shown, events can be held, people can just hang over a good cup of coffee, and social beings can connect in a really comfortable setting. I think it's safe to say that we can all use a little more connection these days.
Your name: Daniel Rhinier
Business or organization: Kingston Artists Collective & Cafe
Occupation: Song & Dance Man
What is your approach to your business or occupation that makes you unique?
I am most concerned with giving people the opportunity to express themselves. As an artist it's very important to me to give other artists a place where they can grow and have a chance to collaborate and talk about what they are most passionate about. I think of this cafe as more of a community center or like the DIY spaces that I learned so much from growing up. First and foremost we are inclusive and progressive. And I've always loved variety, I want to continue to have great performances and events, including screenings and workshops and whatever else crops up. Obviously, at this stage in my life, I am thinking about doing things for all ages – I'm not just going after one crowd. And I am constantly asking what people think Kingston needs and seeing if we can help. For me, it's always been about the three C's: Creativity, Community and Conversation.
Where are you from originally?
I am originally from Lancaster, PA, specifically Conestoga (in southern Lancaster County).
What brought you to the Kingston area and keeps you in this area?
My partner and I moved up here 3 years ago from Philadelphia, just before my daughter Willa was born. We wanted to be close to her family and felt that Kingston was an absolutely perfect place to raise our children.
What is your favorite hangout in this area and why?
We love taking Willa and Angus to Forsyth Park, and Amanda loves to walk around the Uptown area in general. I like Rocket Number Nine because it is exactly what a record store should be. Everyone there is always friendly and enjoys talking about music, there's a turntable to use, and the prices are right.
When you're not in Kingston, what's your idea of a wonderful city to visit, and why?
Well, I love Lancaster with every fiber of my being and I always love going back and seeing my family and noting the exceptional changes that have happened there over the last several years. In short, it's beautiful there and people are nice to each other.
Tell us something that we would have never guessed about you.
I hate peas.
https://kingstonhappenings.org/wp-content/uploads/2017/11/DSC_2167_edited-1.jpg
1080
1920
Kingston Happenings
https://kingstonhappenings.org/wp-content/uploads/2013/10/Final-KH-Logo.png
Kingston Happenings
2017-11-07 14:47:50
2020-02-25 12:00:10
Doers and Dreamers – Daniel Rhinier