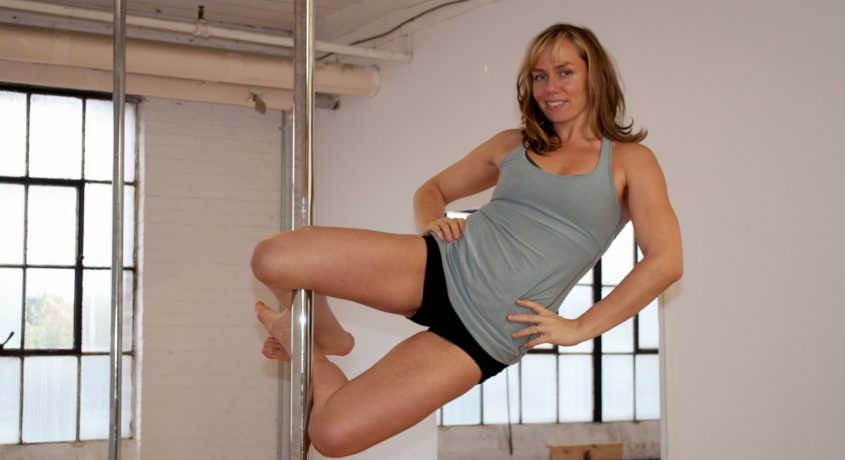 Doers and Dreamers – Nicole Duquette
As diverse as the professions are represented by our past Doers and Dreamers, few would seem as unconventional and demanding to pursue as this week's. The strength, flexibility, grace and creativity exhibited by those skilled in this endeavor are truly impressive. Meet this week's Doer and Dreamer, Nicole Duquette, who is ready to teach anyone that is willing to learn, this unique method of fitness and self expression.
Your name: Nicole Duquette
Business or organization: Hudson Valley Pole Arts  77 Cornell St. Kingston, NY
Occupation: Owner and Instructor
What is your approach to your business or occupation that makes you unique?
I think my business itself is unique: pole fitness/dancing are relatively new to mainstream culture.
In a lot of peoples' minds, pole dancing is still considered scandalous or even lewd because of its origin, and luckily that mindset is changing, but now there's a tendency to disassociate it completely under the guise of 'pole fitness' and completely gloss-over its origins. I guess this is how my approach is a little different: I've found that it's not so black or white, which is why I decided to call my business 'Hudson Valley Pole ARTS' instead of pole fitness or pole dancing.
Its all subjective; if you want to shake your butt and dance in heels, you can do that. Dancing in heels is sexy, but its also incredibly hard and a fabulous workout. Isolating your glutes requires a LOT of muscle control.
In the same sense, if you want to work your core, dance barefoot, and focus on gaining serious strength, pole fitness can take you there. I teach in that grey area between exotic dancing and strength training; you'd be surprised what seemingly simple and/or sexy movements are actually quite challenging. I like to let the student decide where to take their movements. It should be all about the student!
Where are you from originally?
I was born and raised around Fredericksburg, Virgina, went to college in Richmond, and moved to Brooklyn, New York in 2008.
What brought you to the Kingston area and keeps you in this area?
My fiancee and I moved to Poughkeepsie in June. We bought our first house there based partially on its proximity to the train. We both telecommute during the day, and occasionally getting into the city is a must.
After teaching pole regularly for 2 years in Brooklyn, it was a tough adjustment to come to the Hudson Valley and not have that outlet, so after some time considering my options, I started looking for a small studio space. After some trips to Kingston, it became obvious it would be a great place to start a small business. It reminded me of a quirkier version of my home city of Fredericksburg, and I love historical places, older cities, and places that attract similar like-minded people. Kingston seems to thrive on small businesses and an artistic community. I fell in love with the Shirt Factory, partly because it reminds me so much of studio spaces in Brooklyn. So Kingston is a little bit of home in a variety of ways.
What is your favorite hangout in this area and why?
I love the water so I enjoy the Hudson River and Rondout area of downtown Kingston; that strip makes me feel like I'm in a Norman Rockwell painting.
I really enjoy the farmer's market in the uptown area, especially in the fall with the changing leaves and that gorgeous historical backdrop- so picturesque. I hope to explore more of the area now that Hudson Valley Pole Arts is open and I will be in Kingston 4-5 times a week. Right now, I'm still familiarizing myself with the city.
When you're not in Kingston, what's your idea of a wonderful city to visit, and why?
Like I mentioned previously, part of my love for Kingston is derived from my love of historical cities, so any cities with classical architecture befitting of the culture and location, are pretty spectacular in my opinion. Richmond, Virginia and Savannah, Georgia are amongst my favorites to visit.
Tell us something that we never would have guessed about you.
I suppose most of the friends I've made in the last few years, would never guess that I have a BFA in Painting and Printmaking. My day job requires managing accounts for a tech start-up, and I'm a total fitness nut, so I don't think people know quite how nerdy I am about art. My parents were both artists, so I was born with a natural affinity for art and talent for painting. Over the years, my urge to create has been sort of stifled at times or redirected, but every Christmas I create at least one pet portrait! If you haven't gotten one yet, this might be your year!
https://kingstonhappenings.org/wp-content/uploads/ngg_featured/DSC_0075ps-1600x900.jpg
900
1600
Kingston Happenings
https://blastserve.com/khtestbed/wp-content/uploads/2023/07/KH-Transparent-Logo-e1688304541199.png
Kingston Happenings
2014-10-27 11:01:33
2017-03-07 11:50:22
Doers and Dreamers – Nicole Duquette