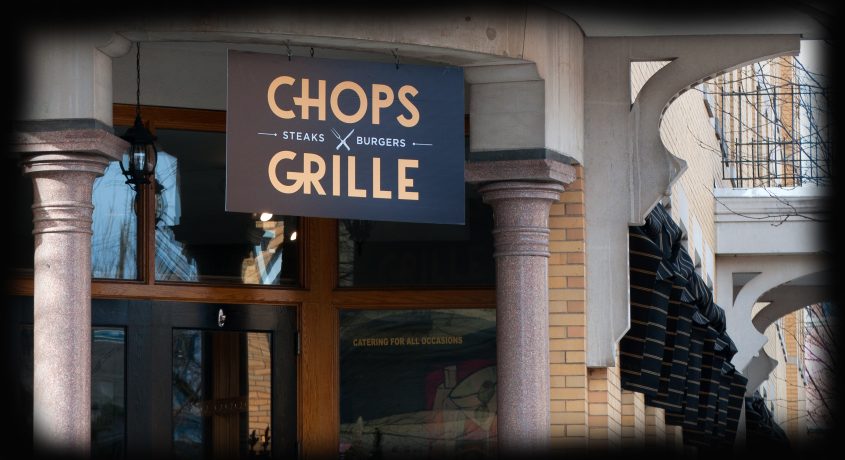 By contributing writer:  Susie Linn
If restaurants were rated for niceness and atmosphere, Chops Grille would get four stars, hands down. It is hard to imagine a cozier place than this clubby uptown Kingston bistro that seems to be constantly filled with regular clients. The owner, Denni Demosthenes, moves through the room as if he was host to a rolling party. Mr. Demosthenes has perfected the art of making his customers feel at home. And much of the food does, too. Some of the dishes on the menu are so good, so generous and so reasonably priced that they would bring me in even without the warm and comfortable ambiance.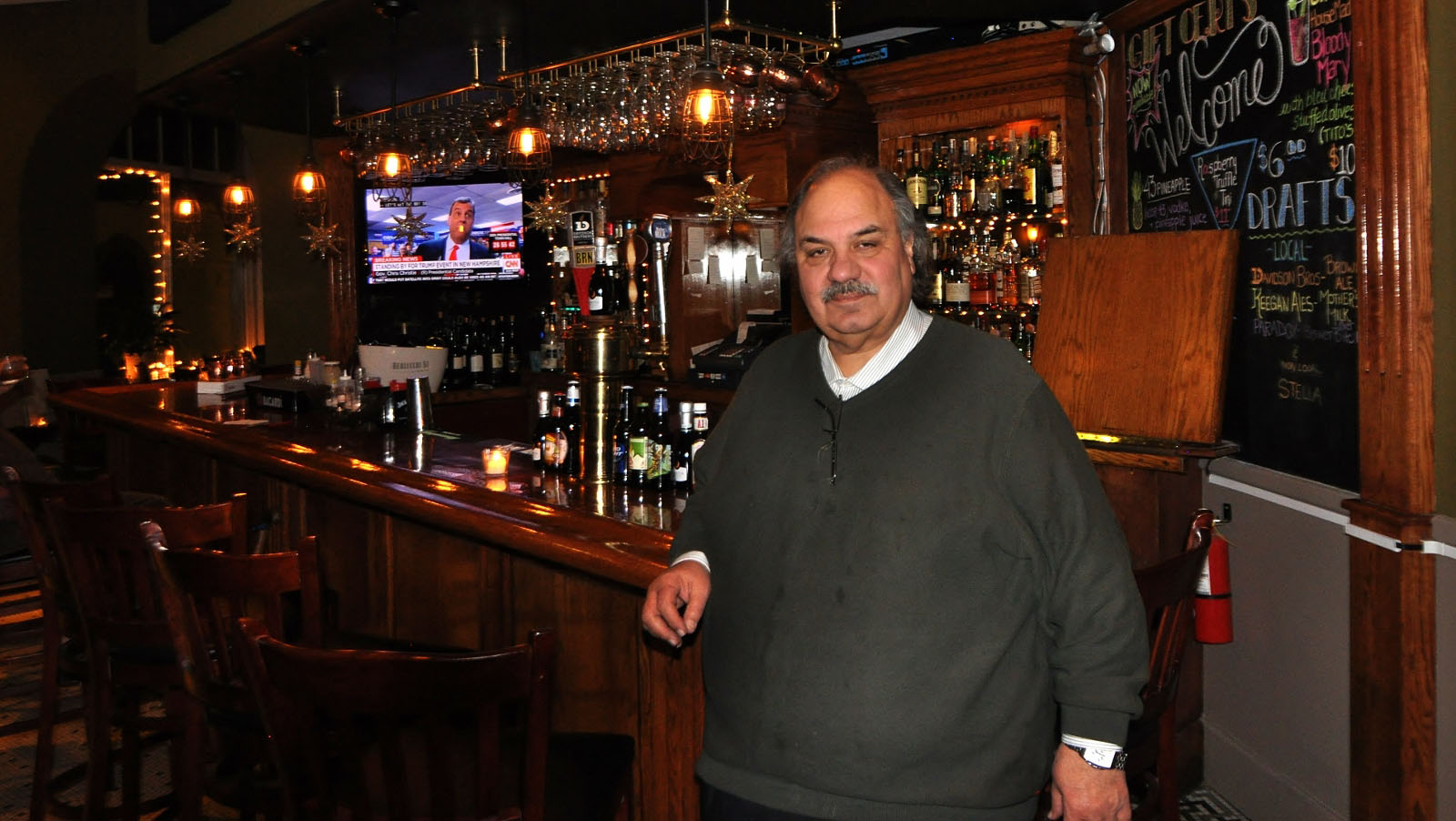 Demosthenes has a long history here in Kingston where he and his brother owned and operated the Hillside Manor from 1986 until they sold it in December of 2014. During that reign, he also owned and operated the Stockade Grill in this very same location from 1992-1999 (for which he had to ask one of his regular customers if he remembered what year it opened). Now after numerous incarnations, this space has been brought full-circle and reopened as Chops Grille, an upscale, casual steakhouse that specializes in burgers and steaks/chops, a welcome addition to uptown Kingston. While keeping some of the décor from the last operation, Demosthenes has enhanced the library-like forest-colored walls and white-tiled floor with new draperies, recycled light fixtures and sound absorbing panels.
After selling Hillside Manor, Demosthenes "retired." After a few months of his aimless wandering around the house, his wife told him to get a job. He took a manager position at a restaurant in Rockland County, an hour and a half drive away. That lasted one day. Not long after he had come out of retirement and was busy opening Chops.
My dining companion and I stopped in one chilly Monday evening to check out the place. Settling in, we both ordered a glass of the house red, a very generous, reasonably-priced, glass of Casa V cabernet ($8) that was delicious and the perfect medicine for a nippy night. (They have a great wine list that has 25 bottles for $25). As we perused the extensive menu, a plate of grilled warm pita, crispy on the outside and chewy inside, alongside a small bowl of hummus was delivered. The hummus was buttery with a touch of lemon and garlic and said companion and I arm-wrestled over the pitted Kalamata olive garnish. To start we ordered the Baked Goat Cheese ($9). Wrapped in phyllo, the tasty little pillows of goat cheese with a toasted walnut tucked inside were served with a pureed basil and pineapple coulis. What a taste sensation, when you bite into the crispy phyllo and the warm, creamy cheese bursts onto your tongue as you crunch into the toasty walnut with the contrast of the cool, sweet, and herbaceous coulis. A party in your mouth.
Then we had to tackle the entrees. With ten different burgers, several different steaks, lamb chops, pork chops, with some chicken, fish and pasta thrown in the mix, it makes for a hard decision. We reckoned, "When in Rome….". My companion ordered one of the ten, The Agean. His was served charred to perfection; a textbook medium rare topped with grilled halloumi, chopped tomato, onion and lettuce and offered up on a bun with a shiny glazed dome. It was the kind of burger that when you bite into it, the juice runs down your arm. The fries were heavenly, crispy, salty, hot and served in the cutest little wire basket with a handle (obviously for sharing). Companion was gracious; he shared.
I ordered the 14 oz. strip steak. Again grilled and seasoned perfectly, hatch marks and all, to a juicy medium rare and served with a red wine demi-glace, a silky, luscious "icing on the cake." I finished every last bite. (Well, not quite every bite; I allowed companion a very small portion.) I could have had those fries, or garlic mashed, but opted for the baked potato in an attempt to make my meal somewhat less caloric, but that was pretty much offset by the buttery julienned zucchini and carrots, crispy and delicious.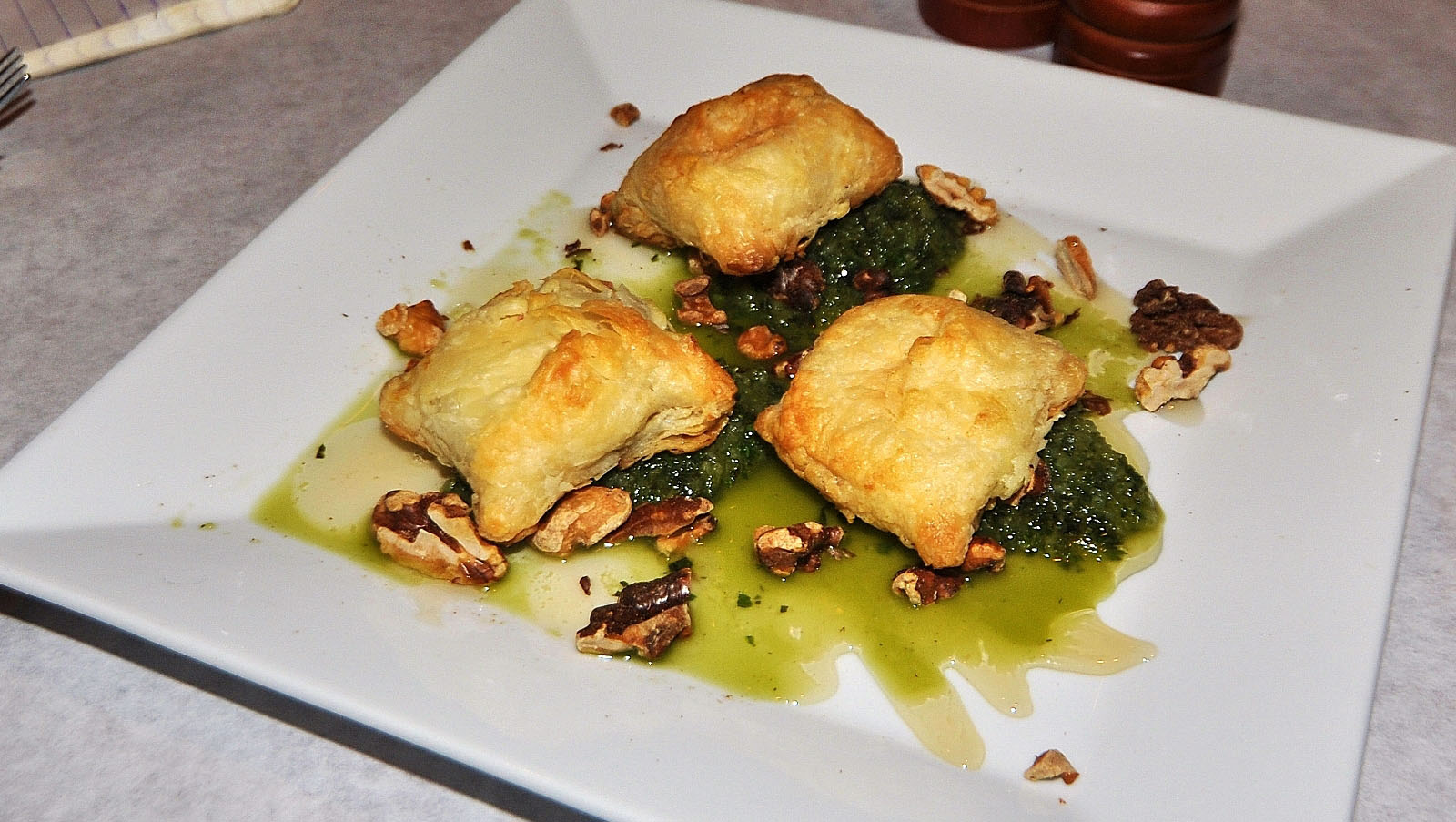 We finished off the meal with two orders of rice pudding; I managed two bites, I think companion licked the bowl. I took mine home and gave it to my boss the next morning. He ate it for breakfast and I think I'm getting a raise.
Mr. Demosthenes' chef, Frank Jennetti, hails from Miami, where he has a list of fine dining establishments notched in his belt. He is pleased to be helping create this new establishment and looking forward to enhancing the menu with his creativity, adding new items and daily specials.
Starters and salads range in price from $7 -$12, burgers from $11-$15, chops, steaks and mains from $19-$29 (chops & steaks include choice of potato and a vegetable side, salads are extra). Be forewarned, however, the menu will be changing soon. I'm not sure what this creative team has up their sleeve, but if I were a bettin' man, based on what I've seen thus far, that it will be as good, if not better, than it is now.
All in all, at the end of the night I was feeling very content, so warm and comfortable, quietly satiated, both Companion and I. It was a fabulous evening, deliciously so. Denni, it's nice to have you in the neighborhood.
Chops Grille is located at 39 John St. in uptown Kingston. They are open seven days a week with lunch Tuesday-Friday, Saturday 4:30pm-9:30pm and Sundays from 4:00pm-8:00pm. For reservations, call 845-339-1111.
https://kingstonhappenings.org/wp-content/uploads/2016/02/DSC_0046-copy.jpg
1616
2872
Kingston Happenings
https://kingstonhappenings.org/wp-content/uploads/2013/10/Final-KH-Logo.png
Kingston Happenings
2016-02-19 17:50:05
2018-05-22 14:48:18
Foodie Paradiso:"Steak"ing it Out in Uptown Kingston, Chops Grille