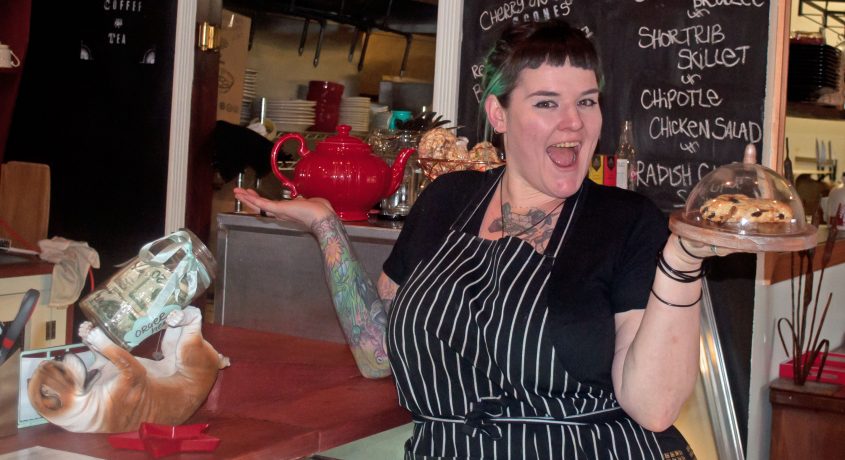 Doers and Dreamers – Eryn Stutts
If you're going to set up shop on Broadway in Kingston across from the biggest theater venue in the region, it helps to have the personality and panache to match your most influential neighbor. This week's Doer and Dreamer Eryn Stutts does, and  wants to sling some unique Southern concoctions your way to make you feel as much at home on Broadway as she does. Look closely, and you'll see that the landscape of Broadway is changing with existing buildings being renovated, new businesses like PAKT opening, and a new optimism for that community becoming part of  the psyche of many business people and residents.
Your name: Eryn Stutts
Business or organization: PAKT food
Occupation: Mouth of Madness/Dream Wrangler/Filler of Bellies
What is your approach to your business or occupation that makes you unique?
I am a total weirdo, so my approach to life in general is pretty unique. I intend to have several careers throughout my life to accomplish a variety of goals. For the restaurant, I operate with a Like Water Chocolate mentality, love being transferred to you through food, and I really really love what I do. I am setting up a platform where both Front and Back of house are tipped for their work, for some reason a lot of industries only reward sales, and not the producers and I want to change that.
I want it to feel like you are at your Grandmother's house. I want to feed people but also encourage them to be off their phones and talking to each other, people they wouldn't normally talk to, playing games, reading books with actual pages or working off our free wifi, and learning about Southern Manners! Our society is getting out of hand. I will yell at you to get off your phone and then stuff a lemon bar in your mouth. You order with me at the counter, You prepare your own coffee and water and have a condiment/refill station. Who doesn't love condiments? We want everything to be really customizable so that everyone walks away happy.
We have a ton of events planned for Spring as well as plans to get our liquor license and set up outdoor seating. We have a fundraiser going online right now to help us build out a hydro wall so we can grow our own ingredients, start a refillable mason jar program, create some jobs and get some delivery going and we have a ton of information on the business there! http://paktrestaurant.mydagsite.com
Where are you from originally?
I was born in Marietta, Georgia, (hence the peach based sauces here) but I was pretty much raised in North Carolina, in both Asheville and Charlotte
What brought you to the Kingston area and keeps you in this area?
I actually happened upon Kingston by accident. I had gone camping with a friend in Rosendale, and he was over San Francisco and at the same time, I was being displaced from Brooklyn and had made the decision to leave my fashion career for the restaurant industry. He suggested we move to Rosedale/New Paltz and live out in the woods where i could be near the CIA and I said sure! We applied for housing on a farm and were denied, and then couldn't find a place to live. We drove to Kingston one morning for breakfast and loved it. We saw a sign for an apartment and Boom. Its a cute place. It reminds me a lot of Asheville, NC. I decided to stay in Kingston to open my business because there is so much potential here, it seems as if everyone is on the same page about it being a community minded effort to grow the area in a positive way.
What is your favorite hangout in this area and why?
Besides Pakt, I honestly don't have one yet! I tend to work 24/7. I am also still pretty new here so I am still trying to hit up everything, there is so much to see! The pupuserias on Broadway are awesome.
When you're not in Kingston, what's your idea of a wonderful city to visit, and why?
I think Asheville, NC is amazing, the food and the people and the gorgeous mountains and FOUR seasons just can't be beat, but overall, my favorite place to visit is Tokyo. The creativity and energy there are unparalleled. That being said, I haven't been to either place in quite some time. haha. I still work in Brooklyn on occasion and that is always fun.
Tell us something that we never would have guessed about you.
I used to tournament train for Scrabble and I won Fear Factor Six Flags Frightfest Edition!
https://kingstonhappenings.org/wp-content/uploads/2016/03/DSC_0065-copy.jpg
1720
3058
Kingston Happenings
https://blastserve.com/khtestbed/wp-content/uploads/2023/07/KH-Transparent-Logo-e1688304541199.png
Kingston Happenings
2016-03-01 09:59:42
2017-03-07 11:50:54
Doers and Dreamers – Eryn Stutts