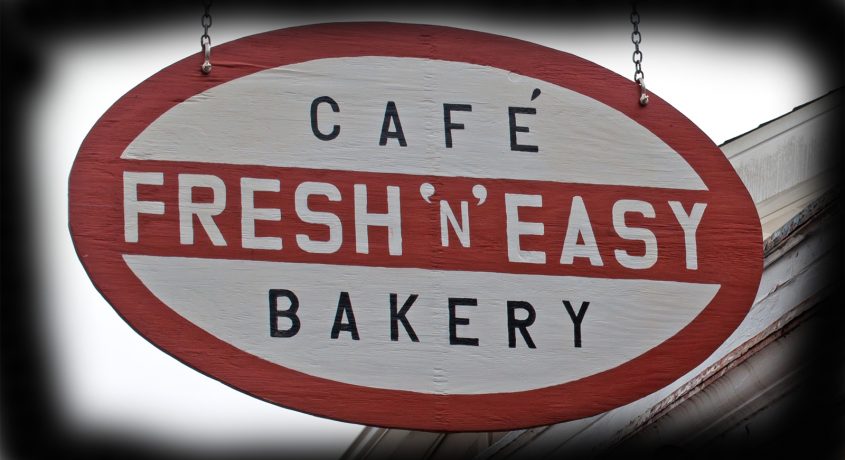 Foodie Paradiso: The Food is Fresh and the Livin' is Easy
By contributing writer:  Susie Linn
Finding a quick, no-frills lunch where the food is freshly made can be more of a quest than it sounds. But in a non-descript, single-story, white-sided building on an unassuming street in midtown Kingston, sits a beacon, a place much like your grandmother's kitchen. It's nothing fancy, but redolent of sugar and yeast and everything good. That place is Fresh 'n' Easy bakery, open five years in June. Owner Linda Bang, a former accountant from Santa Barbara, CA, moved with her husband and twelve children to the Hudson Valley for a different kind of life, where she home-schooled her kids. When the last one turned nineteen, she decided she wanted to get out and do something different. Although she has no food background, Bang always did a great deal of cooking with twelve kids. One of her children has a severe allergy to corn and another to wheat, so that was the encouragement to try other wholesome ingredients. When asked, her favorite cookbook…from a church in Nebraska. Thanks to various internet sites and YouTube, she is able to try new recipes.
Bang gets to the shop at 3:00am and begins the day making everything, and I do mean everything, from scratch….breads, sweets and treats, stocks and salads, and on Saturdays, croissants (I'll get to those croissants later). The bakery opens at 5:30 and there is a steady stream of customers coming through for coffee and breakfast. (Bang says, why not open, I'm already there.)
On our quest for a lunch place where the food tastes fresh and the setting is simple but agreeable, Companion and I stopped in one Saturday afternoon for a late lunch. We perused the menu, which is definitely not small. They offer three soups a day, salads, paninis and wraps, regular and premium sandwiches and combos ($3.99-$8.95). Companion ordered a bowl of New England Clam Chowder (soups sm. $3.00, lg. $4.75) to start. It was a rich, buttery, thick broth (not like some chowders, so thick that your spoon stands up in it) and hearty with chunks of potatoes and clams. Gazing yearningly at the bowl, Companion offered me a soup spoonful. It was I who licked the spoon clean this time. My minestrone was as full-bodied and vegetable-rich as a robust minestrone should be. Companion went with the Angry Hog sandwich ($5.50), or as stated on the menu "pulled pork with attitude" and yes that is just what it had, pork braised with onions, garlic and jalapeño's, just enough kick to let you know that pig had arrogance and could stand up to any other pulled pork sandwich in Kingston. Served on one of Bang's homemade wheat rolls, far superior to the supermarket quality rolls that are served at other establishments, and a side of potato salad, not sweet, just the basics and a perfect side to finish off the dish. I, on the other hand, am a sucker for a good chicken salad ($4.99). Served on another of Bang's homemade, the pretzel roll was salt-crusted and chewy, the perfect delivery system for the chunky, mayonnaisey salad studded with bits of celery. A side of macaroni salad rounded out my comfort meal.
While the setting is casual, real china plates, cups and saucers and flatware are used. A beverage station that provides
smoothies ($3.50), fresh squeezed lemonade ($2.95), and ginger iced tea with homemade ginger syrup ($3.50) is self-serve, from a kitschy tiki bar on one side of the bright, fluorescent room. Next to the beverage station sits a freezer, where soups can be purchased, buy two get one free! For special occasions, Fresh and Easy will make dinner to go, like sauerbraten for Oktoberfest, or St. Paddy's Day featured corned beef, cabbage, red potatoes, Irish soda bread and a cup of soup ($10) and Irish hand pies filled with corned beef, cabbage and potatoes in a flaky pastry crust served with soup and a side ($8.95).
This is also a good place to stop for morning coffee and some of the best fresh-made muffins, bagels, bialys, English muffins, scones that we we've tasted in ages. The bagels are real bagels, chewy with a hard crust outside, boiled and baked, not those oversized, doughy things you get that look like a roll with a belly button. And the croissants, oh the croissants, buttery, flaky horns of plenty that melt in your mouth. But be forewarned; merely seven of these tantalizing tidbits are made on Saturdays only. Get there early. Full breakfast can be had as well, eggs, oatmeal, biscuits and gravy, waffles, pancakes, French toast quiches, omelets, and Eggs B. Again, all homemade. (Breakfast prices from $1.25-$8.95)
Bang and three of her children, Heather, Marshall and Eva operate the bakery as a family. But the most amazing part of this yeasty headquarters is their commitment to the community, who they consider to be their family. Waiting for your son who is
in the Emergency Department at the hospital after he got socked in the nose at baseball practice, no problem; we don't normally deliver, but give us a call and we can bring some food to you. Need a place to hold a town meeting for Ward Nine, Fresh and Easy is here for you; Church group, certainly. In a hurry, call in your order and we will deliver it to you curbside. It's all about family and community. They even make lunches for St. Joes and Kingston Catholic. Bang says the kids adore her homemade chicken noodle soup that features her hand-cut noodles made from scratch (and love).
When asked what are the favorite items people request, without hesitation, Bang answers, "Everything!" She says that after five years, they've whittled it down and tried many things and what they make now are all best sellers, the lemon and apricot bars, rugelach, cinnamon buns (delicious, as big as a half melon), scones, apple pie, crumb cake (to-die-for), pin wheels and the list goes on….. And of course, true to form, just before we left, she packed us up a box with treats, "Just a little something to take home with you."
Fresh and Easy, 331 Hasbrouck Ave., Kingston, is open Monday-Friday, 5:30am-3:00pm, Saturdays from 7:00am-2:00pm. Check out their website, freshneasybakey.com, or their Facebook page, https://www.facebook.com/Fresh-n-Easy-Bakery-187091151338256/ which lists specials daily. Curbside delivery available, call 845-331-2579.
[Slideshow "fresh-and-easy" not found]
https://kingstonhappenings.org/wp-content/uploads/2016/03/DSC_0077-copy.jpg
900
1600
Kingston Happenings
https://blastserve.com/khtestbed/wp-content/uploads/2023/07/KH-Transparent-Logo-e1688304541199.png
Kingston Happenings
2016-03-22 09:18:05
2016-03-22 09:18:05
Foodie Paradiso: The Food is Fresh and the Livin' is Easy