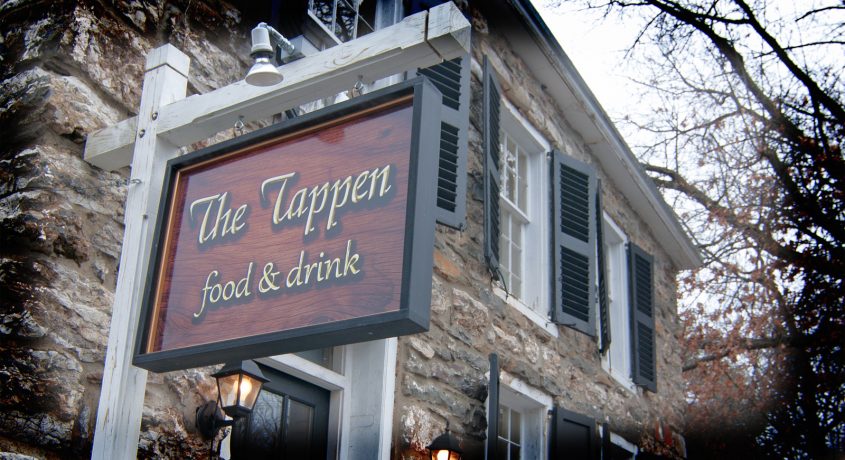 Foodie Paradiso: A Cool Contemporary Menu in a Warm Colonial Setting at The Tappen
By contributing writer: Lynn Woods
On a cold, overcast March day, lunch in the cozy dining room at The Tappen couldn't be more inviting. Located in a tiny, 18th-century stone house on Crown Street—the building survived the burning of Kingston by the invading British troops in 1777—the restaurant combines colonial charm with the cheerful elegance of northern California. (Owner Daniel Sherman spent a year cooking in the Napa Valley.) The décor consists of butternut walls, a polished wood floor, sumptuous velvet curtains, a dark brown patterned ceiling above the beams—a faux treatment mimicking the smoke that once filled the interior, Dan said—and a wood-burning stove inset into an enormous hearth; prints of Kingston stone houses hang on the wall, as well as a copy of a singed letter from George Washington (a souvenir of the 1777 fire). There's a bar, crafted from a hefty, polished slab of native black walnut, along the back wall, which gives the place a convivial touch–although the low volume of the 1920s jazz playing in the background ensures the atmosphere is low-key and respectful of diners savoring their food. And savor you will: Sherman's creations are light and flavorful, and his inventive mix of fresh, high quality ingredients and cooking styles, with an emphasis on texture as well as the subtle blend of flavors, elevates eating to an art form.
The Piquante Grilled Squid, for example, our choice of appetizer, consisted of exquisitely tender rings of squid bathed in a white-wine sauce flavored with onion, garlic, a hint of jalapeno, and tomato. It was served with pickled and shredded cucumber, carrot, onion, and daikon radish—an Asian-inspired touch. The dish, which Sherman jokingly referred to as "Marco Polo squid," daringly combined the influences of northern Italy and Japan. I'm not a fan of Japanese pickled things, but the subtlety of Dan's approach ensured a perfect balance between the crunchy texture and refreshing, lemony bite of the salad and the savor of the sauce and tender squid.
Other tempting appetizers, to be sampled on a future visit, were Swedish Meatballs with Caramelized Oyster Mushrooms and Horseradish Latkes with Apple Butter and Crème Fraiche. We followed the squid with the Crispy Perch sandwich (for Kevin) and the Spiced Lamb Lavesh (for myself), which consisted of slices of lamb, greens, cucumber and onion piled on a round of flatbread and topped with herbed tzatziki, a light, more delicate interpretation of the Greek souvlaki. Kevin's fish was moist, flaky, and not overpowered by the fried coating, which was a tempura. We both marveled at the French fries, which were the best we'd ever had—thick cut, crispy on the outside, and creamy within. Dan's suggested pairing of a full-bodied Cabernet left us feeling perfectly satiated.
For dinner, The Tappen offers half a dozen entrees, whose price starts at around twice the cost of our $11 sandwiches. They include Seared Skirt Steak with Sesame Green Beans and Crispy Kopocha Pumpkin, elk tenderloin with a side of dandelion greens, a Thai-inspired shrimp dish with jasmine rice and julienned vegetables, Orecchiette with Soppressatta, Escarole, White Beans and Sage, and Sea Bass Brandade, croquets of poached fish in a lemon fume topped with spinach and crispy onions. Two soups, including Crème de Crimini, with big chunks of mushrooms, which I will be sure to order on my next visit, and two salads, including Shaved Artichoke and Asiago with roasted garlic vinegrette, a taste of northern Italy for sure, fill out the menu. Whenever possible, Dan uses locally sourced ingredients, including foraged items, such as ramps and black trumpeter mushrooms. The menu changes seasonably. The wine list includes some bottles for $15 or $20 as well as a Calistoga, from a small, private vineyard in Napa, for $130.
Prior to opening The Tappen a year ago, Dan worked as a chef at top restaurants from Albany to Manhattan, including stints at Terrapin and Bear Café. His year-long sojourn in the Napa Valley was clearly inspirational, helping him refine his style of cooking. Born and raised in the Bronx, he has been visiting the Hudson Valley since he was a child and first started coming to Kingston to shop at Mr. Kim's Market, the Asian foods supplier formerly on Wall Street. When Dan discovered the historic Tappen House, which had stood empty for 60 years, he knew he'd found the right place for his restaurant and embarked on an extensive renovation, doing much of the work himself. The Tappen also has an upstairs dining room, but seats no more than 35. He's open Tuesday through Friday from noon to 9 pm and Saturday from 5 to 10 pm. "Business has been great," Dan said. "Everyone's been really supportive, and I have a lot of regulars."
https://kingstonhappenings.org/wp-content/uploads/ngg_featured/DSC_0038-copy.jpg
900
1600
Kingston Happenings
https://blastserve.com/khtestbed/wp-content/uploads/2023/07/KH-Transparent-Logo-e1688304541199.png
Kingston Happenings
2015-04-06 08:12:40
2015-04-06 08:12:40
Foodie Paradiso: A Cool Contemporary Menu in a Warm Colonial Setting at The Tappen