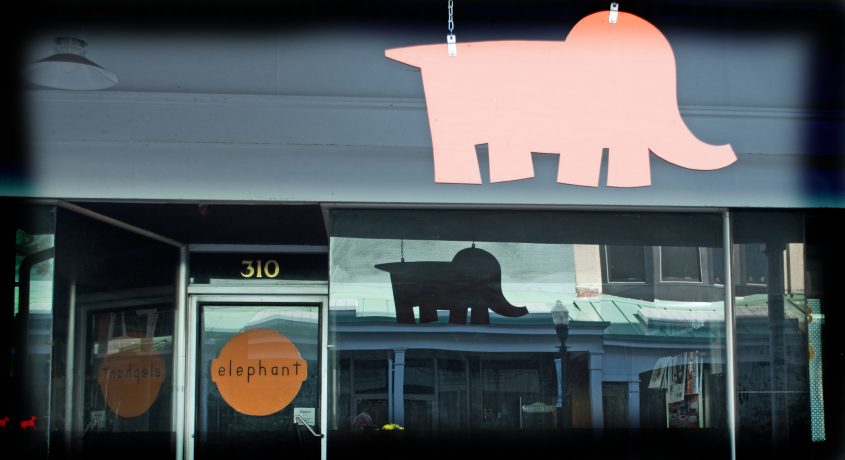 Foodie Paradiso: A Bigger Taste of Spain at the Elephant
By contributing writer: Lynn Woods
Eight years ago, Rich Reeve and his wife, Maya Karrol, opened Elephant on a shoestring. With only a couple of toaster ovens, a hot plate, and a sandwich grill, he whipped up tapas, Panini, cured meat dishes, cheese plates and salads, quickly gaining a following for his nose-to-tail, Spanish-inflected small plates, all made from the highest quality ingredients on the spot. But now, after feeling frustrated that he couldn't cook a shoulder of lamb or roast a rolled-up pork belly in a toaster oven, he's got a stove, and on April 7 he introduced the new menu, which has been expanded to include entrees. "Elephant's grown up," explained Maya, who manages the front of the house and serves the food Rich cooks up. She also makes desserts, another new feature of the upgraded menu.
Popular small-plate standbys, such as the pickled eggs and caviar tapas, whipped salt cod and pickled cherry tomato tosta, Bikini Con Queso with truffle oil, and the burger with maple mustard, bacon and American cheese, are still listed on the chalkboard—"if I take them off the menu, people will kill me," said Rich—but now you can also order a full dinner. In fact, to appease regulars, at the top of the new
menu of "large plates" is a perennial favorite: the Spanish "French" Onion Soup Gratin; the addition of chunks of braised beef transform the classic broth with melted cheese and carmelized onions into a hearty, mouth-watering main course. I ordered the Blanquette de Poulet, chicken breasts poached in a white wine and cream sauce, accompanied by a few rounds of veal sausage and chunks of carrots, potatoes, leeks and foie gras butter. Reeve, who noted that the new stove now makes it easy for him to make broth or stock, said the sauce is thickened with egg yolk instead of a roux—the traditional method—and that boiling the veal sausage in the sauce, which is then removed and added again at the end, enriches the flavor. Served in a metal bowl, the dish was sprinkled with herbs and a few shavings of black truffle. It's comfort food transformed by the combination of delicate and savory flavors and subtle textures into a dish incorporating the freshness and energy of spring. Kevin ordered the special, which was grilled trout; the crispiness of the skin was perfectly balanced by a mound of crab mousseline, a rich hollandaise sauce with reduced cream and Jonah crab.
Also on the "large plates" menu were porchetta and clams—crispy rolled braised pork belly with little neck clams in a tomato and garlic sauce with a kale and potato puree—and braised lamb shoulder, served with baked white beans, pomegranate molasses, chermoula, allioli and pickled Calabrian chilies. The vegetarian entrée, a truffled wild mushroom mac and cheese with carmelized onions, cream, gruyere and manchego, demonstrates that lack of meat doesn't entail any loss of creativity, standards or sheer sumptuousness of ingredients on Reeve's part.
For an appetizer, we chose the Asparagus & Spring Vegetable Barigoule, asparagus, snowpeas, white beans and other vegetables in a mint-seasoned broth in which a luscious hunk of burrata,
an Italian-style, Vermont-made mozzarella, slowly melted, infusing the sauce with cream. Rich described the dish as an "old school Provence dish meeting up with Catalonia." His evolution toward the cooking style of the Basque country, which straddles the border between Spain and France, is in part due to the Hudson Valley's similarity of climate, he noted. Ever since he opened, he's been moving away from the Mediterranean and toward the modern Spanish cooking of Galicia and Aragon, for which he feels an affinity. Similarly, the wine menu features many Spanish vintages, although one could splurge on a $48 bottle of Bordeaux. The Mendoza Malbec, from Argentina, was rich with berries and a delicious complement to our meal.
As noted, the new menu also features desserts, and we realized this is big news, after tasting the divine gazta tarta, a cheesecake from San Sebastian, Spain, made by Maya. It was a pale, frothy, lemon colored
sliver concocted from goat curd, cream cheese and yogurt on a wisp of a crust, topped by a thin, brittle covering of crème brulee.
The day after the soft launch of the new menu, Rich commented that he suffered a few burns, still unaccustomed to using a stove and forgetting to "turn the knobs down," something he didn't have to think about with the toaster oven. We could see him, assisted by several helpers, cooking order after order without losing a beat through the cut-out window in the back of the small dining area, beyond the long, busy bar. "I have to challenge myself or I'll get bored," said Rich. He is toying with the idea of introducing a prix fix tasting menu, consisting of an appetizer, entrée, and a special surprise—"a chef's choice cheese course or dessert," he said.
Now that Elephant has a stove, fans can rest assured that the restaurant is settling in at its location on Wall Street for the long term. "I'm getting older and I have to be able to teach kids to cook properly," he said. "The more conventional cooking medium of the stove is easier on the kids." The inventiveness and quality of Rich's cooking, combined with the tapas bar's industrial chic vibe–it has burnished wood floors, zinc-colored walls, and a high tin ceiling painted black from which Italian bistro-style lights descend–helped make Uptown a cool place to be; with the more expansive menu, it just keeps getting better. "We're no longer just a tapas and wine bar, though Rich is still doing all the cooking," said Maya.
Elephant is open Tuesday through Saturday, for reservations call after 2pm, 845-339-9310.
https://kingstonhappenings.org/wp-content/uploads/ngg_featured/DSC_1000_edited-1.jpg
2160
3840
Kingston Happenings
https://blastserve.com/khtestbed/wp-content/uploads/2023/07/KH-Transparent-Logo-e1688304541199.png
Kingston Happenings
2015-04-11 11:56:37
2015-04-11 11:56:37
Foodie Paradiso: A Bigger Taste of Spain at the Elephant