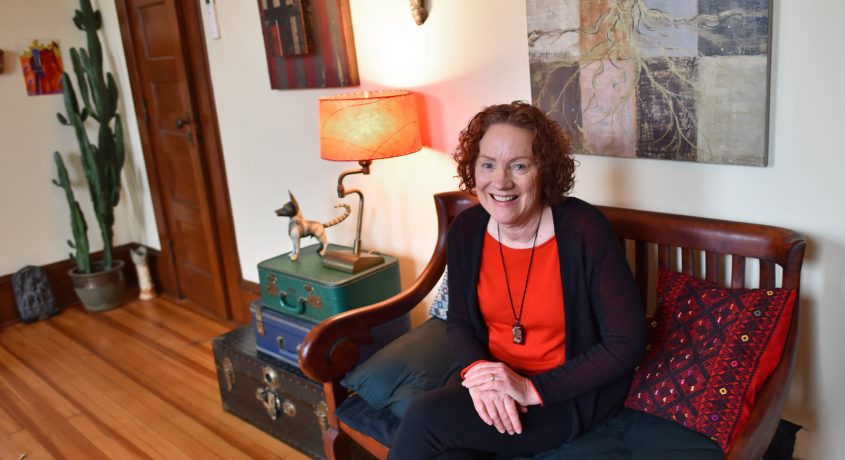 Doers and Dreamers – Linda Marston-Reid
From chicken farmer in the Mojave dessert to executive director of a non-profit promoting the arts in the Hudson Valley isn't too much of a stretch of the imagination, is it? But hey, that's how things go around these parts. With a very vibrant and diversified arts environment, you never know who you may sit down next to in a local coffee shop or restaurant or how they arrived here, but there is a good chance that they are involved in some form of the arts whether it is visual, performance, literary, or otherwise. Besides the revenue that the arts generate directly, they have proven to be an economic driver for communities that promote them by incentivizing consumers to spend money on dining out, lodging, transportation, etc., so it's a huge benefit to have organizations that promote the arts locally. Say 'Hello' to this week's Doer and Dreamer who is doing her best to herd those artist cats and make sure the arts have a positive impact on our community.
"Great art is never produced for its own sake. It is too difficult to be worth the effort." – George Bernard Shaw
Your name: Linda Marston-Reid
Business or organization: Arts Mid-Hudson
Occupation: Executive Director at Arts Mid-Hudson
What is your approach to your business or occupation that makes you unique?
Leading a three-county arts agency promoting all of the arts is a challenge. Although my background is grounded in being a visual artist, this region is rich with world-class musicians, performers, literary artists, as well as artists that make ceramics, weavings, or jewelry. Each artist has their unique approach to their creative vision, and I enjoy discovering what that is and how to support or promote that creativity. Arts Mid-Hudson is the regional regranting organization for the New York State Council on the Arts and we also have the trust of the Ulster Legislature to admininster the cultural funding for Ulster County artists. One of the things we look forward to every year is the Ulster County Arts Awards coming up June 6, where deserving individuals, business, and organizations receive awards noting their service to the community across Ulster County. This year, several Kingston-based artists and organizations will receive awards, including: Artist, Jane Bloodgood Abrams; Business that supports the arts, RUPCO; Arts in Education award, Center for Creative Education; and a Special Citation award to Lynn Woods and Stephen Blauweiss for their documentary, Lost Rondout
Where are you from originally?
I'm originally from Southern California and grew up in the desert northeast of Los Angeles, but have lived all over the US – from Santa Barbara, Eugene,Oregon, Seattle, Washington to Virginia and then Brooklyn.
What brought you to the Kingston area and keeps you in this area?
After my work brought me up to the Mid-Hudson area, I began to schedule meetings in Kingston with the arts and cultural groups located here. The more I visitied and got to know the people, I realized this place would become my home and moved here in the fall of 2015. One of the things I have learned from living all over is that there is no perfect place; you have to find your people and I've found my people in Kingston.
What is your favorite hangout in this area and why?
Kingston has so many great places to hang out! Not being much of an outdoorsy person, my favorite is Outdated Cafe for brunch and The Beverly for those after work meetings.
When you're not in Kingston, what's your idea of a wonderful city to visit, and why?
My husband and I have regularly traveled to Mexico for over 20 years and our favorite city is Oaxaca. This is a magical city – there is a deep history of the Zapotec culture that visitors can see when they visit the ruins of Monte Alban, a lively tradition of natural dyes and textile weaving, black ceramic pottery and wood carving. The residents of Oaxaca are welcoming and there has been a resurgence of internationally known Oaxaca chefs returning to their city and using their world-class training in traditional dishes with local ingredients.
Tell us something that we never would have guessed about you.
I grew up on a chicken farm in the Mojave desert.
https://kingstonhappenings.org/wp-content/uploads/2017/04/DSC_6550-copy.jpg
900
1600
Kingston Happenings
https://blastserve.com/khtestbed/wp-content/uploads/2023/07/KH-Transparent-Logo-e1688304541199.png
Kingston Happenings
2017-04-11 09:45:51
2020-02-25 12:00:12
Doers and Dreamers – Linda Marston-Reid