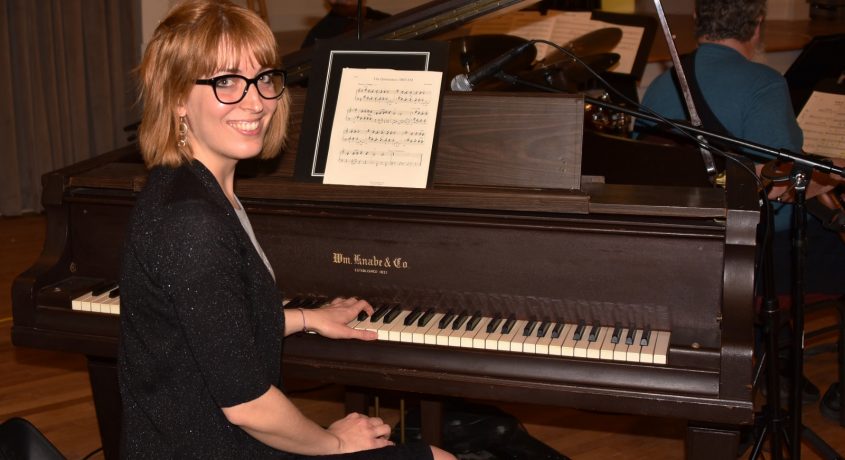 Doers and Dreamers – Andrea Shaut
No one should ever think that making a living as any kind of artist is easy and looking at the number of hats this week's Doer and Dreamer(and many others) has to wear is clear evidence of that. Not only do artists have to excel at their craft, but they also have to continually promote themselves and manage their endeavor as any independent business person does. It's a good thing that artists have that energy and devotion because communities like ours are certainly the beneficiary of their efforts.
Your Name: Andrea Shaut
Business or Organization: Andrea Shaut – Pianist
Occupation: Director of Hudson Valley Recital Project; Pianist of the West Point Glee Club; Co-Leader and Keyboardist of the award-winning wedding band, The Kazz Music Orchestra; Founder of HV Ceremony Music – music for wedding ceremonies; Daughter of The Father Daughter Duo with saxophonist Bob Shaut; Collaborative Pianist; Solo Pianist; Private Music Instructor
What is your approach to your business or occupation that makes you unique?
My mission is to use music to connect community, to educate about the power of music, and to spread some peace in this world – to be good and do good. A passion of mine is to collaborate with other businesses and artistic mediums, in particular through unique pairings. For example, as part of The Hudson Valley Recital Project, I produced a Women in Music show which featured female musicians performing in front of a screen displaying quotes and stories about the challenges fellow women have faced in the music industry. The show was paired with wine from women-run wineries, and food from recipes by famous women throughout history.
I also take advantage of my music making skills to help spread love to organizations that I believe in. A portion of my CD, Simple Beauty, goes to Kingston Cares. My family has raised over $50,000 for our local Alzheimer's Association chapter as part of our annual Swinging Moments Cabaret. And I've even played piano for 12 hours straight to raise $6,000 for pancreatic cancer research.
Where are you from originally?
Born and raised in Kingston, NY!!!
What brought you to the Kingston area and keeps you in this area?
I went away for music school, but came back immediately after graduation to help care for my grandmother who was suffering from Alzheimer's. At the time I assumed it was temporary, but I'm still here! I love the creative vibe in Kingston, the supportive community, the collaborations with other businesses, the musical talent, the views, and my family being near me. Kingston is home.
What is your favorite hangout in this area and why?
Two favorites. Reginato's Ristorante in Lake Katrine for their yummy gnocchi and awesome service. And ArtBar Gallery in Midtown for wine and art! I also adore the business owners of both establishments – both Stephanie & Kevin/Allie & Laurie clearly want our community to thrive, and they work hard to do their part to make that happen. It's the way I try to run my music business, so I feel connected to them.
When you're not in Kingston, what's your idea of a wonderful city to visit, and why? My partner and I travel quite a bit, but Ithaca is still one of our favorites. So many good restaurants and great places to hike!
Tell us something that we never would have guessed about you.
While whitewater rafting in Costa Rica with my hubby, I was thrown out of the raft when we hit a whirlpool. I spent several minutes stuck under there before anyone noticed what happened. I started breathing in the water and passed out before I was rescued, but the near death experience didn't stop me from enjoying the rest of the rapids! Also, my mom hates this story.
https://kingstonhappenings.org/wp-content/uploads/2017/04/DSC_6722-1600x902.jpg
902
1600
Kingston Happenings
https://blastserve.com/khtestbed/wp-content/uploads/2023/07/KH-Transparent-Logo-e1688304541199.png
Kingston Happenings
2017-04-18 09:43:38
2020-02-25 12:00:11
Doers and Dreamers – Andrea Shaut