The Kingston Happenings media channel has completed its third year of operations since I assumed ownership as its publisher in 2014. Originally a project of the Business Alliance of Kingston, the original KingstonHappenings.Org website and newsletter were launched in 2009 as a project of the Business Alliance of Kingston and managed by Nancy Donskoj. Needing a makeover to meet its full potential, the original website and newsletter were re-designed with expanded content and new social media channels were developed to increase traffic to the website.
The driving force behind my decision to take on the Kingston Happenings project was the dire need that I saw for making people, within and outside of the community, aware of all positive things that were going on in this area. I also wanted to try get people engaged in one form or another with these activities as participants whether as spectators or volunteers. With an extensive background in information architecture, content management, and web development, I thought that my skills dovetailed neatly with this type of project which I felt our community could significantly benefit from.
Kingston Happenings has since become a highly utilized and valued source of information related to events, businesses and things to do in Kingston and the surrounding area. Anecdotally, I hear from many residents who use Kingston Happenings as their 'weekly planner' to decide what they'll be doing for any given week. Local BnB operators that I know always tell their guests to reference Kingston Happenings to help them plan their stay. Many tourists that I encounter have found the site valuable in doing their research in planning their trip here and rarely do I find people in the local area that are not familiar with the Kingston Happenings site. Most people who use Kingston Happenings recognize it as the most comprehensive source of information available to find out about live music performances, kids events, health and fitness classes, community events, art gallery openings, poetry readings, movie screenings, and much more. Basically, if one can affix a specific date, time, and  location to any kind of activity, you may find it on one of our calendars from bake sales and Happy Hours to pole dancing classes and poetry readings.
The objective of Kingston Happenings media channel is to promote community and economic development by providing a low cost, efficient platform for communicating information about events, businesses, and other topics that portray Kingston and the surrounding area in a positive light. Any local business or organization can post information about their events or promotions on the site for free and thousands of events are posted each month.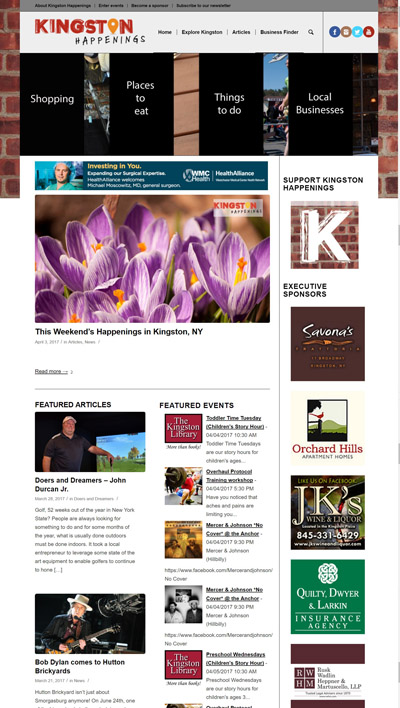 This media channel is still continuing to grow its following and sponsorship base because of it is a unique and effective model for delivering content to local audiences and tourists as well. It has a hyper-local focus(Kingston and surrounding communities only) from a content perspective that provides useful information to both audiences. Although it primarily focuses on delivering information about specific events, it also publishes articles about the "Doers and Dreamers" of the community which is very popular with its followers, articles on local restaurants in its "Foodie Paradiso" section, and other general interest articles. It is also developing a comprehensive business directory in which area businesses can be listed on the site in sections that can serve as a dining guides, shopping guides, and other business-specific sections.
Since being re-designed, the website has seen a tremendous increase in traffic with more than a 100% increase in pageviews in the first year. Year end 2016 showed an average of over 25,300 pageviews per month which is more than a 300% increase from the original site and traffic continues to grow at a significant rate(+14% for the first 2 mos. of 2017 when traffic is at its lowest). The combined following of its social media channels on Facebook, Instagram, and Twitter is well over 10,000, with the reach of Facebook posts alone ranging between 15,000 and 35,000 per week. Another feature of the media channel is it's weekly radio show "The Happy Hour" on WKNY Thursday evenings at 6:0pm co-hosted by publisher Kevin Godbey and Nadine Fescoe Ferarro(proprietor of NJOY the Ride), which features discussions about local events and businesses. The model of having a very strong brand presence in a localized market and using daily postings to social media driving followers to a website that is a comprehensive repository of information which is very easy to use, has proven to be very successful.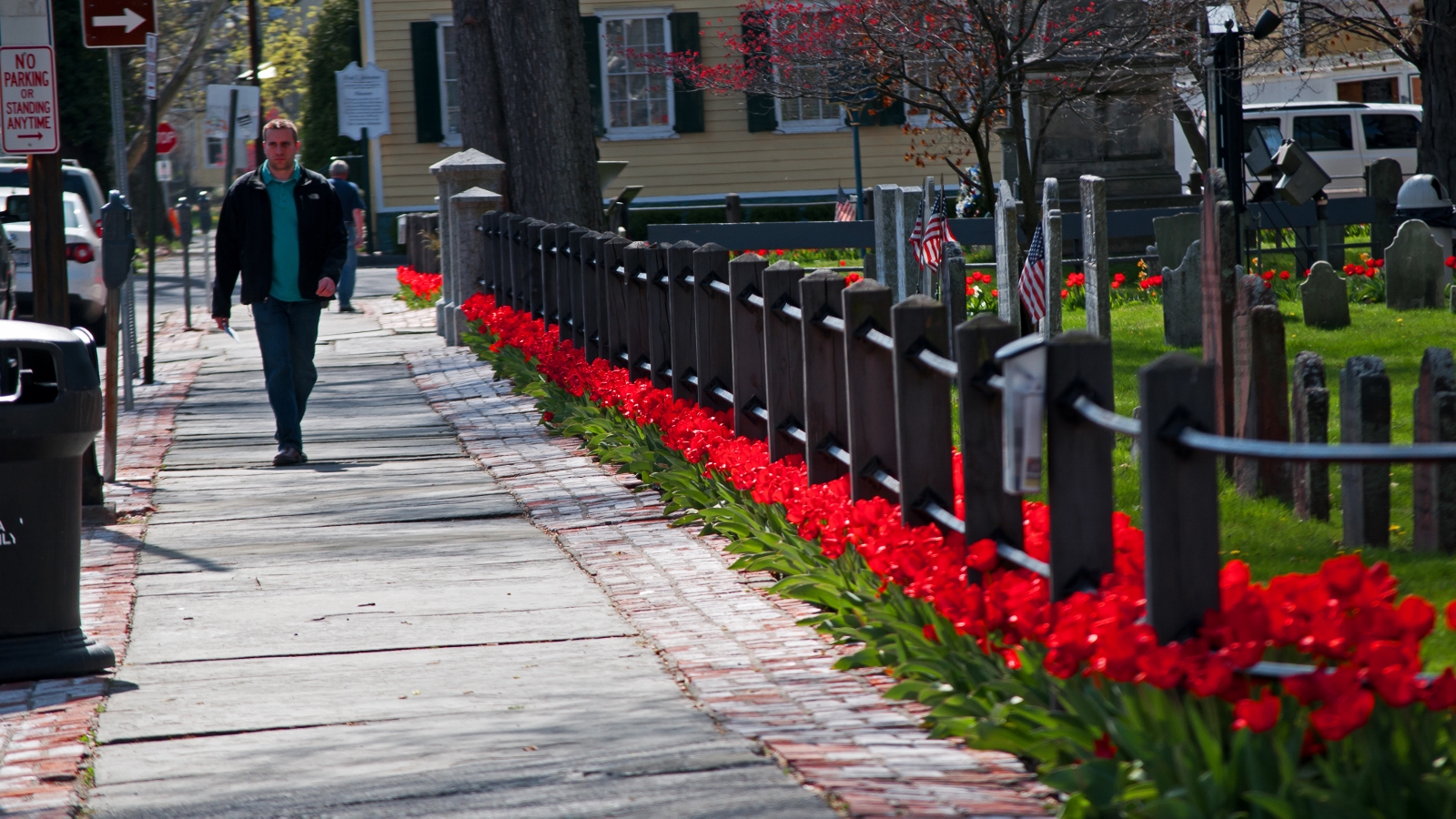 About half of the current website users are located in Kingston and the surrounding area with another 25% within a two hour drive with the rest from beyond that distance. This is indicative of the value that the site has been providing for both residents and visitors to the area because it enables them to find entertainment that is attractive to any audience whether it relates to the arts, sports, history, or community. When anyone comes to the KingstonHappenings.Org website or the Kingston Happenings Facebook page, what they will see is a very positive and upbeat portrayal of the Kingston area based on the events occurring here, its attractions, or just the appealing landscape.
---
Although I am the 'chief cook and bottle-washer', as my father would say, of Kingston Happenings on a daily basis, many thanks go out to Mark Marshall of Interage Media for being the developer and webmaster for the site, Katy Dwyer of Katy Dwyer Design  for visual design and  graphics support, Susie Linn as a contributing writer, Nadine Fescoe Ferarro for promoting the site and Nancy Donskoj for her continued moral support. Without their generous help, there would be no Kingston Happenings.
https://kingstonhappenings.org/wp-content/uploads/2017/04/KH-Feature-image-copyxx.jpg
1080
1920
Kingston Happenings
https://kingstonhappenings.org/wp-content/uploads/2013/10/Final-KH-Logo.png
Kingston Happenings
2017-04-04 15:14:09
2023-01-28 21:33:40
Kingston Happenings: Making it Happen in Kingston for Three Years and Counting