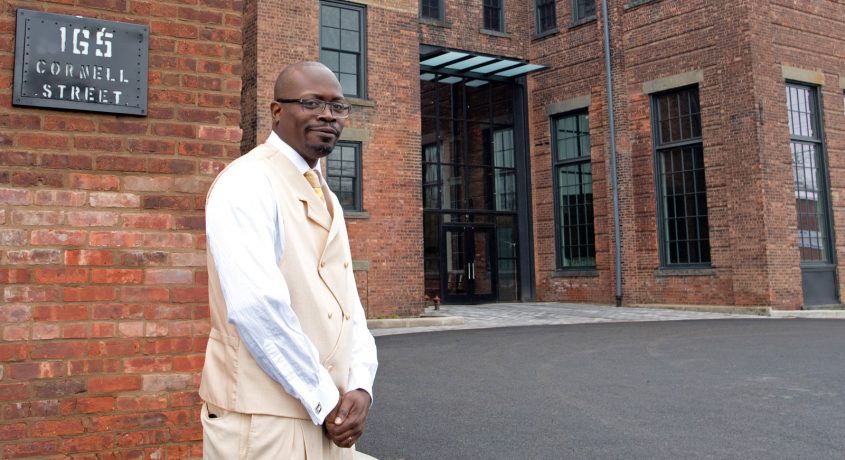 A fairly common scenario seems to be that young couples with children are moving to the Kingston area from various parts of the New York metropolitan area drawn by affordable housing, a slower paced lifestyle, and a generally more 'livable' environment. This week's Doer and Dreamer has done just that and like many other newcomers is providing value to the community with the upcoming program for kids that he has conceived and is promoting.
Your name: Frank Waters
Business or organization: MyKingstonKids.com and 1209 Arts
Occupation: Executive Director of MyKingstonKids.com(Primary Venture), web designer, graphic artist, video animator and serial entrepreneur; CEO of 1209 Arts, Credit Specialist and Co-owner/Founder of Credit Lounge Of America.
What is your approach to your business or occupation that makes you unique?
My unique approach to business is my natural ability to view a variety of perspectives in everything I manage or anything I do in general. I mention this because it allows me to envision multiple sides of any project such as the client, business owner, graphic designer or marketer. I take into consideration the components of each role to ensure every project I'm apart of is as productive as possible for all involved.
It's extremely rewarding to bring a concept from mind to reality. For instance, developing the MyKingstonKids Fest idea was only possible based on my ability to first envision the event from multiple angles. I actually had a dream of the concept first, including the look of the promotional materials, marketing methods and even the activities of the event from the perspective of the children participating. In a nutshell the unique approach for me is to follow my heart and listen to my soul.
Where are you from originally?
Bronx, New York
What brought you to the Kingston area and keeps you in this area?
My wife and I wanted to leave the city life behind and raise our 2 children somewhere intimate, beautiful and less stressful. I visited Kingston once about 10 years ago for a weekend and never forgot it. We found an amazing home on East Chester Street 5 years ago and decided to stay here and build another chapter of our lives.
What is your favorite hangout in this area and why?
I personally enjoy the Rondout area. I really get a sense of relaxation down by the water. Sometimes I just visit the area and walk down the pathway back and forth to clear my mind and feed the ducks. The shops are also great to visit to get a bite to eat or admire the artwork and such.
When you're not in Kingston, what's your idea of a wonderful city to visit, and why?
Even though I left NYC I still enjoy visiting at times, although my favorite place in the US is Las Vegas. As an artist at heart the main attraction for me is the illumination of it all and the architecture of the buildings. It's like an amusement park for adults. I love the designs, technology and concepts of every part of that city. It's truly amazing!
Tell us something that we never would have guessed about you.
One thing that you probably wouldn't have guessed about me is the range of experience I've had being a low-key, home-loving guy from the Bronx. I'm also an independent filmmaker. My sister and I wrote a movie that I actually directed and starred in called, "Step In: Live On Stage" back in 2003. The movie was about me and my partner building a talent showcase to save our nightclub from being taken over by a bookie (played by my late father, Robert Franklyn Waters). It was my first and last independent film but very exciting, fun to make and the experience I gained as an organizer I put to use in my life almost every day.
https://kingstonhappenings.org/wp-content/uploads/2017/04/DSC_6823x.jpg
900
1600
Kingston Happenings
https://kingstonhappenings.org/wp-content/uploads/2013/10/Final-KH-Logo.png
Kingston Happenings
2017-04-25 21:24:09
2020-02-25 12:00:11
Doers and Dreamers – Frank Waters