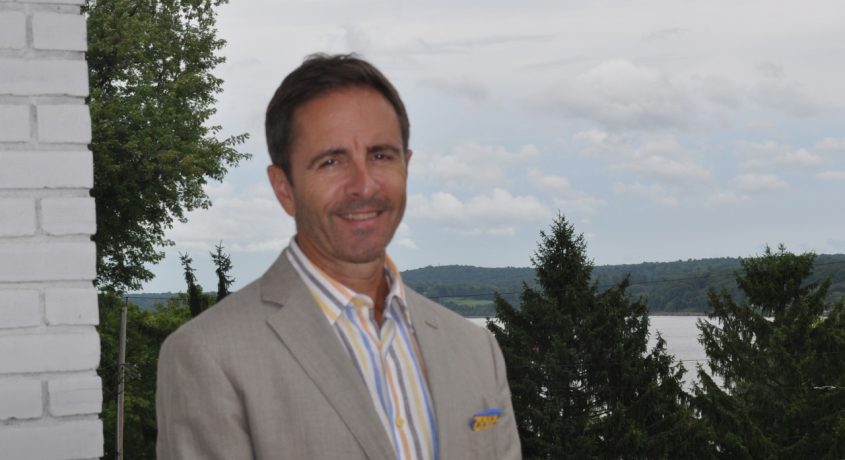 Doers and Dreamers – Vinnie Rua
The traditional 'bricks and mortar' model of retailing has certainly been challenged by internet sales but it is also being challenged by a model that is based on a personal and custom approach to doing business without a static location. Meet this week's Doer and Dreamer, Vinnie Rua, who is making that model work in the men's clothing business.
Your name: Vinnie Rua
Business or organization: Christopher's Custom
Occupation: Custom Clothing Designer
What is your approach to your business or occupation that makes you unique?
Well…being only men's clothier left standing in Kingston…that makes me unique! But seriously, my business model has always been to offer the best value available. I believe firmly that the new distribution channel for better men's clothing is in the Business-to-Consumer model. My customers tell me they appreciate my value proposition that eliminates their travel down time since I visit them in the convenience of their home or office. Secondarily, I know they are comfortable with my fashion sense and ability to translate NYC runway ideas into looks the average guy can wear in which he can feel comfortable at work or play.
Where are you from originally?
I was born in the Benedictine Hospital right here in Kingston and grew up on Jervis Street just down from KHS. My formative years were spent on Brewster Street with my boys and playing baseball next to Dinkey's Pond at the National Little League.
What brought you to the Kingston area and keeps you in this area?
After college, I left Kingston to pursue my career (s). I started in NYC, then moved to Albany, NJ, Goshen, and back to Albany. In the summer of 2014, I was looking for an apartment and someone mentioned a place overlooking the Hudson River in Port Ewen…I took one look and signed on the dotted line. The views are spectacular! Living in Kingston has made me much more efficient as I schedule my appointments in Albany two days/week, with the other days devoted to fulfilling orders taken in Albany, developing business in Kingston, and servicing my customer base in Westchester County and NYC.
What is your favorite hangout in this area and why?
Kingston certainly has an eclectic assortment of restaurants and bars. My favorite hangout is probably Savona's on the Strand. Their core Italian food is consistent and what I used to get when I went to my grandmother's house. Their thin-crust bar pizzas are great also. The clientele at the bar is always interesting and I find a great way to expand my business contacts.
When you're not in Kingston, what's your idea of a wonderful city to visit, and why?
That's a tossup between NYC and Boston. NYC is NYC…end of story…but I love Boston. My older daughter went to Boston College and is now a marketing professional in Boston. The North End is unparalleled for authentic Italian food, there are numerous restaurants with terrific water views and great seafood, professional sports, college sports, great running around Beacon Hill…shopping…just a great place to visit.
Tell us something that we never would have guessed about you.
Most people know that the culmination of college basketball is the Final Four. Each coach that makes it to the Final Four joins the elite group called the Final Four Coaches' Club and attends an annual luncheon during the Final Four weekend…and is given a special blazer with patented buttons, lining, etc. I am the exclusive designer/maker of these Final Four Coaches' Club blazers and get to meet some very interesting guys!
https://kingstonhappenings.org/wp-content/uploads/ngg_featured/DSC_0041-1280x787.jpg
787
1280
Kingston Happenings
https://blastserve.com/khtestbed/wp-content/uploads/2023/07/KH-Transparent-Logo-e1688304541199.png
Kingston Happenings
2014-08-18 13:52:55
2017-03-07 11:49:31
Doers and Dreamers – Vinnie Rua