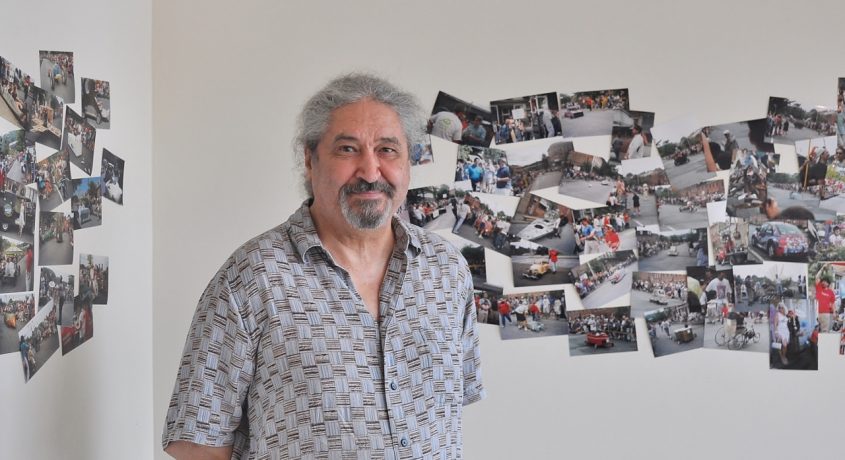 Doers and Dreamers – George Donskoj
The art scene in Kingston is exploding with an influx of new artists, new gallery openings and the recognition from a lot of major media outlets as a vibrant arts community. Probably, very few people realize that there has been a small group of art survivalists that have always been around, keeping the heartbeat of the Kingston's art community beating when things were looking pretty bleak here in Ktown. Meet one of those steadfast supporters of the arts and promoter of the upcoming Artist Soapbox Derby, as this week's Doer and Dreamer, Yourij(George) Donskoj
---
Your name: Yourij Donskoj, most people call me George.
Business or organization: Donskoj & Company. I also produce the Kingston Artist Soap Box Derby and serve as the Chair of the City's Historic Landmarks Preservation Commission.
Occupation: My principal business is stained glass; I do historic restorations for museums, churches and older buildings as well as commissions for new panels of my own design for new construction. Over the years, I've also done many historic restorations of other types, including re-gilding the dome of Kingston's 1789 Court House on Wall and repairing the wood-mullioned windows of that building's entry, restoring the shutters on the Fred J. Johnson House Museum, etc. I worked at Vassar for nearly two years fabricating and installing 138 Gothic windows for Vassar's Main Gate, Taylor Hall, and other art museum expansions. As you move around Kingston, you may see my work every day in decorative signs and windows.
What is your approach to your business or occupation that makes you unique?
When I became interested in stained glass, I entered the Medieval Glass Internship Program at Canterbury Cathedral. I was fortunate that I was able to undertake extensive travel study at that time in England and France and later in Ireland, Germany, the Netherlands and Italy. I was doubly fortunate to become a stained glass conservator for the Early Renaissance Collection at the Metropolitan Museum of Art in New York City in 1975. Over the seven years I was there, I restored the Tiffany Fountain and prepared for the installation of the Frank Lloyd Wright's room there. Working at the Met allowed me to continue my education by studying the best art of the periods that most interest me, both in the Met collections and around the world when they loaned me to other institutions such as the Louvre, the Cooper Hewitt Museum and the Morgan Library for consultations. I'm an avid student of history and I love looking at, and reading about, old things!
Where are you from originally?
I grew up in Lodi, New Jersey. My parents were immigrants from Russia and Armenia who became displaced after World War I. My father was an engineer. We summered in Kerhonkson and when I was in the eighth grade, we moved to that area year round.
What brought you to the Kingston area and keeps you in this area?
I attended Rondout Valley High School and had high school jobs in Kingston, attended school sports events here, etc. so compared with many of our neighbors, I'm a local!
My first studio was in Woodstock – I was the bartender at the Bear in its 1970s music heyday – and I bought my building at 93 Broadway in 1981. There were only three active businesses in Rondout then, everything else was boarded up or marginally occupied. By 1983 I was showing the work of my friends there at 93, so today I'm the longest running gallery owner in Kingston.
We were very lucky to be a part of Kingston's re-emergence as an arts center. I say re-emergence because in earlier centuries, landmark names of American art such as John Vanderlyn, Joseph Tubby, Jervis McEntee and Calvert Vaux created here. But in the 1980s and 1990s, it was Chris Gonyea, Henk Dijk, Dennis Connors, Katharine McKenna, my then wife Nancy and myself who showed up for everything and kept the energy going. A host of others were also involved in parts of the effort. First Saturdays grew out of an opening of comic book artists that Nancy and I did at Donskoj Gallery; Dennis and Henk pulled together the first Sculpture Biennial, I did the second; Nancy and I were prime movers in the first foreign exchange, Ulster to Ulster. We were the first Board of Directors for Art Society of Kingston, Henk worked with our NYS Assemblyman Kevin Cahill to secure the building where ASK is today. Nancy and I started the Artist Soap Box Derby in 1995, but it takes a village and more to mount that scale of event! I hope the Derby can help Kingston pull all of the young professionals moving here into yet another new era of arts community. Gentle 30-somethings, start your engines….
What is your favorite hangout in this area and why?
I like to hang out in my car checking on Kingston. I drive most streets every week, looking at our wonderful buildings, memorizing their period details, looking up something I've newly discovered in an old book, musing about events that took place here and there, anguishing over shoddy changes… just keeping tabs in general. I also need to be near the Hudson's tide, it is like a heartbeat moving in and out each day.
When you're not in Kingston, what's your idea of a wonderful city to visit, and why?
I like to go anywhere there is something to look at. I'm a visual person. New York City is the answer to many questions. I love Belfast because it's beautiful and the people are wonderful, caring, welcoming, creative and energizing to be around. I love Venice because artisans and craftspeople are the aristocrats of that city.
Tell us something that we never would have guessed about you.
Flamboyant Derby garb notwithstanding, I'm actually quite shy and private.
https://kingstonhappenings.org/wp-content/uploads/ngg_featured/DSC_0444-1280x719.jpg
719
1280
Kingston Happenings
https://blastserve.com/khtestbed/wp-content/uploads/2023/07/KH-Transparent-Logo-e1688304541199.png
Kingston Happenings
2014-08-11 12:08:18
2017-03-07 11:49:32
Doers and Dreamers – George Donskoj