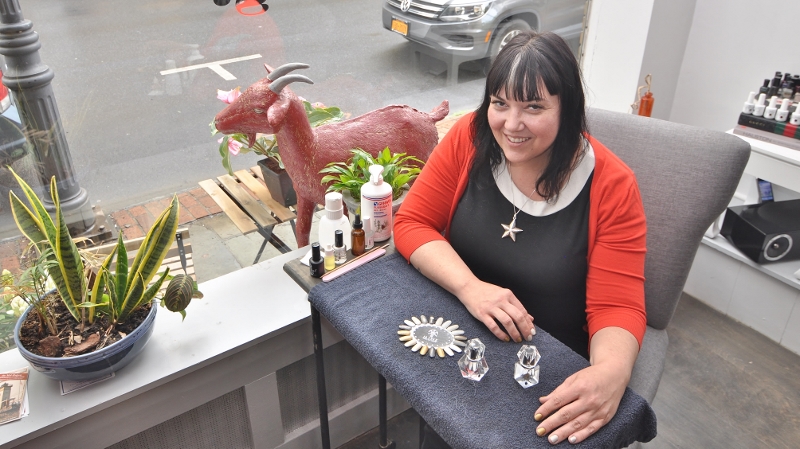 Doers and Dreamers – Veleta Vancza
A bit of creativity and lots of gumption can yield some pretty interesting results when applied with some flare. Say 'Hello' to this week's Doer and Dreamer, Veleta Vancza, who has developed a really unique business here in our little town.
Your name: Veleta Vancza
Business or organization: MINE Luxury Nail Lacquer
Occupation: Co-founder / Creative Director
What is your approach to your business or occupation that makes you unique?
MINE is the first nail lacquer on the market that is exclusively pigmented with precious minerals like 24k gold and fine silver. The whole concept came about 7 years ago while chatting with Paul Maloney from the Stockade Tavern. He was telling me a story about how he had applied gold leaf to someone's nails and I wondered if there was a way to make a nail polish with gold particles suspended in it. Being a metalsmith and having invented a few processes before, I figured I was up for the challenge so I  went to work in my studio. The formulations only took a few months to perfect and I realized I had the potential to build this into a brand. So I quit my job in Philly and moved back to the Hudson Valley to work on developing the concept. 7 years later, I birthed the finest nail polish ever made and it comes in a hand cut crystal bottle. It makes me happy that every time I use it, I think 'this is amazing'.
Where are you from originally?
Tucson, AZ
What brought you to the Kingston area and keeps you in this area?
My first visit to Kingston was in 1997 while I was a student in the art department at new paltz. I made a trip to P&T to pick up some supplies for a project I was working on & instantly fell in love with both the store & the city. I knew I would live here someday, but didn't realize it would take me so long to get here! I officially became a Kingston resident in November.  Kingston has everything I love all rolled into one spot… Interesting architecture, a sordid past, and a promising future & is chock full of the most interesting characters that you could ever dream up. It's unassuming yet brimming with talent.
What is your favorite hangout in this area and why?
That depends on my mood. I'm a big fan of an after work drink at The Stockade. It's owned by, staffed by and patronized by good friends, so it's just comfortable. I can't resist an ice coffee & frittata from Outdated,   I also just discovered the amazing food at Abril's Boutique Plus. I highly recommend it!! Here are a few of my other favorite spots: the bar @ Le Cannard, Mi Ranchito, Elephant, Boitson's & The Anchor.
When you're not in Kingston, what's your idea of a wonderful city to visit, and why?
My favorite vacation spot is Provincetown. It's a place where anything goes and everyone is accepted & welcome. You can have a mellow break on the water or a super wild party time. It's heaven to me.
Tell us something that we never would have guessed about you.
I have 26 cats. (Not really-I have 2)
https://kingstonhappenings.org/wp-content/uploads/ngg_featured/DSC_0235-800x449.jpg
449
800
Kingston Happenings
https://blastserve.com/khtestbed/wp-content/uploads/2023/07/KH-Transparent-Logo-e1688304541199.png
Kingston Happenings
2014-05-28 10:35:33
2017-03-07 11:49:34
Doers and Dreamers – Veleta Vancza