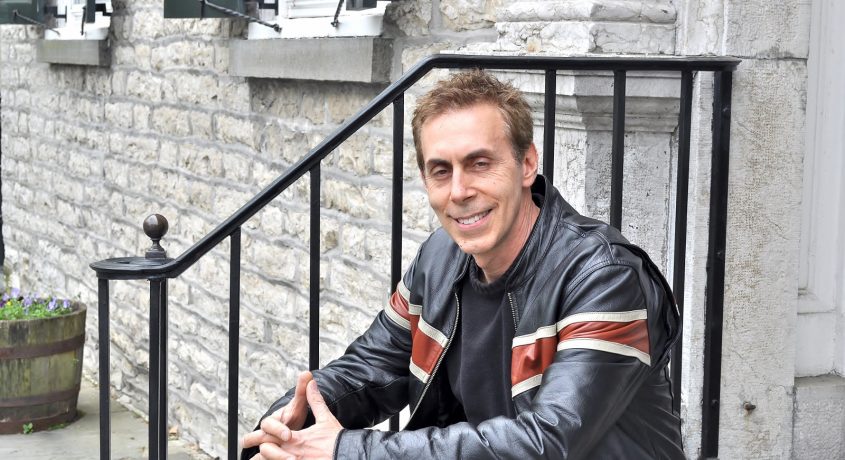 Doers and Dreamers – Aaron Dash Weisblatt
You just never know who you're sitting next to, having a cocktail with when you're in Kingston. Meet this week's Doer and Dreamer, and Oscar-nominated filmmaker, Aaron Dash Weisblatt.
YOUR NAME: Aaron Dash Weisblatt
BUSINESS OR ORGANIZATION: I work full time at The Omega Institute producing videos and also work freelance gigs under my personal production company called Cinetrope Entertainment.
OCCUPATION:  I am a filmmaker; I have produced, directed, filmed and edited documentaries, music videos, promos, music concert events and short films. My first film was nominated for an Oscar and profiled a farmer from Walden NY. Working at Omega now, I have the opportunity to produce videos while assimilating a great deal of knowledge from the thoughtful events we film. Every day is a new challenge.
WHAT IS YOUR APPROACH TO YOUR BUSINESS OR OCCUPATION THAT MAKES YOU UNIQUE?
I think I'm a good listener, which helps immensely as a producer of documentaries and promotional projects. I love to collaborate and I have learned how to keep my ego outside the door. I am interested most in the human experience and I love creating things that move and touch people on an emotional level. So when I have had the opportunity to work on something artistic, it always gives me renewed faith that I am doing what I am best at.
WHERE ARE YOU FROM ORIGINALLY?
I grew up in the village of Walden, New York in Orange County. I have also lived in New York City and Los Angeles, California.
WHAT BROUGHT YOU TO THE KINGSTON AREA AND KEEPS YOU IN THIS AREA?
I was producing a spec reality show about Steve Heller, the fabulous found metal artist from Boiceville and moved to the area to finish the project, but never left! That was in 2010. I lived in Woodstock for a few years and recently moved to Uptown Kingston, which I adore. I've made so many friends in the area and love where I live now. I love the creative people I know here and I love the dedication to healthy living both in the local slow food movement that we find here in the Hudson Valley and also in the ease at which one can find healthy things to do to keep active. I like biking in the warm months and skiing in the cold ones. The beauty of the area is something I never take for granted, especially my favorite secret swimming hole!
WHAT IS YOUR FAVORITE HANGOUT IN THIS AREA AND WHY?
That is a hard question! I think Outdated is my favorite hang. I love the atmosphere and the owners and staff are wonderful. It's great on a Sunday morning when you have nothing pressing to do and also a great place to work during the week. It's fun and inspirational to see people working on their laptops, taking meetings or playing chess. That's what I like most about Uptown – people are working on things! Three other favorite hangs I have to give a shout out to are the Stockade, Hudson Coffee Traders and Cafe East. I know people who own or work at these places and they are equally fabulous.
WHEN YOU'RE NOT IN KINGSTON, WHAT'S YOUR IDEA OF A WONDERFUL CITY TO VISIT, AND WHY?
I am attracted to places with a history. Like Lisbon, Paris, London, and even Los Angeles and certainly New York. People creating things turns me on and you will always discover something interesting in cities where there are historical, social or art movements. But mostly it is a vibe thing. I like to take a low profile when I go somewhere, do what the locals do, eat what they eat and talk to the average person to get a sense about what it is like to live there. I am a big dreamer and always fantasize about living somewhere different.
TELL US SOMETHING THAT WE NEVER WOULD HAVE GUESSED ABOUT YOU.
I've always been a bit of a car nut and love custom cars and race cars and antique motorcycles. When I was 17, I worked for a sports car mechanic in Newburgh as an apprentice mechanic. The owner wanted to form a race team and wanted me to be the driver. I was thrilled! I was all set to sign up with the Bob Bondurant School of Racing. But I gave up the opportunity to go to film school. The rest is history. Oh – and my parents gave me my unique middle name because they couldn't decide on a proper name and figured I'd pick my own later in life, but I kinda like it!
https://kingstonhappenings.org/wp-content/uploads/ngg_featured/DSC_0030-1600x900.jpg
900
1600
Kingston Happenings
https://blastserve.com/khtestbed/wp-content/uploads/2023/07/KH-Transparent-Logo-e1688304541199.png
Kingston Happenings
2014-05-22 08:00:27
2017-03-07 11:49:34
Doers and Dreamers – Aaron Dash Weisblatt