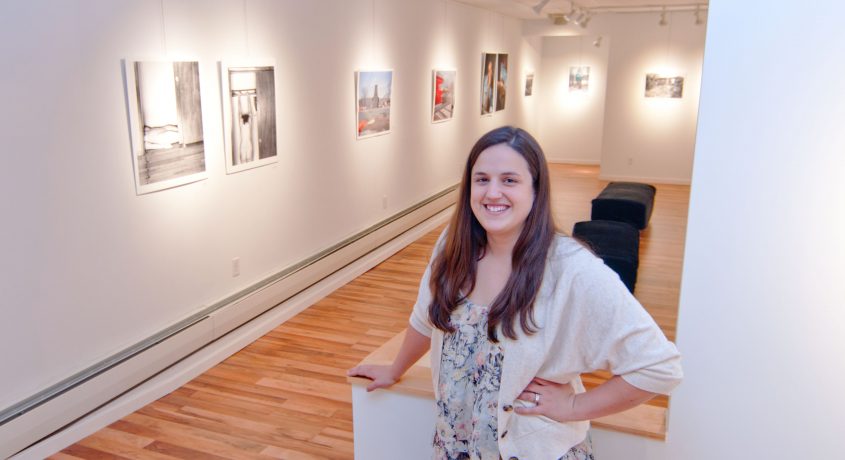 Doers and Dreamers – Allison Constant
I'm always impressed with young people that put a new twist on a concept and try to make a go of it.  Say 'Hello' to this week's Doer and Dreamer, Allison Constant, who is doing just that in her new midtown space.
Your name: Allison Constant
Business or organization: ARTBAR Gallery  –   674 Broadway, Kingston NY
Occupation: Gallery owner
What is your approach to your business or occupation that makes you unique?
I am first and foremost an artist who owns an art gallery. My gallery is a unique space that used to be a bar ( thus the name ARTBAR) and in the very near future I will be offering a "tastes and treats" menu along with coffee, espresso, cappuccino, specialty teas, fresh lemonade. The space can also be a venue from birthday parties to corporate events. The gallery's philosophy is to provide a relaxed environment, which is reflected in ARTBAR Gallery's tagline "it's okay to look". By the way, ARTBAR Gallery is having a first FRIDAY opening reception this Friday June 6th, 5-8pm Hope to see everyone there!
Where are you from originally?
I was born and raised in Hurley, NY.
What brought you to the Kingston area and keeps you in this area?
I have spent all of my life in Kingston, I went to school here, ( KHS, UCCC and New Paltz graduate) and have made a lot of connections in the area. I have stayed because of the vibrant and supportive arts community. Kingston's location enables me to make day trips to New York City as well as visit the Adirondacks, a favorite family vacation spot!
What is your favorite hangout in this area and why?
It's hard to limit it to one spot. I really enjoy uptown and downtown where there are many galleries and wonderful restaurants. Of course, I love to be at ARTBAR Gallery and work in my studio there. The revitalization of midtown is very important to me!
When you're not in Kingston, what's your idea of a wonderful city to visit, and why?
If I could go back to London I would jump at the opportunity. I went there for two weeks for a college course and all we did was go from galleries to museums to cafes. I enjoyed two in particular, the Saatchi Gallery and Tate Modern where I saw so much amazing artwork, which was very inspirational.
Tell us something that we never would have guessed about you.
Aside from owning ARTBAR Gallery, I am also a figure skater. I started at an early age as a competitive skater and was a national level competitor. I continue to be involved in skating as a coach and enjoy it immensely. My commitment to skating and the artistry of skating has carried over into my life as an artist and I can't imagine my life without either!!
https://kingstonhappenings.org/wp-content/uploads/ngg_featured/DSC_0357-copy2.jpg
2005
3565
Kingston Happenings
https://blastserve.com/khtestbed/wp-content/uploads/2023/07/KH-Transparent-Logo-e1688304541199.png
Kingston Happenings
2014-06-05 08:28:15
2017-03-07 11:49:34
Doers and Dreamers – Allison Constant