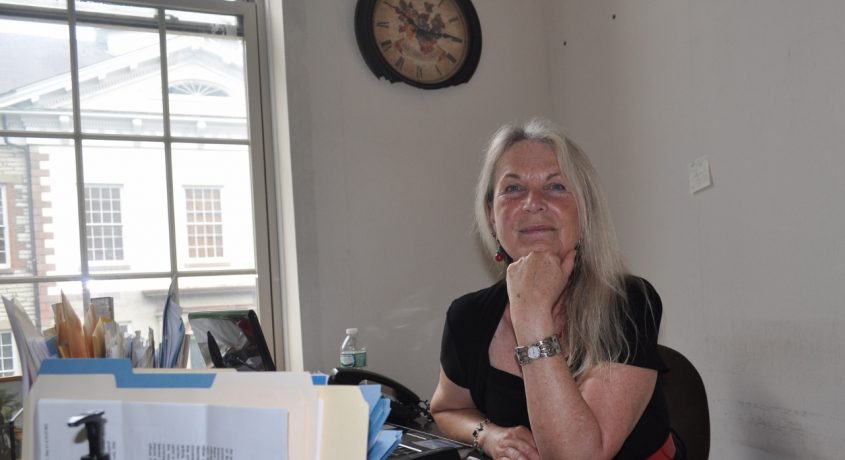 Doers and Dreamers – Sharon Murray-Cohen
Our community is very fortunate to have some very dedicated professionals who play a very vital role in assisting people in our area with various needs. This week I had the pleasure of meeting one of those professionals and she has taken on the task of assisting the elderly in our community. Please say "Hello" to this week's Doer and Dreamer,  Sharon Murray-Cohen.
Name:   Sharon Murray-Cohen
Business/Organization:  Jewish Family Services of Ulster County
Occupation:  Executive Director
What is your approach to your business or occupation that makes you unique?
I think that Jewish Family Services of Ulster County's approach to aging services is very unique. Our Home Based Services is the only Behavioral Health Services in the area that actually meets the client where they are, in their home. Our Licensed Clinical Social Workers go to the patient home and work with the senior and family around issues of aging, care giving, and transitions. Our focus is to assist seniors with remaining in their own home and community.
JFS views Aging as a Developmental process, a stage of life, and not a disease. On a professional level, (I am a Licensed Social Worker) this is a good fit for me because I have always felt that an individual, whether it is a senior or a person with physical or mental disabilities is best served by remaining in their home and their community if the support necessary to maintain them at home is available. Fortunately, the state and federal government are in agreement due to the rising costs associated with nursing home care.
Where are you from originally?
I am originally from Ellenville, I am an Ulster County native. While I have moved around quiet a bit and lived on both coasts, NYC, and Ibiza Spain, I always come back to Ulster County. I have lived in Kingston since 1988.
What brought you to the Kingston area and keeps you in this area?
The housing market. I had lived in New Paltz since the early 70's and discovered that by the time I could afford to buy a house I could not afford to buy in New Paltz.. I had always liked the city of Kingston, especially avenues off of Deleware and the Rondout , and it was affordable.
What is your favorite hangout in this area and why?
Lake Minnewaska, because I like hiking a swimming, snow shoeing and cross country skiing..
When you're not in Kingston, what's your idea of a wonderful city to visit, and why?
The San Diego area of California. I have both family and friends in and around San Diego and I really like the weather, its also not there far from Julian CA. which is in the mountains and has a climate similar to here.
Tell us something that we never would have guessed about you. For a very brief time I worked as a Corrections Officer for the State of N.Y.
https://kingstonhappenings.org/wp-content/uploads/ngg_featured/DSC_0233-1280x720.jpg
720
1280
Kingston Happenings
https://blastserve.com/khtestbed/wp-content/uploads/2023/07/KH-Transparent-Logo-e1688304541199.png
Kingston Happenings
2014-07-17 08:43:58
2017-03-07 11:49:32
Doers and Dreamers – Sharon Murray-Cohen