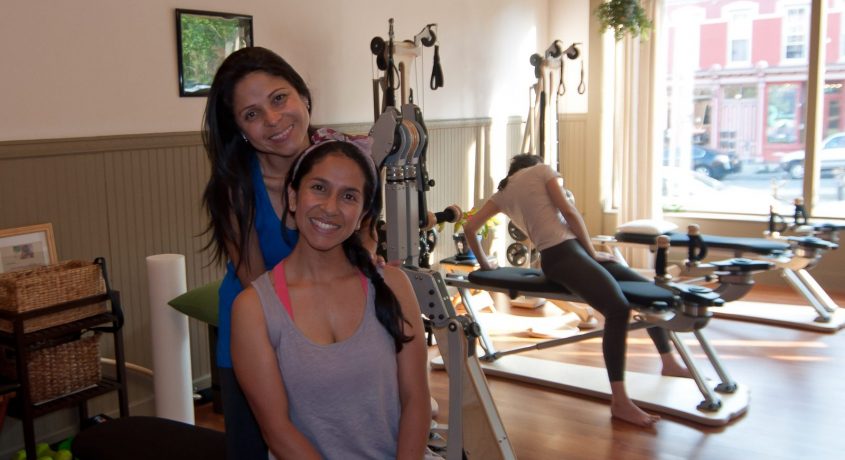 Doers and Dreamers – Rosibel Landau and Magda Toro
Our community is so fortunate right now to be attractive to people that may have had the option to live many other places in the world, but decide to settle here in the Hudson Valley. The influx of new business owners and professionals are not only helping to bolster the local economy, but are becoming engaged in the community and imparting a positive, appreciative attitude about area. Meet this week's Doers and Dreamers who have set up shop in the Downtown Rondout Waterfront neighborhood and are trying to help people loosen up, tone up, and feel better.
Your name: Rosibel Landau and Magda Toro
Business or organization: Ulster Pilates; www.ulsterpilates.com
Occupation: Pilates and Gyrotonic® Instructors
What is your approach to your business or occupation that makes you unique?
We see Pilates and Gyrotonic® as both a way to exercise and also a way to retrain and balance the body. Our new space on the Rondout will allow us to teach equipment group classes, thus allowing more people to enjoy the health benefits of these remarkable movement programs. In our Studio, we are striving to offer affordable Pilates and Gyrotonic® programs. We enjoy working with people of all ages, backgrounds, levels and ability to help them gain greater strength, flexibility and mobility. .
Where are you from originally?
We are both from Colombia, South America.
What brought you to the Kingston area and keeps you in this area?
Rosi: I moved to the Hudson Valley, Rosendale, in 2005 and I immediately fell in love with it. I come from a big city in which it could take up to three hour to get from point A to point B, and here I can easily bike to work. I like having access to the mountains to run and bike and I enjoy the sense of community – the small groups and organizations that develop to support all kinds of projects. It wraps you in a bubble that you are a part of.
Magda: I was inspired to move to the Hudson Valley in 2009 by my sister Rosi. I immediately found a job in my field as Medical Lab Technician. In 2011, I branched out into Pilates, which I found I love. I am so happy to have the opportunity to open Ulster Pilates in Kingston and that is a huge reason to stay in this beautiful area.
What is your favorite hangout in this area and why?
We have so many, but our favorites are Outdated, Sissys Café and Dolce. Yes, we like to eat!!! They have great food, great people and good music.
When you're not in Kingston, what's your idea of a wonderful city to visit, and why?
If we could, we would go more often to Bogotá, Colombia, our city. But we are as happy visiting New York City. It is super close and is multicultural. We love to stroll, go to the museums and the theater, and of course the salsa dancing.
Tell us something that we never would have guessed about you.
Magda: I love motorcycles and jet skies. Speed!!
Rosi: I am a heck of a Mom to a beautiful three year old.
https://kingstonhappenings.org/wp-content/uploads/2016/06/DSC_0166-copy_5286-e1466541238911.jpg
900
1600
Kingston Happenings
https://blastserve.com/khtestbed/wp-content/uploads/2023/07/KH-Transparent-Logo-e1688304541199.png
Kingston Happenings
2016-06-01 09:29:03
2017-03-07 11:50:53
Doers and Dreamers – Rosibel Landau and Magda Toro