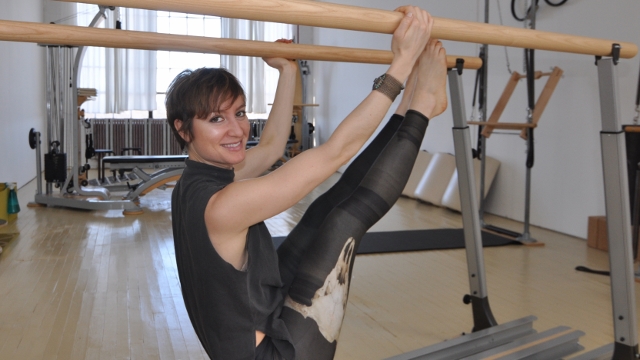 Doers and Dreamers – Petie Russo
Health and fitness are the focus of many small businesses in this area with many health club options, styles of yoga, personal trainers, etc., for people to choose from to condition their bodies.  Say 'hello' to this week's Doer and Dreamer, Petie Russo, who is offering a very specialized form of Pilates to Kingston that sounds intriguing and effective even for old bones like mine.
Your name: Petie Russo
Business or organization: Physique Pilates & Gyrotonic Studio  at 77 Cornell St. Suite 416, Kingston, NY
Occupation: Owner/Instructor
What is your approach to your business or occupation that makes you unique?
Most people are familiar with Pilates nowadays- exercise system that stretches you out, tightens your core, improves your posture. Gyrotonic, though, is a bit of a mystery to the public, which makes me love it that much more. It too lengthens you out and flattens your tummy, but because it works with cables and weights on pivoting tracks versus heavy springs (Pilates), the movement possibilities are endless. It's extremely low impact, making it great for people of any age and level. With both methodologies, I really stress the importance of breath and mindfulness- focusing on the smallest detail about how a movement is executed, because therein lies the true key to transformation. (See video below)
I also think it's important to incorporate imagination and visualization into one's workout routine. So my teaching involves a lot of imagery to help the student really feel the work in their body. I also like to make each class unique- I never want people to get bored and stuck in a mindless routine week to week. And I don't coddle my students. They come to me to work hard, and I never let them down. I make it my business to have someone leave my studio feeling a newness, more awareness, and keener sense of how they carry themselves.
Where are you from originally?
Way back when, from Queens, Whitestone. But I really grew up across the river, in Red Hook.
What brought you to the Kingston area and keeps you in this area?
I like Kingston because it's artsy but not high brow. It's diverse- beautiful Victorian houses, big old mysterious brick factories, waterside shops and restaurants. It's got grit and lots of potential.
What is your favorite hangout in this area and why?
I'm pretty busy, so there's not a lot of "hanging out" going on, but after work I'm usually at Stockade Martial Arts on Wall Street. I practice Muay Thai there. After a day of detail-oriented work and focusing on other people's bodies, it feels really good to just let go and sweat.
When you're not in Kingston, what's your idea of a wonderful city to visit, and why?
Well, Manhattan is always great. But, if I could transport myself to Highway 1 on the Pacific coastline, I think I'd be perfectly content. You can pull off the road anywhere and be somewhere amazing. Some of my favorite memories are on that road.
Tell us something that we never would have guessed about you.
I'm a very private person, so there's lots of things! But one little tidbit – my first love was music. I play 5 instruments and almost majored in Music Therapy back in the day.
https://kingstonhappenings.org/wp-content/uploads/ngg_featured/DSC_0923-640x360.jpg
360
640
Kingston Happenings
https://blastserve.com/khtestbed/wp-content/uploads/2023/07/KH-Transparent-Logo-e1688304541199.png
Kingston Happenings
2015-03-30 13:54:07
2017-03-07 11:50:19
Doers and Dreamers – Petie Russo