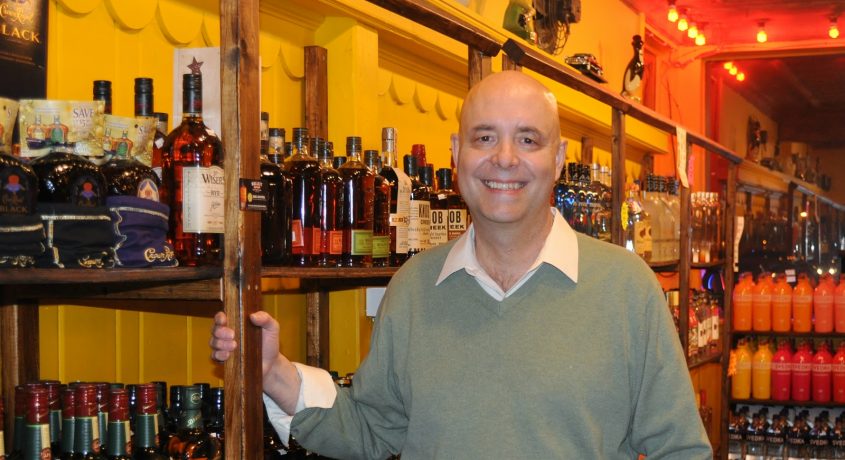 Doers and Dreamers – Paul Brazier
I often meet people that have grown up in this area, moved away to pursue careers in other parts of the country, and decades later returned to the familiar surroundings in the Hudson Valley. Meet this week's Doer and Dreamer, Paul Brazier, who is leveraging a wealth of experience in the restaurant industry and an entrepreneurial spirit to carve out his niche in the Midtown business community.
Your name: Paul Brazier
Business or organization: Liquor Barn – 138 Smith Ave. Kingston(Across from the main Post Office on Smith and Cornell) 845-331-3900
Occupation: Owner and operator
What is your approach to your business or occupation that makes you unique?
My approach is simple. To provide an upbeat , friendly, convenient and welcoming atmosphere where customers may shop in ease and comfort.
Where are you from originally?
I moved to Kingston from Los Angeles, after being there for 22 years. However I grew up locally in the Saugerties Hamlet of Glasco.
What brought you to the Kingston area and keeps you in this area?
I was becoming disillusioned with the corporate structure that I was working in. I decided I was going to open my own business and move back east. One night while surfing the web for real estate in the area I saw an ad for a property in Kingston that had been a tavern for over sixty years. It had many owners over the past thirty years and had fallen into disrepair. I said to myself I'm going to buy that property and open a well run comfortable tavern there. Well I ran that tavern at my current address and was successful for ten years. Sensing a need in the area, and my desire for a change from the late nights that the pub business requires, I pursued a new license and became my current business six month ago. A retail wine and liquor store.
Upon returning to Kingston from California on thing I noticed was the extraordinary beauty and accessible activities that were available. Things that I had taken for granted as a youth. What keeps me here is my desire to take advantage of this beauty and landscape for activities that have always been important to me. I ski in the winter, hike and ride my motorcycle in the warmer months. I see much potential in the area with many emerging scenes and business opportunities.
What is your favorite hangout in this area and why?
Well, I guess I'm a foodie, having lived and worked in the most diverse city in the nation at the time. The food culture in Los Angeles was fantastic. So, I really like the relaxed and welcoming atmosphere of Elephant Tapas Bar on Wall St. Rich, the chef and owner, has very savory ideas. I have also seen many fantastic shows at UPAC and take advantage of this great local venue. Have to give a shout out to Keegan Ales also, a very fun place for music and trivia on Tuesdays.
When you're not in Kingston, what's your idea of a wonderful city to visit, and why?
Although I love Los Angeles, New York City really is the greatest city in the world. The food, entertainment, museums and sheer excitement that runs through you the second you enter it is fantastic. I don't think it's a place I would like to live, unless I win the lottery, ha, but its proximity to the Hudson Valley is great. Plus I get to go see my NY Mets after a long time of just once a year at Dodger Stadium.
Tell us something that we never would have guessed about you.
I managed and operated one of the most famous casual fine dining restaurants in Los Angeles. The Palm Restaurant in West Hollywood. During that time I had the privilege of meeting and interacting with some of the most famous and interesting people in the world. From the most famous movie stars, producers and directors to a man that walked on the moon (Buzz Aldren),Hall of fame athletes, and just regular people out to have a good time and celebrate a special occasion. I also have SCUBA dived all through the Caribbean and Hawaii. I bring that respect to my business.
https://kingstonhappenings.org/wp-content/uploads/ngg_featured/DSC_0253-1600x900.jpg
900
1600
Kingston Happenings
https://blastserve.com/khtestbed/wp-content/uploads/2023/07/KH-Transparent-Logo-e1688304541199.png
Kingston Happenings
2014-12-08 12:24:33
2017-03-07 11:50:21
Doers and Dreamers – Paul Brazier