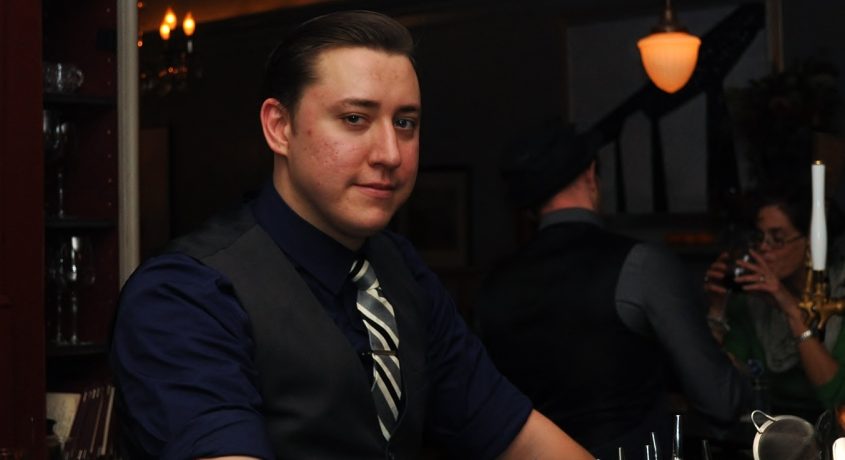 Doers and Dreamers – Josh Rosenmeier
There are a lot of places in the Hudson Valley making 'Top n' lists, receiving awards, and getting recognition from various publications, but few can claim to have been recognized by the New York Times as well as Vogue and Esquire magazines along with all of those other accolades. Ask this week's Doer and Dreamer to go 'off menu' to make a cocktail for you, and  you will see the evil glint of a mad scientist in his eye as he assembles the perfect drink just for you. The passion that helps to put the Stockade Tavern in Uptown Kingston on the map is obvious in this week's Doer and Dreamer, Josh Rosenmeier.
Your name: Josh Rosenmeier
Business or organization: Stockade Tavern   313 Fair St. Kingston, NY
Occupation: Head Bartender
What is your approach to your business or occupation that makes you unique?
I consider myself to be an obsessive compulsive with a slight tinge of A.D.D. The mise en place of
chaos. I take what I do very seriously but also have tons of fun doing so.
My father is a chef and graduate of the Culinary Institute of America. So my entire life really has been shaped by that. I became interested in food from an early age, not just eating it, but also creating it. I was enamored by the methodology and ritual of preparing something. And that obsession has really led me to where I am now.
I started my career in this industry at around 15 years old. I got myself a job at an Italian restaurant and started as bus boy, moved up to runner and eventually became a waiter. I loved the fast paced nature of the environment and the instant gratification one would get by making someone happy. This feeling would also foreshadow the future, more specifically focused around the espresso machine.
Coffee is and will always be one of the most important stepping stones in my career. I began to travel back and forth to New York City, and somewhere along the lines stumbled on a little place called Ninth Street Espresso. It was here that I really fell in love with coffee, the methodology and ritual, and the instant gratification of making someone happy.
I went home, bought an espresso machine and literally went through gallons and gallons of milk trying to master pouring latte art. I was obsessed. Having coffee delivered from various roasters, trying it all, taking notes. A few years later I moved to New York City and quickly landed a job at El Beit, a highly respected coffee shop in Brooklyn. Later on moving to the dear Variety cafe where I would really hone my skills amongst some of the most enjoyable people of my time. It was here that I developed my close attention to detail and my obsessive-compulsive nature of creating perfection every time. Trying to understand how different water temperatures affect different coffees, extracting the perfect shot of espresso, creating perfectly textured milk and yes, of course, latte art.
Working in the mornings gave way to drinking in the evenings. Down the block from variety café was an elegant cocktail bar called the Richardson. It was here that I fell in love with drinks like the Manhattan and Sazarac. It was also here that I realized I wanted to work with more variables then what coffee could provide.
I continued working in coffee until I packed my bags came back to the Hudson Valley. It was here where I found Stockade Tavern and have been here ever since.
At Stockade Tavern we are dedicated to creating the best goddamn drink you can get. We pay close attention to detail and proper balance in a drink. We use quality ingredients and make all our own syrups in-house, we also only use citrus which was squeezed that day.
This dedication is what paved the way for the philosophy in which I live by now. Be extremely good at what you do and everything else will follow.
Where are you from originally?
I was born in Rutland, Vermont but I spent a good part of growing up just outside of New Paltz.
What brought you to the Kingston area and keeps you in this area?
Well, I grew up in the Hudson Valley area and eventually moved to Brooklyn for a few years. However, the quality of life that the Hudson Valley has to offer was very appealing to me, especially in regards to food and the sustainability of farming here.
What is your favorite hangout in this area and why?
I am going to have to say I thoroughly look forward to going to Elephant any time I can. The food is simply mind blowing.
When you're not in Kingston, what's your idea of a wonderful city to visit, and why?
I love New York City. You can get the best of absolutely everything. Coffee, food, and drink. I often go down for a day or two with the intention of getting jacked on macchiatos from my favorite coffee spots (some of which I worked at), eating 3 lunches and grabbing a few cocktails at any one of the beautiful cocktail joints before indulging in a truly decadent dinner.
Tell us something that we never would have guessed about you.
At one point in my life I attended school to become an architect.
https://kingstonhappenings.org/wp-content/uploads/ngg_featured/DSC_0064-1600x901.jpg
760
1353
Kingston Happenings
https://blastserve.com/khtestbed/wp-content/uploads/2023/07/KH-Transparent-Logo-e1688304541199.png
Kingston Happenings
2014-10-21 14:12:04
2017-03-07 11:50:23
Doers and Dreamers – Josh Rosenmeier