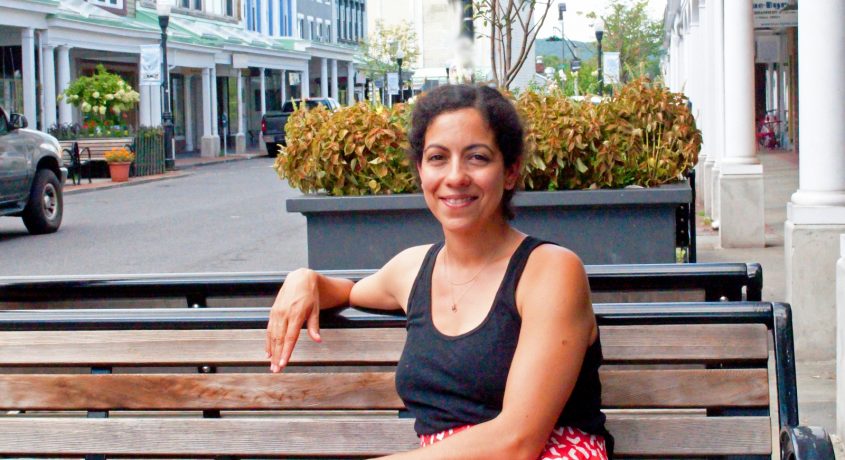 Whether you are having coffee at a local cafe, dining at a local eatery, enjoying a cocktail at a local watering hole, or just strolling around the streets of Kingston, you can meet people with some pretty  interesting backgrounds making a living in ways that you would never guess. You'll also find out how much they appreciate the quality of life that is available in this area. Meet this week's Doer and Dreamer, Massoumeh Emami Osterhout, who has a career in the urbane world of TV and film, while enjoying the appeal of our little burg.
Your name: Massoumeh Emami Osterhout
Occupation: Freelance Film Producer
What is your approach to your business or occupation that makes you unique?
This doesn't necessarily make me unique, but what I love most about being a producer is bringing an idea or a script to life with great people. Production can be a long, tough slog, but that doesn't mean it has to be miserable. It's all about surrounding yourself with smart and respectful people. I was lucky enough to produce a project recently called "OM City: The Series," and it was a beautiful experience, not only because I loved the material, of course, but also because it was fun and inspiring going to work everyday with the generous and insanely talented cast & crew. Currently, my husband Sam and I have a script called "Stupid Fast" in development and we've attached Mary Stuart Masterson (who we deeply respect and adore) to direct, and I'm so thrilled to make this film in the Hudson Valley. As a working mother, I'm striving to work on projects that I care about with people that inspire me and ultimately, make me feel okay about being away from my girls.
Where are you from originally?
I was born in Iran, lived in London, Las Vegas, and mostly grew up in Mclean, Va, outside Washington D.C.
What brought you to the Kingston area and keeps you in this area?
We were coming up part time for the 1st year & when I was pregnant with our youngest daughter, my husband and I decided to give up our place in the city and make Kingston our full time home. There is an amazing community of young families in Kingston, and artistic and innovative people who are always inspiring us to be creative. We love that Kingston is a walkable town full of restaurants and cafes, yet so close to all the nature you could ever want. I'm definitely more of a city person, and I think Kingston is the best of both worlds.
What is your favorite hangout in this area and why?
There are so many amazing places in Kingston. I can't really pick 1 favorite. Outdated Cafe is our home away from home. We joke that Gabe and Tarah, the amazing owners, have seen more of our kids than most of our friends and family. It's where we have met so many of the awesome people in town that we now call our dear friends. I have also never eaten anything that I haven't loved there. Boitson's is a gorgeous, cozy and delicious spot with the best energy. Nothing beats their patio in the spring, summer and fall! Kingston Wine Company is another favorite place. Michael and Theresa are so warm and they have created a space that is both inviting (even to hang with the kids & pup) and so perfectly curated with the best wine around. We recently went to the newly opened (and beautiful) Brunette Wine Bar and had a wonderful date night there. I said I couldn't pick a favorite!
When you're not in Kingston, what's your idea of a wonderful city to visit, and why?
Tulum, Mexico. My husband and I went to Tulum shortly after we met and fell in love and it's just one of those magical places that you never want to leave. For a while, we had a dream of giving up everything and moving down there and opening a little hotel on the beach. One can always dream, right?
Tell us something that we never would have guessed about you.
I started playing tennis when I was 3 1/2 and played competitively from 6-21.
https://kingstonhappenings.org/wp-content/uploads/2015/09/DSC_0815-copy-1600x900.jpg
900
1600
Kingston Happenings
https://kingstonhappenings.org/wp-content/uploads/2013/10/Final-KH-Logo.png
Kingston Happenings
2015-09-14 21:44:16
2017-03-07 11:50:16
Doers and Dreamers – Massoumeh Emami Osterhout