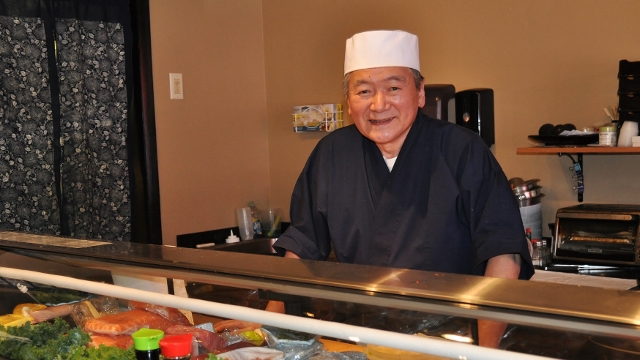 Doers and Dreamers – Makio Idesako
It isn't often that you get to meet someone that is truly a master of their craft and when you think that they've chosen this area to settle in, I think it gives one a sense of satisfaction. Maybe it's confirmation that this area has a lot to offer and that respectable, accomplished, people are acknowledging that fact. Meet this week's Doer and Dreamer, Master Sushi Chef Makio Idesako, who is doing his best to delight local sushi aficionados at his new eatery.
Your name: Makio Idesako
Business or organization: Owner of Sushimakio ,1088 Morton Blvd in Kingston (next to TCBY)
Occupation: Master Sushi Chef
What is your approach to your business or occupation that makes you unique?
In Japanese culture, sushi is considered to be an art form because its appearance is just as important as how it tastes. Presentation is the most important part of preparing sushi. In Japan, presentation is important in all things, shown in Ikebana, the Japanese art of arranging flowers. You want to make the sushi too pretty too eat, but delicious when it touches your lips.
Where are you from originally?
Kagoshima Prefecture, Japan; which is located in the southern part of Japan.
What brought you to the Kingston area and keeps you in this area?
In 2005, after operating my restaurant, Satsuma-Ya, in Mamaroneck for almost 20 years, I decided it was time to "retire". My wife (Keiko) and I decided to move to the area due to the rich culture, scenery and quality of life. Also, this area reminds me so much of the area in which I was born as it is very "county side".
What is your favorite hangout in this area and why?
Well, my only day off is Monday when the restaurant is closed, but my Wife and I love to frequent area restaurants. Especially, La Canard in Uptown Kingston and I love the cocktails at the Stockade Tavern or an Old Capital from Keegan Ales.
When you're not in Kingston, what's your idea of a wonderful city to visit, and why?
When I was living in NYC during the 1970's, I had so many guests coming from Japan to visit, but I never liked bringing people around NYC; so instead, I would always bring people to the Kingston and Hudson Valley area to places like Mohonk Mountain House and especially the Depuy Canal House in High Falls. I have known the Owner, John Novi since I came to this country (almost 40 years) and we worked together when I opened Amici Sushi in the lower level of his restaurant.
Tell us something that we never would have guessed about you.
In NYC back in the late 1970's – early 80's I played baseball with Iron Chef Masaharu Morimoto. On weekends, Chefs from various Japanese restaurants throughout NYC would meet during early mornings (around 5am) in central park to play baseball.
https://kingstonhappenings.org/wp-content/uploads/ngg_featured/DSC_0540-640x360.jpg
360
640
Kingston Happenings
https://blastserve.com/khtestbed/wp-content/uploads/2023/07/KH-Transparent-Logo-e1688304541199.png
Kingston Happenings
2015-02-23 11:35:34
2017-03-07 11:50:20
Doers and Dreamers – Makio Idesako