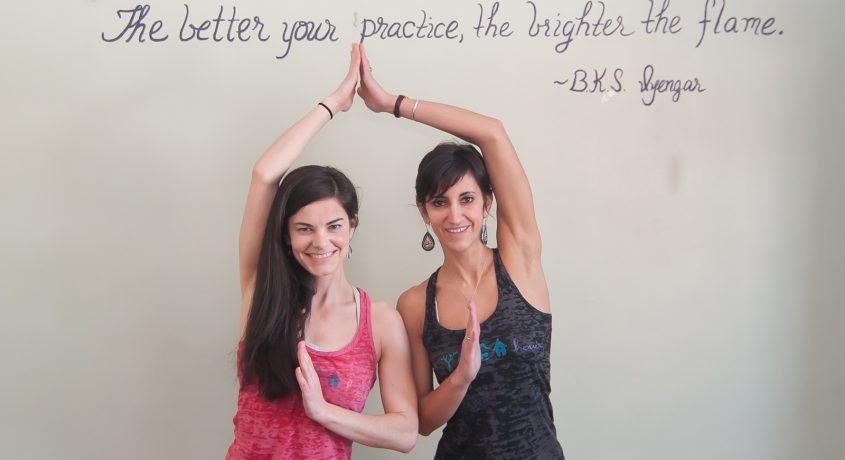 Doers and Dreamers – Jacqui Nash and Leigha Butler
One of the refreshing trends that I see as I meet people in the course of publishing Kingston Happenings, is that business people seem to have a genuine desire to become an integral part of the community at large. Meet this week's Doers and Dreamers, Jacqui Nash and Leigha Butler, who are incorporating that desire into the programming at their homey studio in Uptown Kingston.
Your name: Jacqui Nash and Leigha Butler
Business or organization: The Yoga House , 57b Crown St. Kingston, NY
Occupation: Co-directors of The Yoga House and yoga teacher trainers
What is your approach to your business or occupation that makes you unique?
We are invested in our community and in the organic growth of our business. We've recently begun to offer weekly AcroYoga meet-ups and monthly vegetarian potlucks as a way of opening our doors as a community center in Uptown Kingston. We have always offered a weekly by-donation community yoga class each that benefits local homeless children. We love doing anything we can to make anyone and everyone feel welcome in our space.
The start of our business was an organic process, and we have found through the years that an organic approach to promotion has served us well, too. We find that when we establish genuine connections and develop real friendships, we can get the word about what we do in a way that feels authentic. Any changes that we adopt are often based on real feedback that we have received.
Where are you from originally?
Jacqui is from Ringwood, New Jersey and Leigha is from Sayville, Long Island, but both feel very at home here in Ulster County where they've lived for over a decade.
What brought you to the Kingston area and keeps you in this area?
Jacqui: After bopping around at various colleges, I was drawn to the open-minded and artsy way of life in Ulster County and settled in New Paltz, where I graduated college. My husband and I eventually moved to Kingston in 2010, attracted to its central location to the river, the mountains, and the other wonderful towns in the county. I had no idea how much I'd fall in love with the vibrant life in Kingston, its Farmer's Market, the O+ Festival, the art openings, the restaurants, and, most importantly, the beautiful people I've met.
Leigha: My brother Tim urged me to move to New Paltz where he was going to school, promising that I'd love "the mountains and the hippies" (he was right). After finishing my Master's degree in Literature of the Environment, I moved to the Hudson Valley and figured out very quickly that I'd be here for life. I taught English at several colleges in the area but finally set roots in Kingston, attracted to the grassroots feel of Uptown. Kingston's vegan fare, proximity to good hiking, and amazing people keep me here.
What is your favorite hangout in this area and why?
You can often find the two of us setting up shot at Outdated Café. It's the perfect place to hunker down and prepare for our teacher-training intensives or to have a good chat over coffee and a vegan lunch sandwich or bowl of coconut curry soup.
As The Yoga House expands, we are hoping to become a favorite hangout in the community ourselves. We are on the lookout for bigger space, but we are really committed to keeping our business in the Uptown district. Our dream is to have a studio spacious enough to accommodate more programming and community events.
Jacqui: I also enjoy walking along the promenade in the Rondout in the warm weather with my husband, daughter and dog, watching the people stroll and boats from all over come into the marinas.
Leigha: I spend a lot of time at Onteora Lake hiking with my dog Huck and partner Joe.
When you're not in Kingston, what's your idea of a wonderful city to visit, and why?
Leigha: I have never visited Portland, but I have family there and really respect how environmentally minded it is. There's also a city in Germany that, I've heard, banned all automobiles. People either walk or bike wherever they're going, which I think is amazing.
Jacqui: Bottom line, I'm in love with Rome. I never thought I could settle in a large city until I was swept away by its history and culture. And if you want directions to the most amazing restaurant in the world while in Rome, email me.
Tell us something that we never would have guessed about you.
Jacqui: You'd never guess by hearing my questionable shower solos that I've sung in Carnegie Hall.
Leigha: I lived in Jinan, China for a year.
https://kingstonhappenings.org/wp-content/uploads/ngg_featured/DSC_0560ps_edited-1-1600x900.jpg
900
1600
Kingston Happenings
https://blastserve.com/khtestbed/wp-content/uploads/2023/07/KH-Transparent-Logo-e1688304541199.png
Kingston Happenings
2015-03-02 12:29:47
2017-03-07 11:50:20
Doers and Dreamers – Jacqui Nash and Leigha Butler