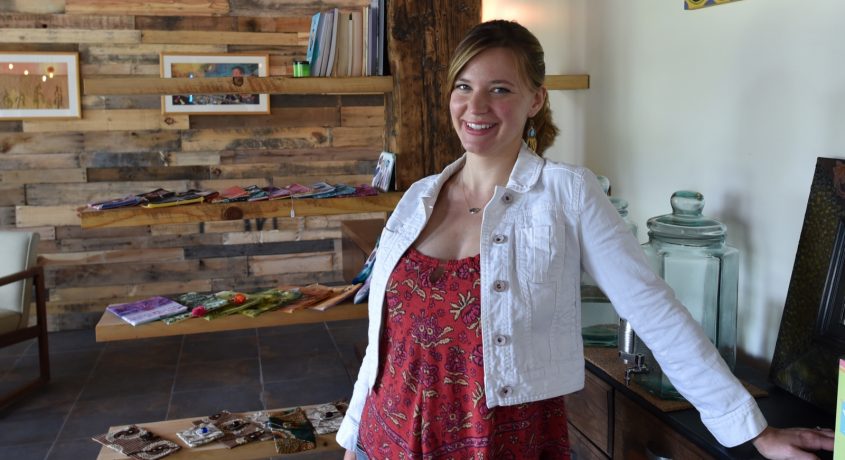 Doers and Dreamers – Olga Schoonmaker
Always looking for someone that is doing something new and different to feature in our weekly articles, this week's Doer and Dreamer nails a hat trick. She is our first mom-to-be to be featured, the first native-born Russian, and I'm pretty sure no one has launched a business quite like hers within Kingston's boundaries. She assured me that unlike the 1980 "Altered States" movie", you may have a healthy glow to your skin and be in a very relaxed state after you emerge from a session at her facility, but you WILL remain the same species.
Your name: Olga Schoonmaker
Business or organization: Zephyr Float , 111 Greenkill Ave., Kingston, NY
Occupation: Float Spa owner as well as project manager at General Electric.
What is your approach to your business or occupation that makes you unique?
"In the give and take ratio, strive to give 51% and take 49…. That's when the magic happens."
Flotation therapy (or sensory deprivation) is the act of floating in 10 inches of water which is completely saturated with 1,000 pounds of Epsom salt. You become very buoyant to the point where you can relax every muscle in your body while floating in a complete state of relaxation. Take a nap if you'd like! The water temperature is between 93.5 and 94.5 degrees Fahrenheit, so you will soon forget where your body ends and the water begins. Neither light nor sound can enter the tank (though you can leave the light on inside, if you so choose.) and you are left completely to your self to meditate, nap, or just file away the events of your week.
This is not only a wonderful way to experience an environment without the sense of gravity, it also has numerous health benefits. Flotation therapy (or sensory deprivation) can:
– Relieve impact of stress by accelerating the reduction of ACTH, adrenaline, noradrenaline and cortisol levels. (We know that stressing is the new smoking!)
– Bring pregnant mothers closer to their babies while still in womb. Imagine hearing your babies heart beat without a Doppler!
– Reduce inflammation in muscles, shortening recovery time from injuries and intense work outs for athletes.
– Improve quality of life for people suffering from PTSD.
There are so many more! Just visit out site for more information. Zephyr Float would like to reach out to Kingston and beyond to build a community of floaters who can share their personal stories. Floating attracts a unique and diverse set of people and we can't wait to meet you all.
Where are you from originally?
Originally born in Russia, my family and I moved to the US when I was 8. I met my husband while we were both going to school in Albany. Ten years of spending time apart, we then got back together and I moved up to the Hudson valley. So glad it worked out how it did. I love this gorgeous place!
What brought you to the Kingston area and keeps you in this area?

What brought me was my husband, who's from Accord. What has made us stay and decide to start a business here is the incredible surroundings- lush valleys, mountains and rivers. We are avid hikers, campers and foodies so we are in heaven here.
What is your favorite hangout in this area and why?
In Kingston, it's Boitson's for a nice dinner, Stockade for drinks and Diegos for the BEST tacos.
When you're not in Kingston, what's your idea of a wonderful city to visit, and why?
A new city is the best city. My husband Ryan and I love traveling, meeting new people and exploring the best of what the locals offer.
Tell us something that we never would have guessed about you.
I was an adrenaline junkie. Skydiving (landed in a tree one time!), water skiing, tough hikes, anything that made my heart beat faster was worth it. I would try anything twice. Now, between being pregnant, working a full time job and starting a business, I have enough heart jumping activities to keep me busy!
https://kingstonhappenings.org/wp-content/uploads/2016/08/DSC_0950-1600x900.jpg
900
1600
Kingston Happenings
https://blastserve.com/khtestbed/wp-content/uploads/2023/07/KH-Transparent-Logo-e1688304541199.png
Kingston Happenings
2016-08-23 12:25:35
2017-03-07 11:50:50
Doers and Dreamers – Olga Schoonmaker