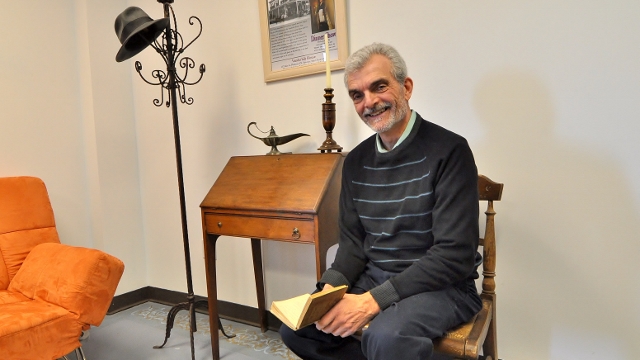 Doers and Dreamers – Frank Marquette
One of the more gratifying aspects of publishing Kingston Happenings is being able to showcase the diversity of talent that we have right within our own community. There are a number of accomplished individuals that have settled in the Kingston area and in the case of this week's Doer and Dreamer, actor Frank Marquette, it's a return trip for a native Kingstonian. You can see Frank's work this weekend as he and his theatre group, Theatre on the Road, present a first-person historical perspective of our community in "Kingston:Voices from the Past" at Cornell St. Studios.
Your name: Frank Marquette
Business or organization: Theatre on the Road, which is dedicated to bringing original performances to area schools, theatres, libraries, and historic sites that are both educational and entertaining.
Occupation: For the past 35 years I've enjoyed dual careers in marketing and art. I've been in the printing and newspaper industries as a graphic designer and account executive, and have found time for painting, acting and writing. Currently I am totally devoted to my own businesses, Theatre on the Road and Murder Café, and my activities include marketing and promoting each company, writing original scripts, casting, directing, and performing.
What is your approach to your business or occupation that makes you unique?
95% of the general population do not attend live performances. I want to reach them by taking the mystery and "stuffiness" out of the theater experience. Our performances are interactive, non-threatening and as actors we're very approachable. In addition, I have dedicated 20% of my time to fundraising. We give area charities an option they might not have thought of. An example is our original production, Kingston: Voices from the Past, we are staging as a partial fundraiser for Friends of Historic Kingston.
Where are you from originally?
I was born in New York City but grew up in Kingston where my family settled when I was 5 years old. I'm a product of Kingston schools, and the mid-town neighborhood of my youth.
What brought you to the Kingston area and keeps you in this area?
My story is quite unique. As a young married man I left Kingston seeking fame and fortune and spent 28 years "on the road". I lived in Connecticut, New Mexico and Nevada and after my three daughters left the nest my wife and I returned "home" to Ulster County. My office at Cornell Street Studios is in the same neighborhood I grew up in. The term "full circle" doesn't even come close to describing what I'm currently experiencing. I'm catching a new wave as Kingston reinvents itself, and I'm thrilled to be able to contribute to it.
What is your favorite hangout in this area and why?
I'm big fan of Kingston's diners. There are days I have breakfast in one and lunch in another. They're warm friendly places, with good food and great conversation. You can work without feeling rushed or you can shut off your phone and listen to the sounds of our community.
When you're not in Kingston, what's your idea of a wonderful city to visit, and why?
It has to be New York City. When I was a kid I spent many weekends and vacations visiting my paternal grandparents on the westside of Manhattan. It's an experience I'll never forget. The city still maintains an aura of magic and mystery to me; sure I love the culture but walking the streets without a plan is still one of my favorite sports.
Tell us something that we never would have guessed about you.
I paint, and primarily for myself. I attended the School of Visual Arts many years ago and I have training as an artist but I've never pursued it for money. I complete 4-6 canvases a year, usually cityscapes and area landmarks done in my own impressionistic style. I let one go about once a year by contributing it to charity or silent auction.
https://kingstonhappenings.org/wp-content/uploads/ngg_featured/DSC_0642-640x360.jpg
360
640
Kingston Happenings
https://blastserve.com/khtestbed/wp-content/uploads/2023/07/KH-Transparent-Logo-e1688304541199.png
Kingston Happenings
2015-03-09 15:38:21
2017-03-07 11:50:19
Doers and Dreamers – Frank Marquette