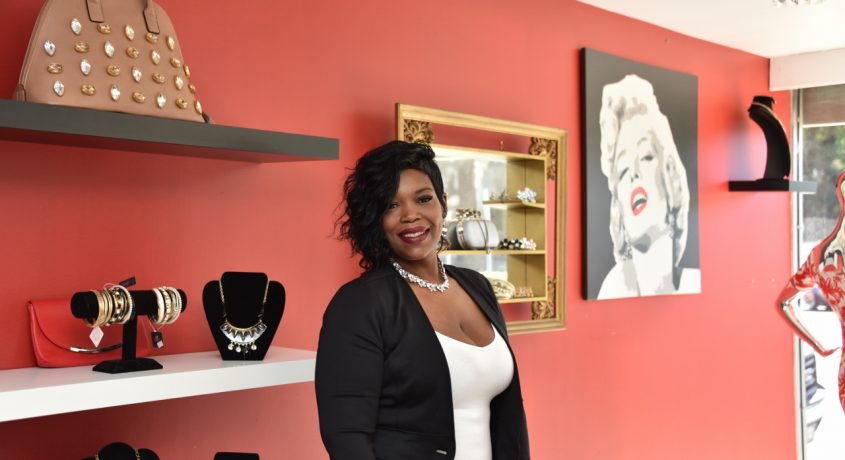 Doers and Dreamers – Devon Marie Francis
Broadway in Kingston has long been perceived to be mostly a thoroughfare to get between Uptown Kingston and the Rondout. If you look closely however, it is becoming fertile ground for entrepreneurs who are seeing an opportunity for the Broadway corridor to become a vibrant business district serving the needs of the communities adjacent to it, as well as attracting visitors from beyond those communities. Meet this week's Doer and Dreamer who is filling an important niche in the variety of retail establishments needed for any community.
Your name: Devon Marie Francis
Occupation: Owner of Dimples Boutique – 338 Broadway, Kingston, NY
What is your approach to your business or occupation that makes you unique?
Dimples is about bringing something different to a small town . We provide products that appeal to customers individual exciting and bold personalities as an escape from a more refined world of fashion and accessories. At Dimples we greet all our customers with a smile.
Where are you from originally?
I was born in Culver City California and grew up in St. Thomas Jamaica. Summer and holidays we were happy to grace the Historical town of Kingston New York.
What brought me to Kingston?
My mom is originally from Kingston. Wherever my mom is that is where I am. Always been a mamas girl (not afraid to admit) My home will always be where my mother is!!
Where is your favorite hangout?
The good old YMCA, so many childhood memories. The YMCA is where I learned to swim. This is where I take my children, not much has changed.
When you are not in Kingston what's your idea city to visit and why?
I know it's not a city. St. Thomas Jamaica there is nothing more beautiful than their sandy blue beaches and calming than the clear rivers the magnificent waterfalls.
Tell us something that we never would have guessed about you.
When I was about 8 I used to take the homeless ('mad people' they called them in Jamaica) and I would bring them in my yard under the mango tree and I would feed them. I'd give them something drink and take my Dad's expensive outfits and clothe them. Yes, he may have gotten very angry but it never stopped me. As an adult I believe in feeding the hungry, giving water to the thirsty, and shelter to the homeless. That is my main goal in life
https://kingstonhappenings.org/wp-content/uploads/2016/09/DSC_2438-1280x854.jpg
854
1280
Kingston Happenings
https://blastserve.com/khtestbed/wp-content/uploads/2023/07/KH-Transparent-Logo-e1688304541199.png
Kingston Happenings
2016-09-21 15:28:49
2017-03-07 11:50:50
Doers and Dreamers – Devon Marie Francis