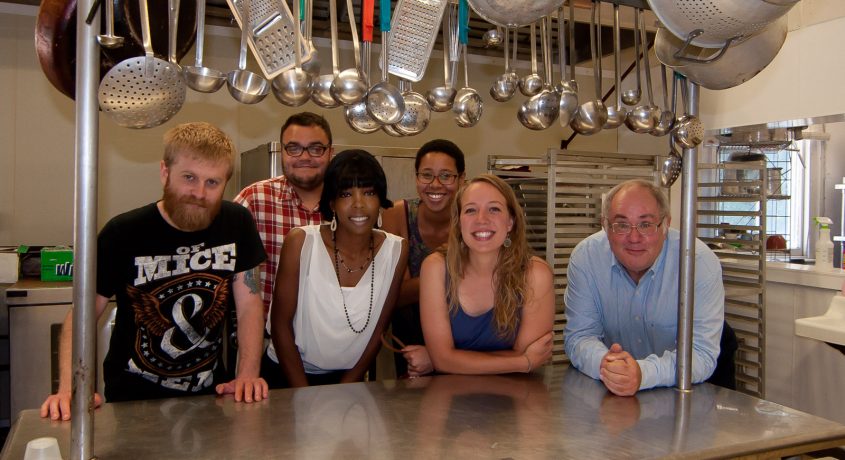 Doers and Dreamers – Clay-David Laugier
Clay, pictured 2nd from left, with fellow collaborators from left to right, Ed Christianson, Krystal Bullock, Natajah Ali, Jordan Scruggs, Mike Lamoree
Welcome to the new economy! With the demise of corporate jobs and lower salaries across the labor market many people would like to, or have to out of necessity, take the initiative to create their own opportunities. However, navigating the road to entrepreneurship usually requires capital, business expertise, and a lot of networking to gain the confidence to get started. Say 'hello' to this week's Doer and Dreamer,  Clay-David Laugier, who is trying to do just just that.
Your name: Clay-David Laugier, Clay to my friends and family
Business or organization: Cooperation Café and Community incubator
Occupation: Community Mentor and community outreach for Cooperation Cafe: A community Incubator, Chair for the Colleen and Mike Brady Center for Innovation
What is your approach to your business or occupation that makes you unique?
I strive to create opportunities for innovation with in our community. To mentor and cultivate social enterprises, and community social good. I strive to build partnership when no one else could and create opportunities to take strategic risk. The community incubator concept is a way of lowering the risk and cost for individuals to create start up businesses. Resources can be shared, mentors are available, and networking of all kinds occur which gives individuals the confidence to become an entrepreneur and is happening for almost any kind of business. A lot of food processing, arts and crafts, tech, and retail businesses have taken advantage of the incubator concept already. We're looking forward to creating these kind of opportunities here in Kingston.
Where are you from originally?
Red Hook, New York just across the bridge. I lived in San Antonio Texas And out west for a bit.
What brought you to the Kingston area and keeps you in this area?
My family has deep roots in area since 1950s and my wife´s family has over nine generations in Kingston and Ulster County as well. She grew up in City of Kingston
What is your favorite hangout in this area and why?
BSP. Because it is a great open music venue with great music talent and an awesome indie scene. We must of course include any place that hosts a community incubator event or program like the Clinton Ave Community Garden or Community Action Kitchen Incubator
When you're not in Kingston, what's your idea of a wonderful city to visit, and why?
Johannesburg, South Africa. It has a rich cultural history, a great start up and art scene. This is a tough one because there are other cities on my list that tie with Joberg places like New Orleans, La, Austin, Tx. Saettle, Wa and New York City all have my heart.
Tell us something that we never would have guessed about you.
I've done stand-up comedy
https://kingstonhappenings.org/wp-content/uploads/2015/08/DSC_0301x_edited-1.jpg
900
1600
Kingston Happenings
https://blastserve.com/khtestbed/wp-content/uploads/2023/07/KH-Transparent-Logo-e1688304541199.png
Kingston Happenings
2015-08-25 12:21:19
2017-03-07 11:50:16
Doers and Dreamers – Clay-David Laugier