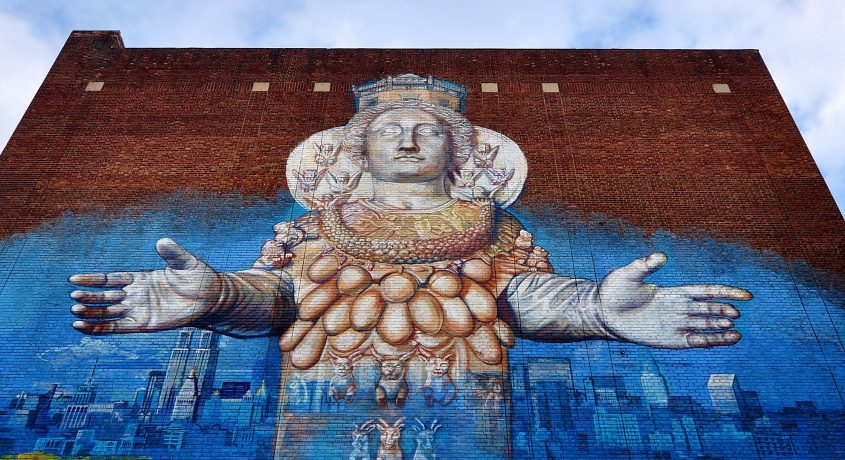 By contributing writer Lynn Woods
Held over Columbus Day weekend, Kingston's 0+ Festival was launched six years ago as a way to bring talented musicians and performance artists to the area to perform in exchange for free and reduced medical and dental care. Scores of bands descended on the city, performances sprouted up in restaurants, bars, tents, and anywhere there was a stage, visitors flocked to the city, and O+ has become one of the contributing factors in the transformation of Kingston. Today it has fewer empty storefronts and many new residents who have migrated from New York City and other areas after being exposed to the attributes of the city. The 0+ Festival, which has since spread to other cities, has no doubt played a significant role in Kingston's resurgence. "We know 0+ is selling six to 12 homes a year," said Micah Blumenthal, co-director of the festival's music committee and director of branding and design (he's also a member of the Percussive Orchestra of Kingston and on the board of Kingston's Center for Creative Education). The festival's co-art director is one of the new residents who were introduced to the city through the festival, he noted. "The impact is broader and bigger than just the festival."[singlepic id=1879 w=500 h= float=none]
0+'s success in filling Kingston's intimate venues with top-rated bands, performances, and art installations for three days and connecting culture to health care in an exciting, mutually fulfilling way for representatives from both worlds is not only bringing in ever-bigger crowds and upping the quality of the band and artist applicants, it's also reinvigorating and redefining the very notion of community.
"0+ is opening the door to possibility," said Joe Concra, a visual artist and co-founder of the festival. "When you expose the culture in this community to the larger community, the possibilities open up. We're giving people an opportunity to express themselves. It's about opening new businesses, and it does come down to that access to care for the artists and musicians that they may not ordinarily get. "
As well as breaking down the barrier between doctor and drummer, dentist and street artist. Blumenthal probably speaks for many when he said he never liked going to the doctor, but after seeing his doctor, Mark Josefski, a family medicine doctor with Health Alliance, in the 0+ Positive clinic, a wall came down. Later he ran into Dr. Josefski at the Farmers' Market, where Josefski "took off my shoe and checked my ankle to see if it was okay. That kind of connection is amazing." O+ is fostering connections between artists and doctors, festival volunteers and acupuncturists, musicians and grooving audience members that "are everlasting," Blumenthal said.
In fact, there's a four-letter word for it, which has been incorporated into festival director Theresa Lyn Widmann's title: Lo+ve Director. "Part of our mission is to create community love, by collaboration, building compassion, and being mindful about where you shop," said the Stone Ridge resident. "0+ has helped revitalize the community."
Experience has shown that the concept may not play out as well in affluent cities, such as San Francisco. Not that the San Francisco 0+ Festival wasn't a success, Widmann said, but the fact was, given the city's huge arts culture, "it was difficult for organizers to get the buy in." By contrast, in Kingston not only does everyone know the venues, but "everyone recognizes the value of it." Being small is an advantage: 0+ "ties in well with the movement generally of people wanted to get back to their community. It's a way of reconnecting and sharing in something together. It's hard to do that in a big city like New York," said Widmann.
This year 0+ occurred in two other cities, Petaluma, California, and Chicago, both great successes. Lagunitas Brewing Company, a sponsor that's very integrated with the music world, is located in Petaluma and was motivated to help new local artists get discovered. Petaluma is also a small, diverse community, which made the festival a good fit. In Chicago, the festival, which occurred a couple of weeks ago, was centered in a large Hispanic neighborhood in need of revitalization, which also worked well, noted Widmann.
But hasn't the Affordable Care Act defeated to some degree the whole purpose of the festival, which was to provide health care to musicians and artists lacking health insurance? Not at all: "just because you have insurance doesn't mean you're healthy," said Widmann. 0+ is working "to bring awareness about their own health. " In the clinic, which this year will be staffed with approximately 90 doctors, "artists and musicians learn to employ more preventative health care, such as how to be healthy on the road," she said. "They also get introduced to doctors and care providers who can help them in an on-going way. This won't replace insurance, but it's a platform where artists and musicians can be reminded that we value them."  There will be many options: acupuncturists, massage and Reiki massage therapists, and other alternative practitioners will be at the clinic, along with hearing, eye, and feet specialists.
An expanded wellness expo will be held on Saturday—what Concra describes as "a spa retreat inside of a music and art festival"–which will showcase some of these services to the public and offer classes in yoga, dance, meditation and sound healing. Whereas health care is conventionally viewed as a discipline at the other end of the spectrum from art and music making, 0+ connects the dots, highlighting the creativity and caring that are the underpinnings of any worthwhile endeavor.
"We're showing each other we value each other completely," said Concra. That helps foster a mindset that "opens up the possibilities" for deeper, more meaningful connections and a more profound sense of community.
He's particularly excited about the six artists who will be painting murals in the city, creating a visible legacy of the festival. The murals will be curated by Gaia, an international muralist who contributed a dramatic, stunning mural artwork on the back side of a building in Uptown in 2013 and will be painting another one this year. Also new is the addition of 721 Media Center as one of the half a dozen venues; on Friday night, a parade, featuring the Hungry March Band, wending to Uptown from the center will kick off the festival.
In a change from past festivals, the cost of the three-day wristband will be on a pay-what-you-wish basis. For each individual, it's really based on "what is the festival worth to you," said Concra.
He noted this year's operating budget is $78,000, which among other expenses pays for insurance, transportation costs, and paint and other supplies for the murals, including a 60-foot lift. More than 100 volunteers are involved. Sponsors include Lagunitas, Health Alliance and (new this year) Westchester Medical.
"This didn't happen in a vacuum," Concra concluded. "We have great doctors, massage therapists, artists, and musicians. All we did was shine the light on them and figure out a way to connect them, through the exchange of culture for care. It's a really simple, super idea, and it will just keep growing."
[Slideshow "o-article-2015" not found]
For more information, including a list of the participating bands, artists, and events, visit www.opostivefestival.org .
https://kingstonhappenings.org/wp-content/uploads/2015/09/2013-10-05-15-57-23-0070.jpg
1572
2796
Kingston Happenings
https://kingstonhappenings.org/wp-content/uploads/2013/10/Final-KH-Logo.png
Kingston Happenings
2015-09-29 10:36:40
2015-09-29 10:36:40
0+ Festival: Engaging the Entire Community Through Arts and Music