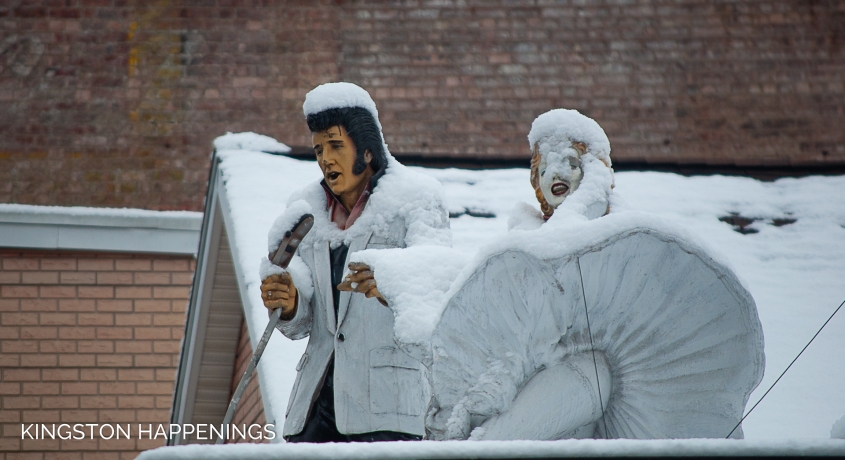 This weekend is the perfect time to get into the swing of the Holidays with plenty of seasonal events for everyone to enjoy! Whether you want to get in last minute shopping for some local goods, take in a movie with the family, or relax to some great music, it's easy for you to find something to suit your tastes this weekend in our part of the Hudson Valley!
Here are some of our picks for the upcoming weekend:
A Christmas Carol, an interactive holiday family event! – Here's a great new way to celebrate an old classic.
Celebrate: A Collaboration on the Corridor – Businesses in Midtown old and new, are waiting to see you and have a special afternoon!
The Mavericks @ UPAC – The band that has entertained a worldwide audience for decades is here just for you!
LOST CHRISTMAS film – 'Feel good' movies like this one should definitely be on your holiday schedule.
You can find all of these events and more at  https://kingstonhappenings.org/events
---
Things To Do This Weekend
.
Date/Time
Event
Fri, Dec 17, 2021
5:00 pm-7:00 pm
Christmas Drive-Thru
Kingston, NY
Fri, Dec 17, 2021
6:00 pm-10:00 pm
Lights On Kingston High School
Kingston High School
Fri, Dec 17, 2021
6:00 pm-7:00 pm
Phil Kline's Unsilent Night
Senate House State Historic Site
Fri, Dec 17, 2021
7:00 pm-9:00 pm
"It's a Wonderful Life" at the Denizen Theatre
DENIZEN Theatre
Fri, Dec 17, 2021
7:00 pm-8:30 pm
A Christmas Carol, an interactive holiday family event!
Rosendale Theater
Fri, Dec 17, 2021
7:00 pm-10:00 pm
Spaghetti Eastern Music at Rock da Casbah
Rock Da Casbah
Fri, Dec 17, 2021
7:30 pm
FILM: THE NIGHTMARE BEFORE CHRISTMAS (1993)
Ulster Performing Arts Center (UPAC)
Fri, Dec 17, 2021
8:00 pm
Doctor Lo Faber and Aaron Lieberman of God Street Wine | Colony
Colony Woodstock NY
Fri, Dec 17, 2021
9:30 pm
Wyld Blu at Pearl Moon
Pearl Moon
Sat, Dec 18, 2021
12:00 pm-5:00 pm
A Merry Makers Day
D.R.A.W. at Energy Square
Sat, Dec 18, 2021
12:00 pm-6:00 pm
Catskill Christmas Express
Catskill Mountain Railroad
Sat, Dec 18, 2021
12:00 pm-3:00 pm
Celebrate: A Collaboration on the Corridor
Kingston, NY
Sat, Dec 18, 2021
12:00 pm-7:00 pm
Celebrating Two Years at World's End Comics & Games
World's End Comics
Sat, Dec 18, 2021
1:00 pm-7:00 pm
Holiday Vendor Extravaganza!
Center for Creative Education
Sat, Dec 18, 2021
2:00 pm-4:00 pm
"It's a Wonderful Life" at the Denizen Theatre
DENIZEN Theatre
Sat, Dec 18, 2021
2:00 pm-3:30 pm
Harm Reduction Works
Virtual Event Only
Sat, Dec 18, 2021
3:00 pm-7:00 pm
Winter Solstice Celebration
Opus 40
Sat, Dec 18, 2021
4:00 pm-8:00 pm
The Great Ugly Sweater Customer Appreciation Toy Drive
Great Life Brewing Tasting Room
Sat, Dec 18, 2021
5:00 pm-7:00 pm
Christmas Drive-Thru
Kingston, NY
Sat, Dec 18, 2021
5:00 pm-9:00 pm
Holiday Show Opens 12/4/21 + Gingerbread House Contest on 12/18/21
Lace Mill
Sat, Dec 18, 2021
7:00 pm-9:00 pm
"It's a Wonderful Life" at the Denizen Theatre
DENIZEN Theatre
Sat, Dec 18, 2021
7:00 pm-8:30 pm
A Christmas Carol, an interactive holiday family event!
Rosendale Theater
Sat, Dec 18, 2021
7:00 pm-10:00 pm
LOST CHRISTMAS film
St. James Methodist Church
Sat, Dec 18, 2021
7:00 pm-10:00 pm
the Haveners
Lydia's Cafe
Sat, Dec 18, 2021
8:00 pm
A Rockabilly Holiday w/Robert Gordon, Billy Burnette & Marshall Crenshaw
Bearsville Theater
Sat, Dec 18, 2021
8:00 pm
I Get Wild Plays The Music Of Talking Heads with ULTRAAM | Colony
Colony Woodstock NY
Sat, Dec 18, 2021
8:00 pm
The Mavericks @ UPAC
Ulster Performing Arts Center (UPAC)
Sat, Dec 18, 2021
9:30 pm
Soul City at Pearl Moon
Pearl Moon
Sun, Dec 19, 2021
10:00 am-2:00 pm
Join us for Brunch with Santa!
Ole Savannah Southern Table and Bar
Sun, Dec 19, 2021
12:00 pm-6:00 pm
Catskill Christmas Express
Catskill Mountain Railroad
Sun, Dec 19, 2021
2:00 pm-4:00 pm
"It's a Wonderful Life" at the Denizen Theatre
DENIZEN Theatre
Sun, Dec 19, 2021
2:00 pm-4:00 pm
Give A Little Hope - A Benefit for People's Place
Bearsville Theater
Sun, Dec 19, 2021
3:00 pm
Christmas Jazz Concert
St. James Methodist Church
Sun, Dec 19, 2021
8:00 pm
Lara Hope And The Arktones | Colony
Colony Woodstock NY
---
All Upcoming Events
All Calendars
---
https://kingstonhappenings.org/wp-content/uploads/2021/12/DSC_0067.jpg
1080
1920
Kingston Happenings
https://kingstonhappenings.org/wp-content/uploads/2013/10/Final-KH-Logo.png
Kingston Happenings
2021-12-17 09:56:57
2021-12-17 09:56:57
Things To Do This Weekend in Kingston, NY 12/17-12/19