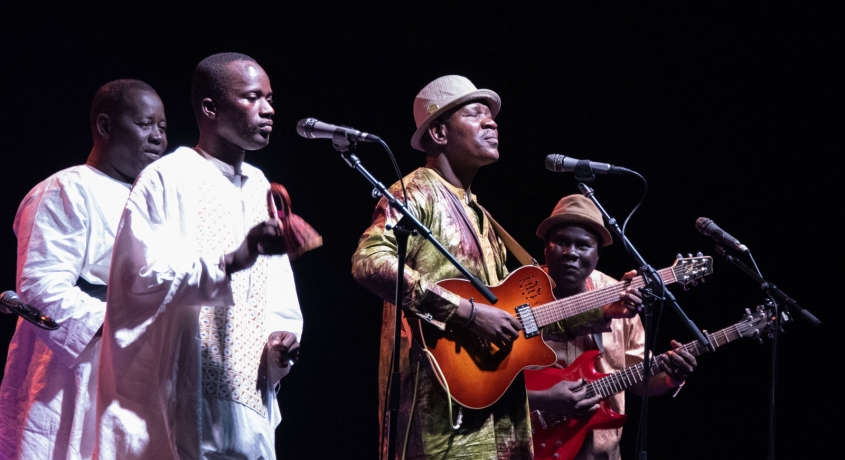 By contributing writer: Veronica Fassbender
Get ready for three days of art, music, wellness, and most importantly- FUN! O+ (O Positive) is returning to Kingston with its largest and best year ever- Year X (10)!
Friday, Saturday, and Sunday are jam-packed with programming for the community. Dance-punk band !!! (Chk Chk Chk) will headline the 10th annual O+ Kingston festival, along with folk-rocker Elvis Perkins, cabaret-punk band The World/Inferno Friendship Society, cumbia-meets-garage rocker Tall Juan, neo-soul band Lady Moon & The Eclipse. Additional acts include more than 60% Hudson Valley resident musicians representing an eclectic mix of musical genres and styles. You can look forward to Ami Madeleine, Chris Andersen, The Arkhams, Sandy Bell, Brandy, Camp Saint Helene, Carrtoons, Datura Road, Dronechoir, Eat The Cake Band, Elías Elena, Greg Farley, The Four Fives, Foster Care, Glockabelle, Grover, Jalani Lion, JB!! aka Dirty Moses w/DJ Nate da Great, Julia Kent, DJ Ali's KinderDisco, Zamy Maa, Maiko Hata Trio, Olivier Manchon's Orchestre de Chambre Miniature, The Meditation Tapes, Mooskii G. Myyers, Peter Naddeo, The Nightblinders, NOVA ONE, Ramona Lane, The Restless Age, Sledge Wolf, Cheval Sombre, 86 Supreme, Tiny Blue Ghost, TONUS MAXIMUS, The Wilful Boys and Tyler G. Wood. Additional hyper-local O+ Kingston music highlights include BODEGA (post-punk indie), The Giraffes (heavy rock), Carrie Nation & The Speakeasy (folk rockabilly), Sound of Ceres (electro dream pop) and Chris Wells and The Silver Spaceship (epic party band from the superfreak behind The Secret City).
Other programming not to be missed is:  "The Mystical Arts Of Tibet" on Sunday, Oct. 13 at UPAC (O+ Partner Bardavon Presents), a multitude of film and video screenings, participatory art workshops, cycling events, Literary SALO+N, classes in yoga, dance, meditation, sound healing, and more!
Participating artists have respoded to this year's theme of X with "cross-disciplinary projects, collaborations and interventions at the intersection of art and life. Films, installations, murals, performances, multi-site experiential projects and workshops invite the viewer to activate artwork with participation." Look out for: artXmedicine Erika deVries and Matt Dilling, Aki Goto, Daniel Totten, Meg Bashwiner. visual artXmusic Eva Marie Magill-Oliver, Matt Pond and Chris Hansen, B.A. Miale. artXsocial engagement/activism Hyuro, Callie Jayne/Rise Up Kingston and Shadia Fayne-Wood/Survival Media Agency, Carolita Johnson, Stefan Saffer, The Matter Digest (Havarah Zawoluk and Ernest Goodmaw), Sophi Kravitz, Lynn Herring, Robert Markey. artXenvironmental activism Maxine Leu, Sebastian Pillitteri, Riverkeeper, Art Department of SUNY New Paltz, Ulster County Resource Recovery Agency and Hudson River Watershed Alliance, Woodstock School of Art, Michael Fusco, Jana Liptak, Annabelle Popa. X organizing principle/pattern Roy Verspoor, Kerry Pharmer, Jicky Schnee, Alexandra Dewez, Joe Mangrum, Scott Chasse and Kenley Darling, Tronvs, Hudson Valley Movement Collective c/o Charlotte Gibbons, Chewy Altamirano, Stetz/Kingston Pop Museum.
And as always, participating artists and musicians receive complimentary health and wellness care in the Artists' Clinic and in local dentists' offices during the festival weekend. O+ calls this exchange: "the art of medicine for the medicine of art."
Three-day festival wristbands are on sale for $50. If a community member would like to attend, but cannot for financial reasons, there will be FREE 3-Day wristbands available at these O+ Festival partners: Center for Creative Education, Harambee, Hudson Valley LGBTQ Community. Wristbands are available to community members in need thanks to generous O+ Festival supporters!
O+ Kingston officially begins Friday (10/11) evening with a fabulous parade kicking off  at 6:00PM at the Kingston Library!
Images from previous O+ Festivals
https://kingstonhappenings.org/wp-content/uploads/2019/10/2018-O-Friday-102.jpg
900
1600
Kingston Happenings
https://blastserve.com/khtestbed/wp-content/uploads/2023/07/KH-Transparent-Logo-e1688304541199.png
Kingston Happenings
2019-10-11 11:56:59
2020-02-25 12:00:06
O+ Kingston Year X